Ryan Brownlow: Theatre Major
Ryan Brownlow is a senior from White Settlement, Texas. Now heavily involved in the theatre & dance department, Ryan entered Macalester with no prior theatre experience.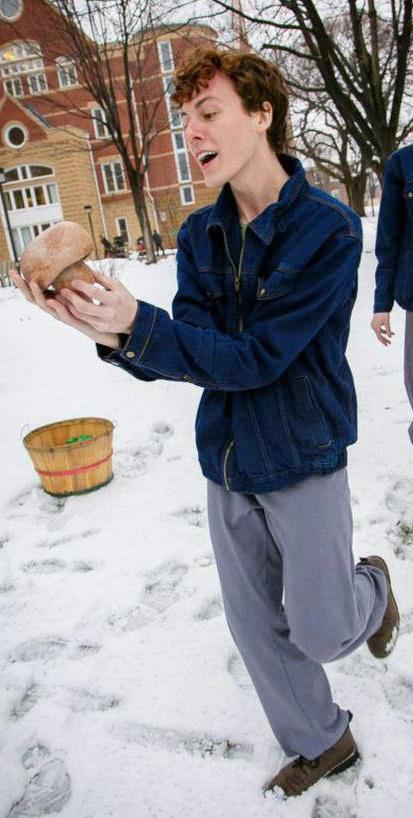 What is your major/minor outside of your art form?
I'm a double major in theatre – with an emphasis in Performance Studies – and American Studies. I also have an undeclared minor in English.
What inspired you to choose theater as a major and get involved in shows at Macalester?
I became involved in the department by taking courses with a faculty member who is no longer here, Lara Nielsen, who was denied tenure last year. My introduction to the department was through a course with her called Introduction to Theatre Studies. I became involved in theatre, which I had never done before I came here, by way of intellectual and historical immersion. I was interested in thinking through the arts. I initially became involved in productions as part of the major requirement. When I started to become involved in shows I found that I really liked that aspect of the department. I've found that both an intellectual approach to performance, and literal production-based work – in fact, the tensions between these two pursuits—the sort of academic work alongside the on-the-ground work of making theatre and other kinds of performance… That is what I like about doing theatre here.
Any favorite directors?
I think one of the most important theater thinkers and directors for me is a French – I guess you would call him a theorist – his name is Antonin Artaud. He wrote a really important text called "The Theatre and Its Double," where he theorized what he called the "theatre of cruelty." He was involved in early surrealism, but drew back when Andre Breton (a French writer and poet) endorsed the communist party. I'm really interested in Artaud and his idea of total spectacle, which is sort of the idea of dissolving the boundary between audience and performers. In terms of more contemporary theatre-makers and writers, I like Suzan-Lori Parks a lot, a playwright who writes really experimental plays.
Which Shakespearean character do you identify the most with/why?
Disclaimer: I'm not really a big fan of Shakespeare, I think his monolithic place in sort of the canon of theatre as literature is really annoying. But if I had to identify with one of his characters it might be Hamlet or maybe Mercutio. I like his kind of flighty dudes who have some existential angst.
What is your favorite type of acting?
I honestly think I'm really attracted to a different type of theatre-making, sometimes called devising, which isn't always character-driven. Often it is movement driven, and not always working from a text or a script. It's really a different approach that takes the generativity of the performers and the kind of physicality that they might bring into a space as a starting point for creating a piece that has no relationship to the text. In terms of character work, I'm in a Bertolt Brecht play right now called "The Resistible Rise of Artuo Ui." I'm playing a character named Ernesto Roma, who's a Brooklyn gangster based on a leader in Nazi Germany, Ernst Rohm. He's a really fun character to play. I have a really cool death roll and there's guns on stage, so that's a fun role to play.
How long have you been involved in acting/various forms of theatre?
Macalester marks my introduction to theatre, and now I'm a major.
What advice would you give to an aspiring actor/theatre major?
I think what I would say is to really think through and continue to return to the question, "Why theatre?" I don't think that it's asked enough and I think there's a lot of shitty theatre in our midst because of that. I staunchly reject the notion of "arts for arts' sake." So I think it's important to return to the question of why do we want to make art and why theatre. Particularly now, there's a question of what role theatre can play in our contemporary moment, especially when things are so hyper-mediated by technology. I think theatre can offer something different, especially through the ways it conjures public assemblage, both a public as an audience and a public of performers. But that's what I would say: to really think through why they might be interested in doing the work at all.
What have been your most memorable moments in the arts at Macalester?
A moment that I'll never forget was in Intro to Theatre Studies when we were learning about the origins of Greek tragedy. The word tragedy comes from the Greek word, tragōidia, which means "goat song." It is connected to Dionysian ritual and was marked by the sacrifice of a goat. A gesture to those knowledges which transcend the limits of human rationality – the knowledges vested in desire. In this lecture, which was really cool, Lara Nielsen brought in a goat skull which she sort of paraded around the room, that was really exciting. Otherwise I think a course called Performance Theory Seminar, which I also had with Lara Nielsen in the fall of 2012, it was a really great class and really great group of people.
What have been your most memorable moments in general at Macalester?
Something I'll never forget is becoming sort of initiated into campus politics through tenure issues related to the Lara Nielsen case. There was a group of students who formed a kind of activist community around our grief about the tenure denial related to Lara Nielsen. But I think that became a consciousness-raising effort to a wider campus community and other issues related to tenure, and for me that opened up a lot of other specificities about the politics of this institution which I think can be really fucked up. Also, it's really continuously frustrating to me that this institution neglects the theatre department and the arts in general, except when it's useful for marketing campaigns or the school's advertising related to recruitment. So what's been really memorable to me is the way that students, including myself, have fought for the kinds of art that we want to make in, small and big ways, and have found our place, if in complicity, within this institution – yet also in a kind of resistance.
If you could change anything about your arts experience at Macalester, what would it be and why?
I always really wanted to take this course taught here called Physical Approaches, taught by Bob Rosen. It's a kind of clowning and physical theatre class. I wish I'd taken that. Also I wish I would have been involved earlier; I didn't join the department until my sophomore year, so I've only been involved in three or four productions. But I've really enjoyed my time in the department.
What has been your biggest positive influence while at Macalester?
Both my majors, theatre and American Studies – at least in my year – have a pretty small group of student majors and that's been a really positive thing for me. This sort of small enclave of students who are talking critically about what's happening at Macalester and at the intersection of wider social issues. That has been really meaningful, to be a part of these conversations that are really energized and politicized, but are also small and just sorting out the messy day-to-day of making a life here at Macalester, which is a very specific, frustrating at times, place to be.