Interesting Internships: Leaving the Bubble
Kayleigh Roach '14, Psychology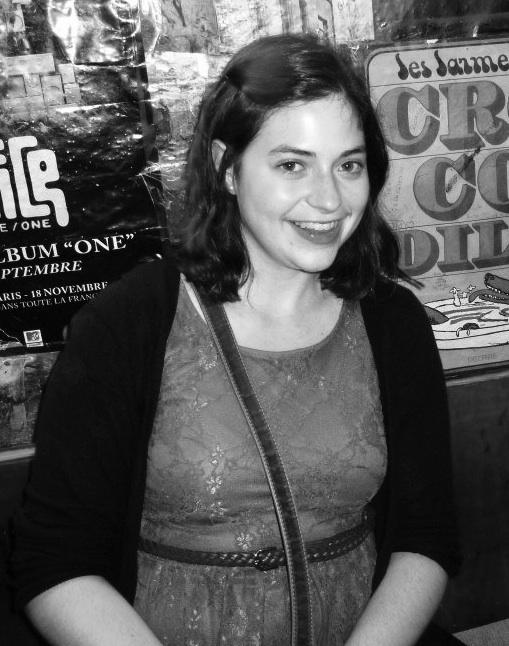 Alexandra McLaughlin: Where are you interning?
KR: At the Washburn Center for Children. It's on Nicollet in Minneapolis.
What sort of stuff do you do there?
Washburn in general does therapeutic and clinical work with kids of all ages. I specifically work in the therapeutic preschool. So we have about eight kids that come in the morning and we do group therapy with them in a preschool setting.
What would be a typical day for you at the internship?
We usually get there, set up the room, and then all the kids arrive on their buses or vans, so we go and get them off the bus and then we have large motor activity time so either we'll play outside or we'll play in the indoor room. It's pretty regimented because a lot of the kids need a specific schedule and that consistency, so it's pretty much that way every day. Then we go back to the classroom where we have group time, read a book, and have a lesson for the day. Then we have snack time, then we do puzzles, and then we have free play so they can just play with whatever they want in the room. There are a variety of toys: a bunch of dress-up clothes, a kitchen area, and a tree house loft—a typical preschool classroom.
What are the hours like?
Usually I work Tuesday and Thursday mornings. I'll get there about nine and leave at 12:30. It's a pretty short time, but it feels like a lot longer. We also have weekly meetings on Friday with the whole clinical team. Since it's a family-focused program, each child has a therapist who comes to their house and works with them and their family. We have meetings where all the classroom teachers and all the therapists come together and we talk about the individual cases and progress that they're making.
What sort of cases do you see at the preschool?
Most of the kids are EBD kids, which are emotionally and behaviorally disordered. Most of the kids come from difficult backgrounds, either with parents of mental illness or aggression in the home, or they've been adopted and they experienced trauma before adoption. I think anxiety is the most common issue that they have. In general, there's a lot of anxiety among most of them. They all have different treatment plans.
What's your favorite part about this internship?
I think my favorite part is when one of the kids does something that we've been working on. So, there's one kid who is exposed to a lot of aggression and physical violence and the other day he wanted to do my hair. And he was super gentle and super nurturing when playing with my hair and it's moments like that when you actually feel like you're making a difference and they're progressing and you can see that they're doing better.
What do you think is the most challenging part?
The hardest part for me is definitely leaving what happens at work at work and separating that from the rest of my life. When you're working with kids who are in really difficult situations, it's hard not to be emotionally invested and not want to change something for them more than what you're capable of doing.
How has this internship shaped how you think about your career plans?
This internship has been extremely important in helping me decide what I want to do. I recently became very interested in child psychology because I knew that I wanted to work with children and I like psychology so it kind of made sense. But I hadn't really experienced any of the work in the field. I'm not really interested in research so I wanted to get this internship as a way to see if it was work that I liked or work that I could see myself doing. And it definitely is. Even after being there for a couple of weeks, it's been really helpful in figuring out that I do want to go to grad school for psychology and I do want to work in a field setting.
What's your advice to other Mac students who are thinking about doing an internship?
If you have the opportunity to do an internship, you should definitely do it. It's a great way to get hands-on experience in a field that you might not otherwise be exposed to. Also, I know everyone's saying this these days, but getting jobs is all about who you know and if you can get your foot in the door in a place.
How did you find this internship?
I actually heard about it from one of my professors, she had mentioned it. So I looked it up and found their website and applied. So talk to your professors. They know things. I never would have found this on my own.
Jenni Suever '16, Political Science
Sarah Richman: So Jenni, where are you interning?
JS: I'm interning at the Advocates for Human Rights in downtown Minneapolis as a Research, Education, and Advocacy intern.
What do you do every day?
That's a tough question… I'm working with them on a publication called "One Voice Minnesota." It's monitoring how well Minnesota welcomes all of its immigrants and refugees, and it covers a wide range of topics like education, healthcare, housing, and the bureaucracy that they have to go through for immigration paperwork, so I end up doing fun research on all of that.
How did you find this internship in the first place?
Surprisingly, it was through my Cultural Anthropology class. For my ethnography, I went to interview the Director of Advocacy over there because she's a Mac grad. She spoke to me for a total of three hours, and then at the end of that I just asked if she had any projects over the January term that she needed help on, and she was like "Yeah! Come work for me!" And then I did.
So far, what's your favorite part about the internship?
They give me free coffee. I mean, I like a lot more than that. Honestly, getting to go to downtown Minneapolis on a pretty frequent basis is really nice. And then of course, I'm doing my own work. I found it really easy to sit down for eight hours and do research because it's going towards an end goal—it's not that I'm doing this for the sake of turning in a paper that was predetermined by the professor. It's not primary research; you're working off of other people. That's very rewarding.
Do you think that you will continue to work for them in the future?
I don't know. It really depends. On a personal note, I'm kind of realizing that I don't want to work in this area further in the future, in political science as a whole. It's an identity crisis. I love studying it, it's a lot of fun and I enjoy the concepts, but it's not necessarily what I want to do.
It sounds like the internship is helping you bring your classroom experience outside to see if you actually like it.
Yeah, and in that sense I think it's crucial. I remember when I found out we had a practicum requirement [in the Poli Sci department]. I was like "No, why would you make me do this?"
What is a practicum?
It's an internship. You either do an internship or a fellowship, which just means you're getting paid for your internship. I was worrying about not getting one, about what if I couldn't graduate because I couldn't get an internship because I'm unqualified. But I think it's necessary. And I think it should be in most departments. If I didn't do this I would go out after graduation and say "I'm going to work in human rights!" and then have all of my hopes and dreams shattered.
What advice would you give to people in a similar situation in the future?
I would say don't take it too seriously. Do a good job, but it's not like it's your career for the rest of your life. I took it so seriously, but although it's important it's not the be-all-end-all for your academic experience.
Shengdi Zhang '16, Political Science and History
Sarah Richman: Where are you interning, Shengdi?
SZ: I'm interning at the Minnesota House of Representatives with Representative Schoen and Representative Lesch.
What do you do?
I mainly just attend hearings and sometimes pick up phone calls and file documents for them. Just a couple of days ago they allowed me to take part in their bill-making process, doing research.
What has been the most interesting day of your internship so far?
I would definitely say the first day of my internship. Actually, pre-internship, the first day of interviewing. I signed up for the Republicans. I didn't sign up for the Republicans because I'm conservative. I signed up because I wanted to challenge myself. I wanted to see if I could work with someone who has different opinions than I do. That would definitely help me in the future if I wanted to work for a company or something. I wanted to test my teamwork abilities. They interviewed me and said nope, too liberal, go down the hall.
So you went down the hall to the Democratic side.
Yes. They interviewed me and said, "hmm, this kid is good."
So how did you hear about this internship in the first place?
A friend told me about a Legislative Politics class involving an internship at the state capitol. I went to the info session and then applied.
What has been the most challenging part of this internship?
Sometimes I have different opinions than my boss, and I have to take my personal emotions out of the equation. It's been very much a challenge, but I think I've handled it well. Another big challenge was shaking hands with [Governor] Mark Dayton.
Why was that a challenge?
Why not? It's Mark Dayton.
What would you say to other Macalester students who are interested in internships like this one?
I would say this is a very rare opportunity—because you go to Mac, you're so close to the state capitol. It's convenient, you just take a bus there. Here's the opportunity, take it.