Security working with State Department to prepare for Dalai Lama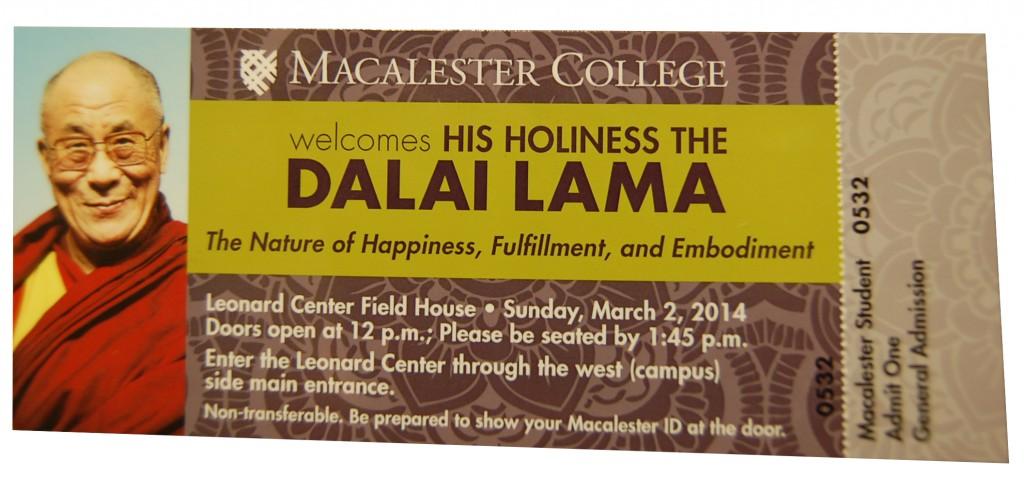 In preparation for His Holiness the Dalai Lama's visit to Macalester, the college's Safety and Security Department has been coordinating with the State Department and the St. Paul Police Department, among other agencies, to ensure security for the event.
Director of Safety and Security Terry Gorman has been coordinating with the State Department in preparation for what is expected to be one of the biggest events on campus in the past few years.
"They have their own agenda," Gorman said. "Some things they will do on their own, and in this case we dovetail into what they want."
Despite the unique and high-security nature of the event, Gorman said the State Department is "not unreasonable. They have some concerns about the safety and security of the principal at the event. We want to make sure that everything goes well."
Given that there have been several high-profile visits to Macalester in the past, Gorman mentioned that the Safety and Security team is experienced with handling such visits.
"We've done this a few times, I've done it for the Presidential visits, when the First Lady Michelle Obama was here, other dignitaries such as Kofi Annan, so I have a pretty good idea of what to expect."
Because the college has known about the Dalai Lama's visit for months in advance, the Safety and Security department began streamlining preparation for the event long ago. Gorman mentioned that it is unusual to get such a long window for security preparation, as events are often pulled together at the last minute.
"We do a lot of planning and training, which includes reviews of incidents as we would do for any big event," he said. "We have a team that comes together to put together a contingency plan."
Compared to other visits though, the Safety and Security team has been able to make improvements.
"We have a much better structure for our incident command program."
Gorman and the rest of Macalester Security have been in charge of sharing information and reviewing protocols with other agencies, to ensure all parties involved are on the same page and are familiar with the campus.
"We show them the floor plans and how we might do this or that. The St. Paul police will have their plan, which layers in on top of ours. They understand where the event is happening and what we would do, because they don't know the campus as well as we do, and neither does the State Department," Gorman said. "And so we try to show them, this is what we have, this is what we can do or what we can't do."
The Safety and Security team has also been coordinating with the Dalai Lama's personal security team, though the State Department has been the main point of contact.
In addition to information provided on tickets for the event, Gorman reminded students and community members that there are restrictions on what can be brought into the Fieldhouse the day of the visit.
"There will be no signs [and] no iPads. You can bring your iPhone. Obviously no weapons, such as pocket knives."
The rationale behind banning iPads is to avoid having people who may use the iPad and unintentionally obstruct the view of those sitting behind them.
The event will also be livestreamed online and pictures will be allowed.
Gorman compared the protocol for entering the event to boarding an airplane. There will be metal detectors that all attendees will be required to pass through. There will also be concessions available at the event, due to the lengthy wait that might occur because of the security checks taking place.
Though the preparation process has been extensive and has required a lot of work, Gorman said that it has been a good thing for his team.
"We've had a great opportunity to plan and get things set up, which has been a huge help. It takes a lot of time, but it gives you an opportunity to think about things and how you can make it better. We've been able to tweak a lot of little things."
With tickets nearly sold out, the Macalester community is in eager anticipation of His Holiness's visit next Sunday. Gorman himself is pleased to see Macalester receiving such a high honor.
"[It will be a] feather or jewel in the Macalester cap, to have him attend and be at Macalester," Gorman said. "This is a very unique situation and some people see him in the news or see him in the paper, but now we are able to see him across the room and hear him talk live. That is a huge deal."