After years of construction, Green Line to open on June 14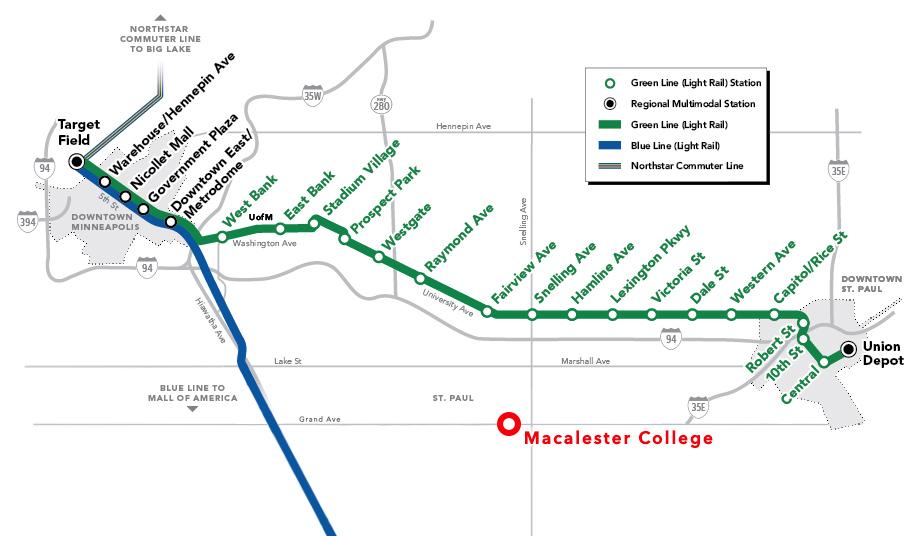 On June 14, the Macalester bubble will stretch a little farther. The opening of MetroTransit's light rail line on University Avenue, known as the Green Line, will connect students to locations across the Twin Cities.
The long awaited Green Line will run down University Avenue for 11 miles, connecting downtown Saint Paul with downtown Minneapolis. The line is easily accessible to students, with the closest station a little over a mile from campus at University and Snelling. Buses will bring commuters to and from the light rail.
The Green Line's opening on June 14th is paired with a series of changes in Twin Cities transportation. Slight revisions to bus routes are in the works, including a new route on Lexington Parkway. Buses will also increase their frequency to every 10 minutes.
Laura Baenen, Communications Director for the Green Line project, believes that buses are necessary for the light rail line to be a success.
"People will need to use buses and the light rail in tandem," said Baenen. "Students will be able to just buy one ticket [for the] bus and train. It will be a seamless transfer."
Though station and track construction have already been completed, there is still plenty to be done before the opening of the line in June.
Safety testing will begin later this month. Trains will run down University Avenue every 10 minutes. Baenen urges students to practice safety precautions.
"Safety is our top priority," said Baenen. "Remember to always stay off the tracks, look both ways for oncoming trains when testing begins in late February, cross only at intersections and legal mid-block crosswalks and stay off station platforms until service begins June 14."
When the line opens, students will have access to many of the resources the city has to offer. There are seven colleges and universities on the line, as well as multiple entertainment venues, restaurants, non-profits, and businesses.
"When the Green Line opens, [Mac students] will have easy access to… essentially all the major employment and entertainment options in the Twin Cities," said Joe Huber '15.
"Not only will students gain access to all locations on the Green Line, they will be able to connect with the Blue Line at the Metrodome stop. This line connects to the Mall of America and the airport, saving students cab fare."
"I think it will save [students] a lot of money," said Baenen. "Students will be able to take the light rail to fly home on break."
Students will also gain easier access to the low cost restaurants along University Avenue in the Thomas-Dale and Midway neighborhoods. Those are cheaper for students on a budget, and they will have an opportunity to support the neighborhoods most affected by the green line's opening.
However, for Thomas-Dale, also known as Frogtown, and Midway, the Green Line's immediate effects could be negative. There is a possibility of rent increases and gentrification, pushing out affordable housing for residents who need it most.
Keoni Nguyen, a Thomas-Dale neighborhood business owner, says his rent has already increased.
"My rent has gone up 60 to 70 percent," said Nguyen. "I'm in the process of relocating."
Baenen says that the Metropolitan Council is aware of this problem and is working on ways to keep residents in their homes.
"We don't want to build a line to have customers go away," said Baenen. "The whole point of this line was to serve a transit dependent population and to get them to jobs."
Baenen says that the city is providing incentives for local businesses to stay on University Avenue. However, the effect of the Green Rail on the community will not clearly be known until its opening.
Huber believes that the Green Line will ultimately serve University Avenue's residents and businesses.
"The Green Line presents a huge opportunity to improve the lives of those who live on it," said Huber. "But officials need to be careful that it doesn't spiral out of control."
Ultimately, Huber believes that the Green Line will positively impact both Macalester and the surrounding community.
"It represents a long-awaited connection between Minneapolis and St. Paul," said Huber. "There's a lot of symbolism there."