Lily Parmenter // Studio Art Major
Every week, The Mac Weekly interviews one senior majoring in an artistic field at Macalester. This week I had the pleasure of speaking with Studio Art major Lily Parmenter, whose dual passions for technology and creativity have opened up an entirely new medium of art for her, one that is marketable and skillful while preserving originality and allowing viewers to experience tangible emotions.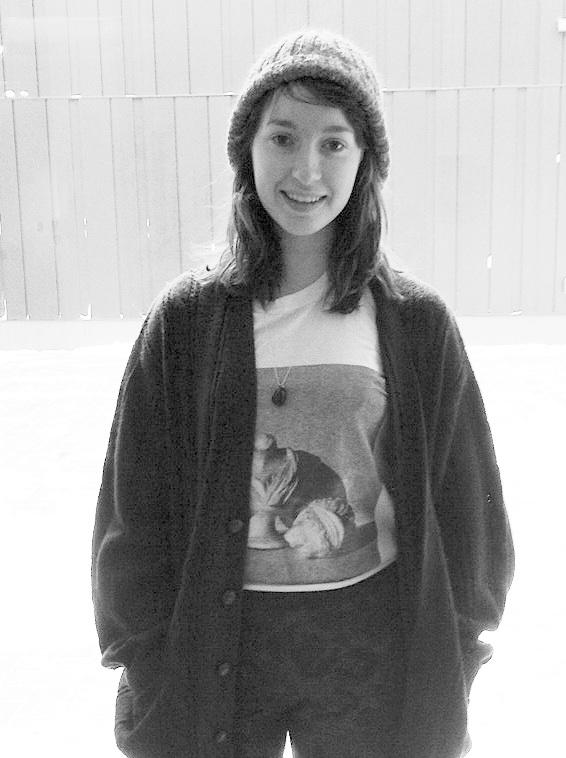 Where are you from originally?
I'm from Newton, Mass., which is a suburb of Boston.
Do you have any other majors besides Studio Art?
No, that's the only one.
What's your medium?
It took me a while to figure that out because I used to think I was just a graphic designer, and I had always been really comfortable with computers. But then I felt restricted by design because you're usually doing things for a client and it's not very expressive, so I found myself going in the direction of new media, and I researched how artists are using new media to make art. It's really exciting to me because it's this fusion of my two interests of computers, and also creativity. I'm really into the possibilities of pushing technology beyond its intended purposes to create something that's inspiring, creative and beautiful.
You transferred schools twice before coming to Mac. Could you tell me what that was like and how you ultimately ended up here?
When I was in high school, I wanted to go to art school and I really wanted to go abroad. I ended up getting accepted early to this art school in London (The Chelsea College of Art and Design), and I went there and I decided to drop out after one semester because I really didn't like the structure of the program. All the British students already knew all the traditional approaches to drawing and painting, and I hadn't really done that in high school. I was hoping for this foundation program to introduce me to the foundations of art, which is what I think it should've been. But, instead, it was purely conceptual, so they would give you a project and leave you alone for two weeks and say, "Okay, work on the project." And instead of classes, it would be just open studio time. I felt really unmotivated in a room with about 150 people where no one knew my name […]
I ended up applying to a few [American] small liberal arts schools, and I got accepted to Bard College and I went there. I started over as a freshman. I didn't even attempt to get any credits from my program in London, and I immediately hated [Bard] as well. I declared an Art History major, and they actually did have a really great program, but I felt really isolated because we were in the middle of nowhere, and I really need a culture to be a part of, but instead it was like this extreme bubble and I didn't like that, and it wasn't for me. I applied [to] transfer to about ten schools and Macalester is the only one I got into. So I came here as an Art History major, but then I discovered that the Art History department was tiny and there was only one full-time professor and that was too small for me. Studio Art had more professors and I decided to switch. I also was feeling frustrated with just writing and I wanted to translate my thoughts and knowledge about art into something tangible and just express myself that way.
Did you do a lot of art in high school or were you mainly experiencing working with art for the first time in college?
My background was primarily in design. In high school I chose to do a track called Visual Design and Communication, so I was doing lots of Photoshop and Illustrator. My dad works for Adobe, so I've been using these programs for a long time, since I was about 11. All my friends and I used to for fun make websites so I learned how to do HTML and CSS on my own, so I'm very proficient in basic programming. I took a couple of fine arts courses so I knew the basics of painting, drawing and ceramics.
What is the most challenging project you've done within your major?
I would say the most challenging project I did was my last semester that I spent abroad, in Prague. It was for my class that was called "2D, 3D and Time-Based Media," and in that class we learned how to use game design technology to create an interactive 3D space. Having never used 3D software, I learned how to create 3D models, how to bring them into the game software, how to make them interactive and how to add cameras and lights so you can make a realistic 3D world. The project was completely open-ended; the prompt was just to create a 3D art space. I ended up making this piece that was inspired by dreams. It was like this surreal mountainscape, so there's no objective—you just walk around this spiraling mountain and it's glowing blue and pink and purple with fog and clouds and some random pieces of furniture and it's very pastel and very dreamy-looking. It was very challenging—[I] had to teach myself a lot of it with YouTube tutorials—but it came out well.
Can you talk more about your experiences studying abroad in Prague and how you decided to go there?
My decision came out of this newfound passion for new media that I could not study at Macalester.
So I wanted to do it in another country because it's cool and I love travelling—that's one of my other passions after art. I wanted to travel to a place I hadn't been before, that had an English-speaking program that was in new media art. This particular program offered all of those and it was exactly what I was looking for. It was pure creation, and purely hands-on. I needed to balance out all this theory I had been getting because I was getting frustrated with all this knowledge I was getting and wasn't applying to anything, so it worked out perfectly.
Are you involved in any other activities on or off campus?
I've had a couple of radio shows here at Mac, but a lot of my activity is off-campus in Minneapolis. I started with some friends an art collective in the Twin Cities and it's called "Upstairs Neighbor Collective." We have put on a bunch of house shows, and it's been the most fulfilling activity that I've done in my college years because we have been able to bring together people from the Twin Cities through music and art. We also organized an art show where anyone could submit art and be accepted and we hosted that in my house as well, and I was really proud of that.
Do you have plans for pursuing art beyond your time here at Mac?
I am aware of the realistic implications of being an artist in the world today, especially in New York, where I want to live, so I think that my practical side is influencing what I'm doing at the moment because I'm trying to build the skills that I think are marketable, so I'm trying to learn as much programming as possible, and trying to master web programming and design. I can now do this game design, I can do sound design, I can work in a TV studio. It can make me a more desirable candidate for these kinds of jobs instead of just being a creative person. I really want to have a job that's not working in a coffee shop. I want to have a real job but not be bored to death. I will take anything that's relatively creative, as long as I have some form of self-expression in my life.
Do you have anything else to add that you want others to know about you and your art?
Well I guess I could talk about the Senior Exhibition. This semester for my final exhibition I'm trying to figure out a way to synthesize all these things that I've been working on, and we have free range to do whatever we want. I'm planning on making some sort of interactive new media installation that might be like a room you walk into and be aware of your presence and through sensors, translate your emotions into some visual forms that you will see immediately around you.
I want it to be a fully immersive experience that will be real time generated to include the viewer. I want to transform the viewer into a participant or co-creator of the piece. I don't know what that will look like, but that's the direction I want to go.