Temporary art studios now empty, undergoing transformations: Alternative facilities posed unusual challenges to student work, teaching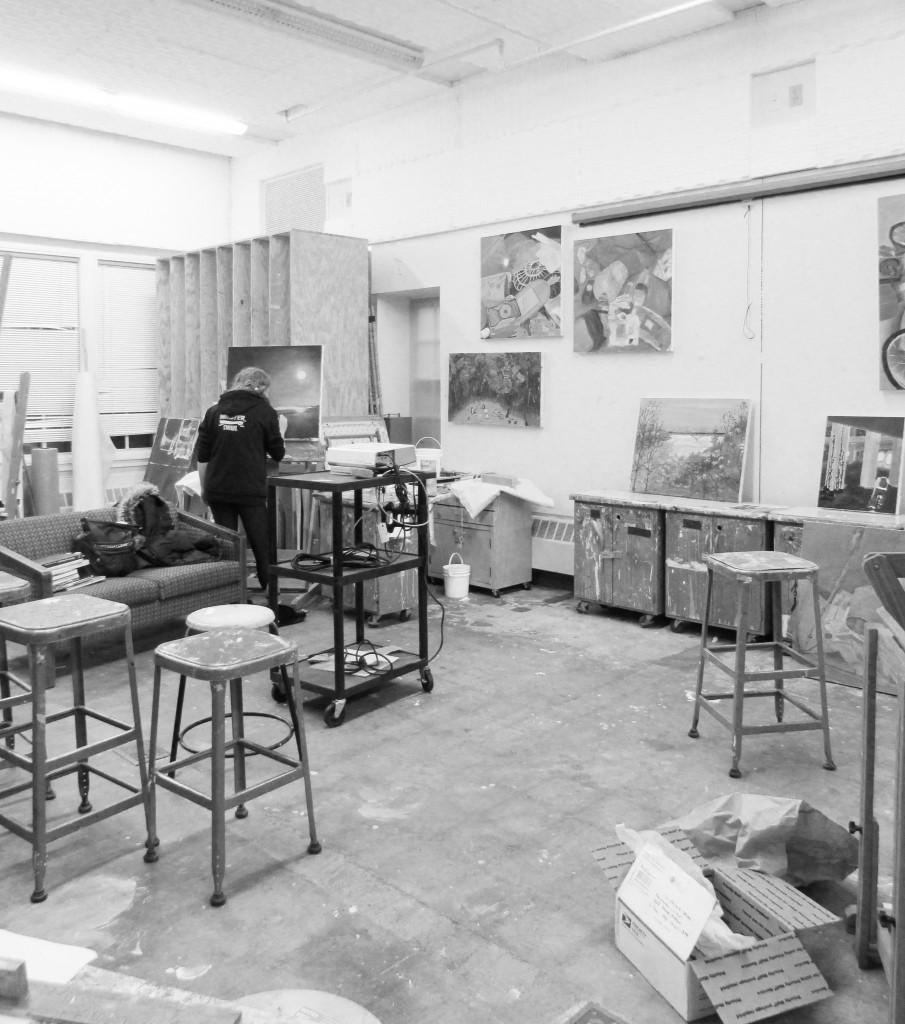 Now that the reimagined Janet Wallace Fine Arts Center has opened, the temporary spaces that housed the art department during construction are empty and undergoing transformations.
During the duration of construction, the Art Department was scattered across campus. Photo and design classes were held in the old clinic at 45 Snelling, painting in the Turck Lounge, drawing on the fourth floor of Old Main, printing on the third floor of Lampert and ceramics and sculpture in the old Central Stores space in the stadium.
"The temporary spaces for art classes last year posed quite a challenge," Professor Ruthann Godollei said.
To create a temporary "Printland" in the Lampert building, Godollei had to move a heavy printing press up three flights of stairs as the Lampert building lacks an elevator.
"I tried to make temporary 'Printland' as usable and inviting as possible, under the circumstances," Godollei said. "We had windows, at least."
Professor Stan Sears dealt with similar issues teaching sculpture and 3D design in the Central Stores space in the stadium. Saws, a belt sander and hand tools were brought in to furnish the space which Sears described as narrow and mostly windowless.
"We were crowded and struggled with having both ceramics and sculpture in the same space," Sears said.
Students felt the constraints of the spaces as well. "Working in the new print studio, I realize how limited I was in Lampert, since we now have all sorts of presses and supplies that the old space couldn't support," said Katherine Rosenman '16.
Sorcha Douglas '15 agrees. "Now that everything's moved into the new building, it's remarkable how we managed to make it work in Lampert, considering how high-tech and spacious everything is now," Douglas said.
"Under extraordinary circumstances, students managed to make beautiful art," Godollei said.
There are different futures for the temporary spaces, according to Nathan Lief of Facilities. As of Jan. 20, 45 Snelling was sold. The building was formerly owned by the High Winds Fund.
The Turck lounge will be remodeled, although the final design is still being worked through.
The fourth floor of Old Main is in the end stages of the remodeling processes and will continue to be used as a lounge and meeting space.
The old Central Stores space in the Stadium will become part of Athletic Department storage for equipment, and Central Stores is now permanently located in Olin Rice.
There are currently no plans for the third floor of Lampert. Eventually, it will be remodeled and used an as office space.