The Dalai Lama's journey to Macalester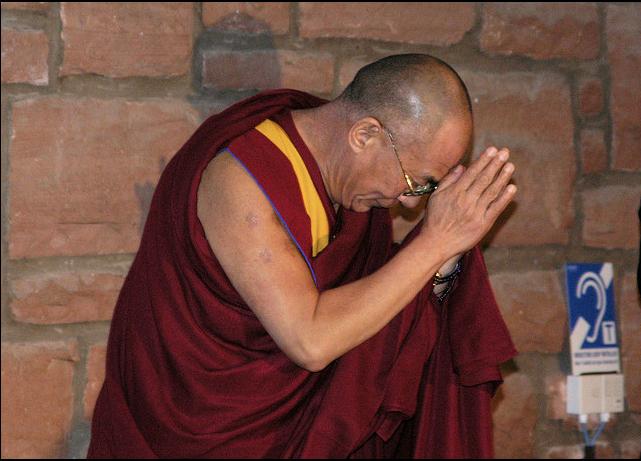 Though students have known about the upcoming visit from His Holiness the 14th Dalai Lama of Tibet for a little over a month, the series of events that brought the buddhist leader to campus began about five years ago. It all started in a conversation between a high school student from the West Side of St. Paul and a Macalester professor, not of philosophy or religion, but of neuroscience.
Eric Wiertelak is the Dewitt Wallace Professor of Neuroscience, and focuses primarily on behavioral neuroscience. In 2008, he was contacted by Elizabeth Dickinson, a former Green Party candidate for mayor of St. Paul, about a friend of hers whose eldest daughter was interested in pursuing neuroscience research in college, and wanted to meet with Wiertelak as a family to discuss the field.
Wiertelak traveled to the family's home, where they drank lemonade and ate cookies in the garden and talked about the science of the nervous system. The family had come to the United States from Tibet, and their daughter had become interested in the field through the Dalai Lama's own interest, which dates back more than two decades.
His Holiness has a life-long interest in science, dating back to peering into a telescope as a boy. In the field of neuroscience, he is particularly interested in the study of buddhist practices such as mindfulness meditation, as well as attention, emotion, and the ability of the brain to change over time. The Mind and Life Institute is one result of this interest, stemming from conversations between the Dalai Lama and neuroscientist Francisco J. Varela in 1987. The US-based institute hosts programming around the world, centered around integrating the "first person" understanding of the mind that those who practice techniques of contemplation set out to gain and the "third person" understanding sought by neuroscience.
Contemplative neuroscience, a new area of research, works in a similar vein. Those who explore this area, like Professor Richard Davidson at the University of Wisconsin, Madison, seek to understand how techniques like meditation can affect the brains and lives of their practitioners.
"It's supposed to be the intersection point of contemplative practices like mindfulness meditation and things like that with actual neuroscience data," Wiertelak said, "information that we have about the function and structure and activity of the nervous system."
Joy Laine, a philosophy professor who specializes in philosophy of mind, said that it shouldn't be surprising that meditation have a real, measurable impact on the function of the human brain. Many of the subjects in studies by Davidson and others are experts in meditation, working on achieving focus and mindfulness for their whole lives.
"It would be extremely surprising if you did 10,000 hours of anything and didn't see any changes," Laine said.
One area of the brain where such change has been seen to occur after extensive meditation is a network of brain areas called the default mode network that becomes active when people are relaxing, or not thinking about anything in particular. A 2011 study by Judson Brewer of Yale and colleagues found that changes to the default mode network seen in experienced meditators were consistent with a decrease in mind-wandering.
Wiertelak put the benefits of such meditition in broader, less anatomical terms.
"You're going to be more mindful of your own state, in general," he said. "It increases one's awareness not just of their own mind but how their mind is embodied."
After the meeting, Wiertelak didn't think much of it. He has similar conversations with interested high schoolers regularly.
A few years later, in January 2012, he received a voicemail from Dickenson. "I don't know how to ask you, so I'm just going to ask you: how would you feel if the Dalai Lama had said he wanted to visit you at Macalester?"
Each year, the Dalai Lama has a medical examination at the Mayo Clinic in Rochester, Minnesota, and often also holds events at local colleges and unversities, such as a large-scale event at the University of Minnesota in 2011. Wiertelak's name had been passed on to His Holiness through the Tibetan family he had met for lemonade three years earlier as a possible person to help organize and plan a speaking event.
After confirming that the voicemail meant exactly what it said, Wiertelak set to work on an official proposal, meeting with the board of the Tibetan American Foundation in Minnesota and having President Rosenberg write an official letter of invitation. The proposal was submitted to The Office of Tibet, which represents His Holiness in the Americas. It laid out a talk and faculty panel discussion to take place in the fieldhouse for 3,000 to 4,000 spectators, called "Neuroscience and other Perspectives on Happiness, Fulfillment and Embodiment."
Unfortunately, the timing did not work out. His Holiness was planning on visiting only a few months later, not leaving enough time for proper security measures and arrangements. However, during the Dalai Lama's visit, Wiertelak traveled to Rochester to officially present the proposal to Kaydor Aukatsang, the head of The Office of Tibet, and other officials, such as the Dalai Lama's interpretor, Geshe Thupten Jinpa.
He also attended programming at the clinic and briefly met with His Holiness in person. Wiertelak considers this to a be surreal moment in the life of a kid from "among the steel mills of South Chicago."
"You read about historic figures, and they're kind of larger than life," he said. "You never actually think that someone like you is ever going to meet, let alone be privately walking and holding hands, with somebody like the Dalai Lama."
After these meetings, the college did not hear from The Office of Tibet until almost a year later, when they were told that 2013 did not look likely, but 2014 seemed possible. Then, last November, The Office reached out again, and said His Holiness could speak at the college during his trip to Minnesota in March.
Provost Kathy Murray, Acting President at the time, worked out the final details, sent an official letter of invitation, and gave Aukatsang a tour of campus in December. The final version of the event was organized by staff in the President's Office, Student Affairs, Special Events, and Communications. The solo address from His Holiness is titled "The Nature of Happiness, Fulfillment, and Embodiment."
"He's coming to talk about those things that bring us all together," Wiertelak said when asked what he hopes students will gain from the event. "Our shared humanity, the nature of what it means to have a mind, and what it means to have a body and how those two are really inseparable. I hope that people hear that message."
Editor's note: The author is enrolled in Wiertelak's neuroscience Senior Seminar.