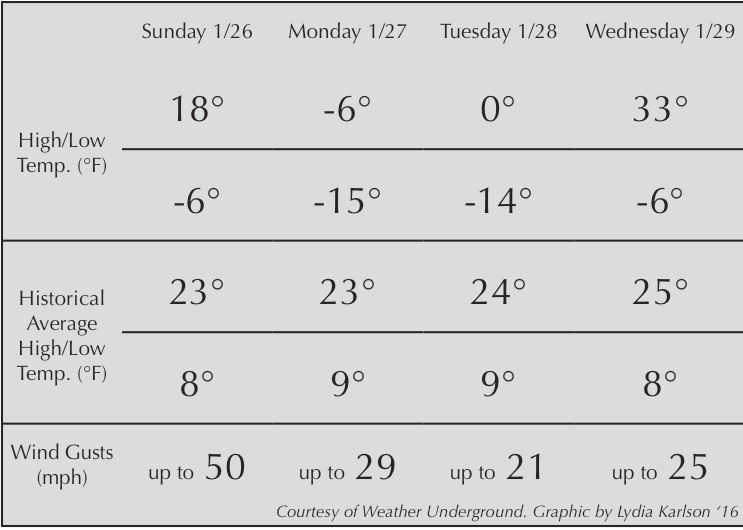 The second semester began on a chilly note, with extremely cold temperatures and high winds causing Monday night classes to be cancelled.
A winter weather system arrived in the area over the weekend, which brought a few inches of snow and a sharp drop in temperatures. According to the National Weather Service, Sunday's high topped out at 18 degrees before quickly dropping below zero and staying there until Tuesday. Monday brought a high of -6 with a low of -15, a steep dropoff from the average high of 23 for that day. Because the system brought in strong winds that gusted at times up to 50 mph, a Wind Chill Warning was in effect for the metropolitan area Monday and Tuesday, and areas west of the Twin Cities were under a Blizzard Warning at that time.
Despite these conditions, Macalester did not cancel day classes on Monday. During a meeting of senior staffers later in the day, the school made the decision to cancel evening classes and close campus facilities early. The Leonard Center, library, and Campus Center closed at 10:00 p.m.
"My concern at the time was for faculty who would leave those classes at 10 p.m., try to restart cold cars, and then need to commute home," Provost Kathy Murray wrote in an email. "That didn't seem safe, so we cancelled those classes."
Decisions about whether or not to call off classes or close the college are made by Murray and Vice President for Administration David Wheaton. According to Murray, the two of them discussed the situation with each other and other ACTC administrations before deciding to remain open and in session.
The University of Minnesota, Hamline, Concordia and St. Thomas all cancelled classes on Monday, while St. Catherine's remained open. Concordia and the U of M continued to cancel classes on Tuesday morning. All offices and facilities at those schools remained open.
Murray wrote that she did not want to compare Macalester's decision to that of other schools, noting that those schools have a higher percentage of commuters and larger campuses than Macalester.
"The other ACTC campuses and the U of MN have many more commuter students and a much larger campus footprint than we do," Murray wrote. "Most of our students live on campus, and our buildings are only a few minutes apart, so we decided we could remain open."
On Sunday night, Dean of Students Jim Hoppe sent out an email to the student-announce list, which said that classes would continue as normal and students should take extra precautions to protect themselves from the cold.
The building closures and class cancellation for that night were sent out in a student-announce as well Monday afternoon, which caused professors to develop alternative plans after losing that week's night class, the first of the semester.
A number of professors, like Media and Cultural Studies professor John Kim, opted to reschedule their Monday night class for later in the week.
"Personally, I didn't want classes to be cancelled because I knew I'd have to go through the trouble of rescheduling it later in the week," Kim wrote in an email. "So I had to put in a bunch of time rescheduling with students, which is an annoyance, but I trusted that those who know better would make an informed decision."
Kim wrote that he expected classes at Macalester to be cancelled, but had they not been cancelled he expected a smaller class that night since he was teaching a senior seminar and many seniors live off-campus.
Political Science professor Wendy Weber had already planned to reschedule her Monday night class before the official announcement was made that afternoon.
Knowing that many of these students would be living off-campus, some at perhaps a considerable distance, I decided that I didn't want to put any of them in the position of having to walk home at 10pm when forecasters were predicting such cold temperatures and windchills," Weber wrote in an email.
Hispanic Studies professor Molly Olson chose to have her senior seminar meet in the Alumni House that evening for an informal meal and conversation instead of holding a normal class session. Despite the weather, every student was in attendance.
The Bingo for Books event, which was scheduled for 10:00 p.m. in the Campus Center, was rescheduled for next Monday. According to Reservations Manager Pratik Singh, that was the only reservation impacted by the closure – no organizations or clubs had reserved rooms after that time.
Old Main damaged
Director of Facilities Nathan Lief wrote in an email that his staff responded to a number of low-temperature alarms last week. He added that an incident in Old Main left the unit heaters frozen and inoperable in the vestibules.
"The combination of extreme temperatures, wind, and poor ceiling insulation above these spaces was just too much for the systems to keep up," Lief wrote. "As a result, the coils will need to be replaced and that work is already in progress."
Because that damage is limited to just the vestibules, classes have continued as normal in the building. The east entrance to Old Main was roped off and closed earlier this week as repairs proceeded.
Some relief arrived later in the week with a high of 31 degrees on Wednesday that brought a relative thaw to campus.