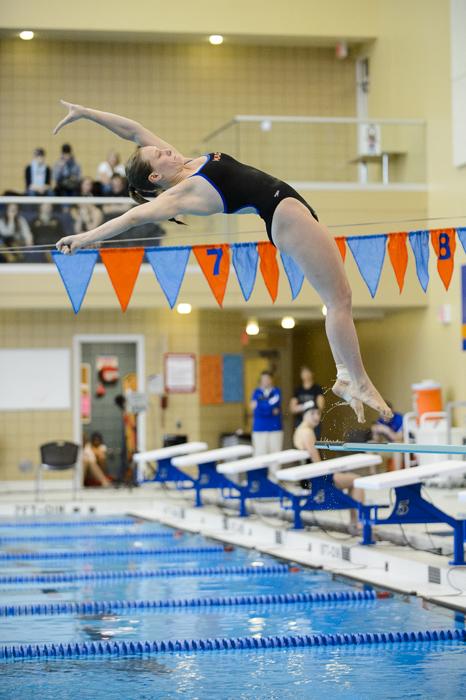 Only a month into their five-month season, the Macalester Women's Swim and Dive Team has reaped some early rewards. Nine women on the team have already qualified for the MIAC Championship meet, and the Scots (4-3 and seventh in the MIAC last season) knocked off St. Catherine University (sixth in the MIAC last year) by more than 100 points on Oct. 19 at the Augsburg Pentathlon.
In the Pentathlon, the Scots had four swimmers place in the top seven overall. The Scots' distinguished performance continued into their second competition, the Hamline Invitational on Nov. 9. At Hamline, the team placed second overall, sparked by a full returning roster—save for one graduate—as well as the addition of six first-years.
"We have a substantially larger team than last year," said head coach Beth Whittle. "We're in a much better position to be more competitive at both dual meets and invitationals based on our numbers."
Whittle reflected on the team's success thus far.
"I think that there's a deep commitment by the young generation," she said. "The first-years bring a tremendous passion for the sport and their commitment has shown on a daily basis in every aspect of training."
A core returner is Renee Jordan '14 (Anchorage, Alaska) who placed eighth and ninth in the 1-meter and 3-meter dive at the NCAA National Championships last year and is one of two divers on the team. With the Scots' first home meet only a day away, Jordan said she's looking forward to reconnecting with athletes from other schools.
"As far as the competition goes, I'm interested in throwing," she said. "Hopefully, I'll throw some bigger dives that I haven't done this season yet," she said. Teammate and last year's MIAC Champion in the 1-meter dive Hunter Hedenberg (Newton North, Mass), has yet to compete this season after she sustained a knee injury a day before the Hamline Invite. Still, Jordan placed first in both the 1-meter and 3-meter dives to lead the Scots. Swimmer Kendall Van Sistine '16 (Oshkosh, Wis.) placed fourth in both the 100-yard backstroke and 100-yard butterfly in Saturday's meet. "I wasn't too surprised by our performances so far this year," said Van Sistine. "We have been training really hard the past several weeks in the pool and in the weight room."
The first-years have also contributed to the team's current standing. "We have a really strong group of first-year women. They are a huge part of our success," Van Sistine said.
This Saturday, Nov. 16, the Scots will be hosting its first home meet, the Roger Ahlman Invitational.
"Hopefully it'll be a great opportunity for us to just race," Whittel said. "There are some teams we haven't seen yet, so for example St. Thomas is coming over, we haven't seem them yet."
"[It's] still fairly early in the season; my hope is that we get additional MIAC qualifiers," Whittle said. "We've had a lot of people who have qualified, but we haven't qualified our whole team yet."
"Last season Macalester was only points away from beating St. Kate's and with the first home meet only a day away," Whittle added. "They really want to be able to … beat St. Kate's in our dual meet," mentioning that they are the "team to beat."
Still, the upcoming meet will simply mark the first of many to come.
"We won an event by a hundredth of a second, we lost an event by a hundredth of a second, so literally when it comes down to the second, they just do their best to get their hand on the wall first," Jordan said. "I don't expect them to be swimming the times they will be in February, which is our focus and it's a long season."