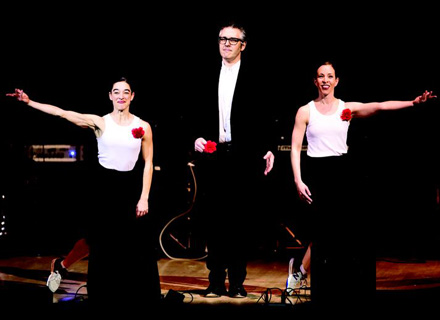 Anyone who shed a tear during "This American Life's" 500th episode this summer would have been right at home last Sunday night at State Theatre in Minneapolis. Ira Glass's latest project, a radio/dance hybrid show "One Radio Host, Two Dancers," graced the stage, bringing a wave of whimsy humor and, best of all, that lovable nasal insight that only Glass can provide.
The crowd of retirement-age couples and hip twenty-somethings could all be identified by one predictable factor—they were undoubtedly people who not only listen to NPR, but also drink coffee out of an NPR travel mug while biking to work.
The performance began with a self-deprecating dialogue between Glass and Anna Bass, one of the dancers. "One Radio Host, Two Dancers" did not shy away from the fact that it's an absurd concept. In Glass's own words, "the show's a mix of two things that really have no business being on stage together at all. Dance is all visuals, no talking. Radio's all talking, no visuals."
After acknowledging this incongruity, the show moved into a flashy dance number complete with the two dancers, Bass and Monica Bill Barnes, wearing gold and silver sequined dresses. The dance was intentionally gaudy. It culminated with Ira Glass himself (in his first physical appearance) bursting out from behind a miniature velvet curtain with a suitcase in hand. If anyone were unsure whether the theatre was chock-full of Ira Glass devotees at this point, their doubts are shattered as the crowd went crazy for the public radio superstar.
Ira Glass proceeded to take pieces out of his suitcase and build himself an ornate podium with which he began the show.
The unconventional mix of media created what only can be described as interesting results. The premise of the show was similar to an episode of TAL. There were three acts: "Show Business," "Love" and "Endings," each containing a few different stories. Some featured Glass speaking while Bass and Barnes danced in the background. In these stories, which were the most entertaining, he appeared to be simultaneously narrating and producing the audio on an iPad. In other sections, the dancers danced to pre-recorded interviews. In brief moments, all three danced together. Although he may have God-given nasal cavities, Ira Glass was not blessed with the gift of grace, and he played that fault to its highest potential for humor.
"One Radio Host, Two Dancers" continued in a similar tone for its hour-and-a-half duration. For the most part, it was a silly yet earnest blend of two realms of performance that are still unsure how to interact in their budding partnership. This was evident in Bass' and Barnes' role in the show. The pair are incredibly gifted and prolific in their work. Barnes is the founder of a successful 15-year-old contemporary dance company, and she has been performing duet work with Bass consistently for the past five years.
The duo's dances were well-executed and funny, but they largely showed minimal artistic ambition. Bass and Barnes often performed the same simple sequence tens of times while audio took center stage. This might have been done
with the purpose of not detracting from the radio aspect of the performance, or from Glass's monologues (which would have been difficult in this situation). Glass acknowledged imbalances like these from the beginning, calling the concept of the "One Radio Host, Two Dancers" a "work in progress."
While the tone was generally endearingly silly, the best moment came during act three, "Endings," when the show took a turn for the serious. While Glass alternated between speaking and playing an interview with poet Donald Hall about his wife's death, Barnes and Bass danced, slowly rotating on a dining room table. The piece was poignant; profoundly sad and beautiful at the same time. It provided a hint at the potential that radio and dance can have when they take an earnest stab at working together. The dance was the sort of image a listener imagines when really listening to a good TAL episode. It worked.
The showy, shiny parts of the performance, although possibly lacking in complexity, made up for it in humor. "One Radio Host" struck another high note in the third act when Ira Glass joined Bass and Barnes, all three clad in dorky turtleneck sweaters, for an almost-so-sexy-it's-lewd dance to "I Feel Like Being a Sex Machine" by James Brown.
As the beloved Ira Glass tripped around the stage and the audience roared with laughter, any viewer could see the show for what it really was: a big, happy celebration of "This American Life" and its overwhelmingly winsome host.