In my pajamas with Prince// A verbal snapchat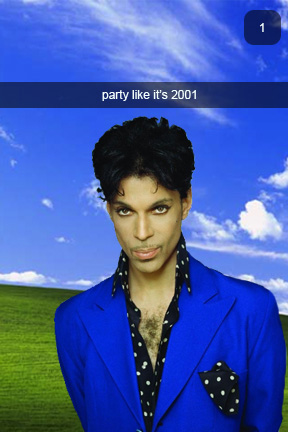 Last Wednesday, my Facebook news feed informed me that Prince was throwing a pajama party. Fifty-five hours, countless text messages, and an Hour Car rental later, I was standing outside in boxers and a Hello Kitty t-shirt, somewhere in the outskirts of Chanhassen. And it only got more surreal from there.
We weren't allowed to use cell phones, so I am forced to describe the experience verbally. The following is a description of everything that went down.
The PJ party—official name "the Breakfast Experience"—was hosted at Paisley Park, Prince's ten million dollar complex. From the outside, it looked like some corporate office, complete with a large parking lot. The lobby was the same as that of any other concert venue. Public restrooms to the right, merchandise available in front, ticketing to the left. You could only tell it was Prince's place by the "Pancakes $1" sign against the wall, in curling gold font, and a mirror in the shape of the word "LOVE." Oh, and the purple motorcycle against the far wall.
(Would-be snapchat caption: "I NEVER MEANT 2 CAUSE U ANY SORROW")
The performance space was vast enough to hold several hundred people comfortably. A vendor was selling what I think was flavored Kombucha. There were platforms on either side of the room, ostensibly for the VIP guests ($200 a ticket), featuring leather couches and coffee tables. The stage was lit up by three fake torches. Small candles dangled from stands, and a fog machine in the back hazed the air. Some R&B saxophone music was playing loudly—the kind of music, my friend pointed out, that plays at grocery stores really softly. And everyone was wearing silk pajamas.
(Would-be snapchat caption: "prince spa/sex fantasy")
My friend and I ended up in the third row from the stage. We proceeded to wait for two hours as the room filled, the music got stranger ("Numb" by Linkin Park) and our feet started aching. I was dancing, but mostly to stay awake. Occasionally, some stagelight would flare to life, to cheers from the crowd, only to die away. The projector turned on at one point, revealing a Windows XP load screen. By this point, we were ready to cheer for that too.
(Would-be snapchat caption: "party like it's 2001")
Finally, around 4:30 a.m., two women in footie pajamas came onstage and introduced Prince's new song, "Breakfast Can Wait," the title of which seemed like a cruel joke at this point. They proceeded to play the music video on the projector. Then, after they left the stage, five remixes of "Breakfast Can Wait" played over the speakers. Sleep-deprived and hungry, I began to suspect we were being brainwashed into liking the song. Worst of all, I couldn't even document my boredom via Snapchat. I started to feel like Apollonia left in the cold, cold waters of not-Lake Minnetonka.
Then—around five o' clock—the crowd began screaming—and the Man Himself strutted on stage, wearing a black robe and gold heels. I forgave him immediately.
(Would-be snapchat caption: "brkfst CAN wait")
His performance with his new band, 3rd Eye Girl, is a bit of a blur—I was so exhausted I was hallucinating by this point. There were animations playing on the projector screen. Slowly falling rose petals; psychedelic star fields; dripping technicolor paisley. "Purple Rain," "The Sweeter She Is"… After about a dozen songs, Prince murmured, "Thank you, Minneapolis," and ended his set. There was no encore. I wandered to the pancake line, which was in some bizarre dance room where a DJ spun a set in the shadows, and Finding Nemo played silently against two walls,
(Would-be snapchat caption: "no caption necessary")
Prince didn't mingle with the crowd, like I'd hoped. At around six in the morning, we decided to head out, even though it wasn't sunrise yet. I later learned that we missed a second set. Still, I had no regrets. I got to party with Prince and eat some pancakes.
My mom is so jealous.