Marcio Porto: First-year walk-on learns football from scratch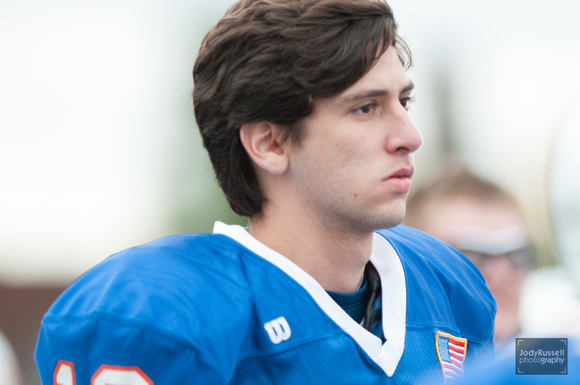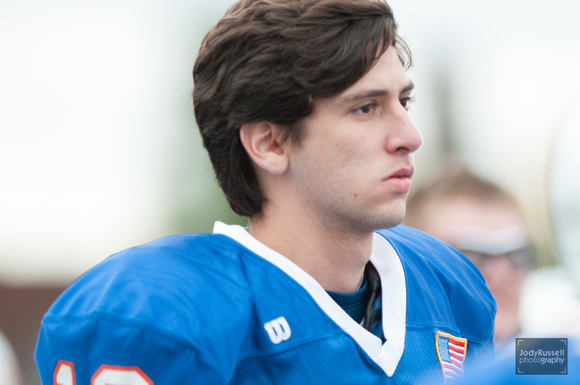 The traditional story of a walk-on is defined by a deep devotion to one's sport. Macalester football walk-on and backup quarterback Marcio Porto '17 (Caruara, Brazil) has for years shared this devotion, but due to American football's lack of popularity in Brazil, he was unable to play the game in any organized fashion until arriving in St. Paul this August.
Growing up in Brazil, Porto fell in love with football from a distance, "watching football religiously every Sunday," despite the football apathy of his surroundings. "The first game I watched start to finish was Super Bowl XLII, so I became a Giants fan," Porto explained.
The famous or infamous game (depending on one's rooting interests) served as a thrilling introduction to a sport, which immediately would become his addiction. Porto said he bought a football right after Super Bowl XLII, though he could rarely find a partner with whom he could practice. "I could occasionally throw it around with my brother but he usually rejected my offer," he said.
"The only people I could share my love for football with were U.S. exchange students," Porto said. "All my friends love soccer, volleyball and basketball, but none of them even understand football."
By the time he began the college process, football was far and away his favorite sport. Something of a basketball superstar throughout his high school career, Porto knew that he had the athletic prowess to pick up a sport from scratch.
"I played basketball for seven years, and, to tell you the truth, I had a successful career," said Porto, a former center on the basketball court.
During his freshman year, Porto's state's Under-15 basketball team invited him to play in a national tournament. After proving himself for his state's team, Porto was one of only 15 players invited to try out for Brazil's nation U-15 team. However, due to his impending year abroad in Taiwan, Porto was unable to commit to the national squad.
Taiwan spurred on a turning point in his commitment to both basketball and football. "When I came back from Taiwan, I continued to play for my school and my state's team, but my love for basketball wasn't the same. Football was my favorite sport," Porto said, attributing this diminishing love to meeting more Americans and thus learning more and more about football.
Foregoing the tryout in order to study abroad may have changed his future considerably. Given that the U-15 national team selected only the 15 best basketball players in the entire country, Porto contends, "I think I could've played at a professional level in Brazil." However, he does not regret this decision "because my time in Taiwan convinced me that I wanted to go to school in America."
Upon deciding to spend his next four years at Macalester, Porto emailed Head Coach Jennison explaining his situation as a newcomer to the sport. "He welcomed me to just come aboard," Porto said. "He told me, 'You're going to have a lot to learn and you're going to be behind a lot of guys because they know the game so well,' but he told me it would be a great learning experience and suggested that I'd have a shot at some playing time down the road."
Due to his impressive height, Porto was brought in to learn the quarterback position. Summing up the inherent difficulties in learning to run an offense, "Quarterback is the most complex position," Porto said. "I had (rarely) thrown a football before I got here, so I had to learn how the throw a spiral, read the defense, and all those sort of things."
"The biggest challenge through the first few weeks was memorizing our playbook; it's not huge, but it had a lot of terminology I wasn't used to," he said.
Having to learn every skill from scratch, Porto's development is ongoing. He stresses that his teammates have been instrumental in this process, and that "the coaches have been very patient, even though I'm probably the worst player on the team right now."
As the fifth-string quarterback, the odds of Porto seeing playing time in his first year are slim. As for his long-term goals, "I'd like to start at some point in my career," he said. "But getting to practice everyday and learning the sport is good for me."
Porto pointed out the crucial difference between the American and Brazilian high school systems is that Brazilian sports "are not seasonal; if you play basketball, you play it the whole year." Thus, the American seasonal format is more conducive to trying new athletic endeavors.
Returning to basketball or playing baseball for the first time are not out of the question for Porto. Regardless, he encouraged other international students to branch out and explore the American sports which may have been unavailable to them in the past.