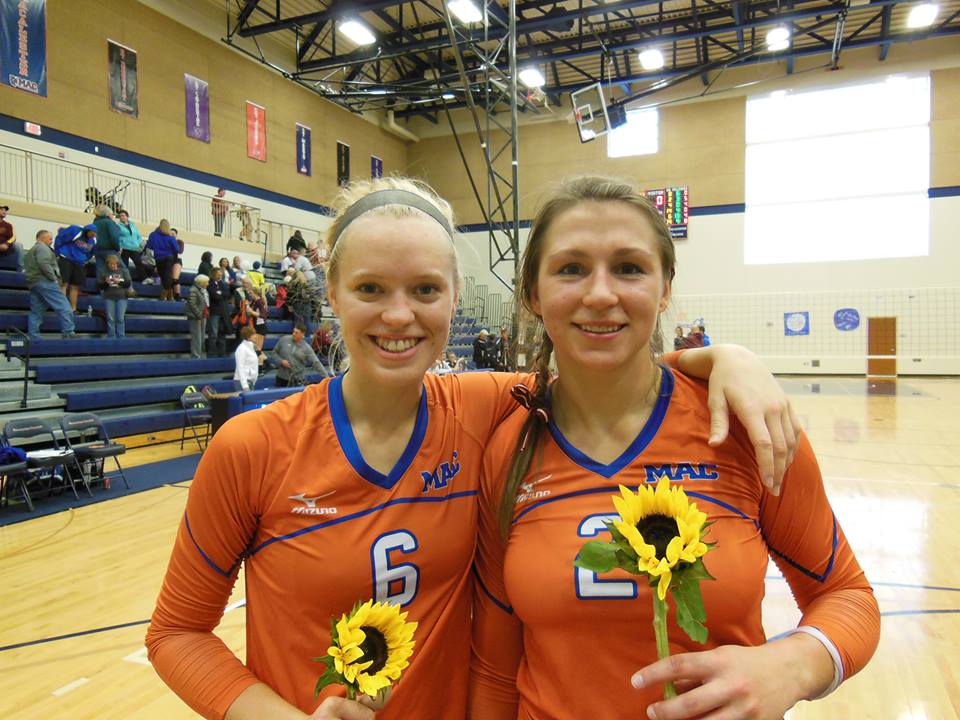 Entering this season, the Macalester Volleyball team had only four conference wins over the past five years, the lowest mark in the MIAC during that period. However, that five year win total was equaled this season as the Scots finished eighth in conference play.
From the start there was something different about this season, this team. Laura Avena '14 (Cesis, Latvia) noticed the winning mentality, "every single girl is here to win." For Brooke Hunter '17 (Stillwater, Minn.) it was "the community that formed immediately, and the constant support of my teammates." Coach Annie Doman found an increased skill level across the board this season.
And the changes certainly showed on the court this season. The main focus of this year's team was making MIAC Conference Playoffs, a goal that became mathematically impossible following a loss to Augsburg on Oct. 28. Still, this season has been far from a disappointment, as the team has continued to build and improve. "We wanted to be inclusive on and off the court and build a strong environment, a strong program," Hunter said. The coaching staff, led by Doman in her fourth year as the Macalester coach, helped foster a "team first, me second" attitude. "We really encouraged them to care about each other and have a lot of their thoughts be for the team," Doman said.
The Scots worked to build an aggressive and confident style of play, trying for more aces than serving errors, cutting out unforced errors and becoming a strong blocking team.
The team of 17 hails from two countries and 12 states drawn to Macalester by a common desire for an engaging academic environment and the chance to play volleyball. An especially young team, this 2013 squad featured seven first-years and five sophomores. A big part of this turnaround season has been the infusion of young talent. "We have a tremendously talented first year class, and they are such a great addition to the team," Avena said.
Strong depth at every position was key for the Scots. "In the past we might have had a few stronger players but not a complete group and now we really have that strong consistent skill level," Doman said.
Bailey Rehnberg '14 (York, Pa.) started noticing this early on. "For us, this year, we've been a really cohesive unit, and so when one person is struggling another one could step up," she said.
On Oct. 26, the Scots recognized the contributions of their two seniors: Avena and Rehnberg. "We really are losing a lot, in a lot of ways," Doman said. "But they've also helped us so much with Laura both up front and in the back line and Bailey on defense, passing and serving."
Avena, a two-time MIAC All Conference selection in 2011 and 2012, had another season of personal accomplishments, though she is quick to credit her teammates. "I can't do any of it without the support of my teammates," she said. "I can't get a kill if my setter doesn't set, and she can't set unless she gets a good pass."
On Sept. 10, in a home game against North Central University, Avena became the fifth player in Macalester history to register 1000 kills. "I knew when I was I close, but it didn't really hit me until my coach pulled me out of the game and that was a really great moment, to celebrate with the support of my teammates."
Avena was also recognized for the first time on Oct. 1 as MIAC Player of the Week.
For Avena many of the positive changes stemmed from work put in the weight room with Macalester's strength and conditioning coach Steve Murray. "In the beginning I asked him 'Why do I need to squat? Why do I need to bench? How is that gonna make me better?' and he answered every single thing, and so I really bought into his program."
Avena credits this weight room work with her continued improvement and success as Macalester's most dominant player. "It has helped tremendously," she said. "I'm faster, stronger, I can hit harder; it's amazing."
Rehnberg has found it hugely rewarding to be a part of the student athlete population here at Macalester, and will certainly miss it. "I've played team sports for the majority of my life," she said. "To be in season, to be practicing, to be wearing jerseys, that's a really empowering thing for me and so looking forward it will be about finding other ways I can stay active."
This season was a breath of fresh air for Rehnberg, whose favorite time is the preseason. "There is so much anticipation and excitement and it's beautiful and you just get to hang out and play volleyball," she said.
Rehnberg found this year to be one of the most fun, after three years of not being as successful, the turnaround brought new energy. "It never gets old to win at home, winning those conference home games is a pretty big rush," she said.
One of those big wins was the Carleton Dig Pink game. Held at home on Oct. 4, the players wore pink and raised money for breast cancer awareness. To top it off they beat rival Carleton in straight sets, with nearly 300 fans in attendance. "There were fellow student athletes, friends of ours, professors came," Avena said. "We've never had such an amazing atmosphere as we did that night."
There is reason to be optimistic that more big games, a winning attitude, and a talented young team will be in the Scots' future. "Our goal of making playoffs is attainable," Doman said. "We showed that this season. We're going to keep playing the best we can with our ability and not holding anything back."