Jon Dahl: Theater and Dance Major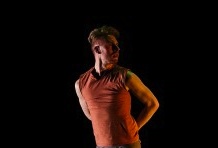 Every week, The Mac Weekly interviews one senior majoring in an artistic field at Macalester. This week, we spoke with Jon Dahl, a theater and dance major.
Where are you originally from?
I grew up in Roseau, Minnesota, which is a small town on the Canadian border.
Do you have any other majors besides Theater and Dance?
I do. I'm a Theater/German Studies double major. For me, Theater and German Studies are actually two disciplines that speak to each other a lot. I'm able to, in my German Studies, take a more exact look at German theater and performance context. But also in the Theater Department, I'm able to bring more of a specific context for German performance to both sides. And of course, [I] have studied a lot of other things, but for me the two intersect in really cool ways.
How did you develop an interest in art?
Ever since I was young, I was a performer. I would sing at churches as a kid. Then I joined theater in middle school… [I] didn't start doing dance until I was a freshman at Macalester. It's kind of been a journey of finding a lot of expressive possibilities in the arts. The arts are a lot about communication and really trying to have a moment of real interaction—whatever "real" means.
Who would you say your biggest inspiration is?
That's a big question. I think lately, as far as artistic inspirations, I'm really interested in a dancer named Pina Bausch. She created this thing called Tanztheater, which is "dance theater" in German. And for me there's a lot of really cool intersections between dance and theater in her work. In a way that dancers aren't just asked to move but also to act and to say things and to have characters, essentially. And, there's a really cool film about her called "Pina"—it's on Netflix Instant! Watch if anybody's interested!
What's the best piece of theater or dance that you've been in?
I can easily answer that one. My sophomore year I was in a production called "The Inland Sea" which was here at Macalester. That was a really huge experience. I got permission to create just this huge character who moved in ways that are totally different than me. I got to do a lot of really cool accent work with creating a British accent that was kind of a mix of different dialects. It was a really fun experience. It was the type of show where I would get on stage and just be so in it that I would be off stage before I knew it. I would just forget what I had done. Those are huge moments in performance, that you can go and do everything you were supposed to have done, but then, it was just such a rush that it just kind of felt like nothing. So that was a huge show for me.
Would you say that that was the work you were the most proud of as well?
Yeah, definitely. I'm really proud of that show. Unfortunately it was only for like two weekends! I could have done that show for a year! That was so great.
What would you say the best class you've taken within your major was?
A couple of my favorites [were] during Fall of my junior year. Two of them that were big: one of them is Theater Methods, with Beth Cleary. Which is a really great course where you get to survey different theater methods throughout time. You look at how theater was viewed in Shakespeares' time and how performance was in 1920s Russia, or how performance was in a lot of different contexts with a lot of different kind of theater practitioners.[This class] also influenced my work this summer finding a theater company in Belgrade, Serbia, that I ended up working with on a summer project. Then the other one is Physical Approaches with Bob Rosen—which is a space where you just got to create and make a lot of really fun things and learn a lot of new exciting vocabularies for physical theater.
Okay, this question is really hard. How would you describe your overall experience at Macalester in one word?
One word…This is my final answer: stretching—or something that's really pulled me. Yeah, I'd say that is my final answer. Because it also, for me, has a lot of connotations of both movement and intellectual stretching; it kind of encapsulates more than one thing.
In what ways are you planning on using what you learned here once you do leave Macalester?
I'm interested in exploring, as I always say, the intersections between theater and dance. And how theater can really be very physical, or how dance can really incorporate language, character, emotion. I'm really looking toward finding some kind of experimental spaces where that's encouraged because it's hard to find. But in the short term, I'm applying for a Fulbright Scholarship to Germany. I think the performance environment there is really exciting and interesting and I would love to be able to explore that, alongside a possible teaching fellowship that I've applied for.
So I want to continue performing. I want to continue being a choreographer, director, something. [And] I really want to teach theater and dance, in some way, shape, or form.
Actors and artists often talk about how they shape their characters, and how they do method acting or other techniques. Would you say that a character has ever shaped you?
Oh, for sure! That's what theater is about. Theater is not only us shaping the character, but the character shaping us. In the same way that you watch a play, it shapes you. Every time I perform, my body is changed. I find myself moving in ways that are totally foreign to my body, or new. That's what's exciting about the theater—is that you can actually find that change is possible, because in playing through these characters, you can really find a whole world of possibility.