Buffalo Wild Wings takes flight in new neighborhood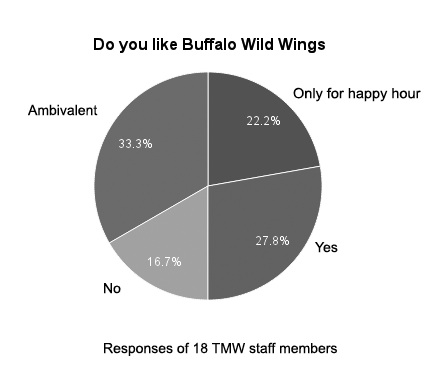 If you're anything like I am, every once in a while you feel the need to venture out of the Mac Bubble and feel like a "normal" 18 to 20-something year old, free of the books and papers that seem to get stacked on you through the course of a typical semester at Macalester. That's why I was stoked to hear they had opened a Buffalo Wild Wings right outside campus.
Located just north of campus, B-Dubs brings an atmosphere a little different than most Mac-Groveland restaurants. The bar area is completely surrounded with about two dozen TVs showing different games, providing an impressive sports experience for even the most apathetic sports fan. The main dining area features several additional screens but with a more traditional restaurant atmosphere. Either way, you're bound to have a pretty fun experience with some good friends, good food and good drinks.
Running low on friends? B-dubs is also a great place for making some new ones. The past few times I've gone I've had some great conversations on topics ranging anywhere from an overrated Ohio State to impacts of the government shutdown (I even had a pretty lengthy conversation about Canadian politics with a Tommie). The open seating around the bar encourages some good discussions, including with the Dean of Hamline School of Law.
The weekends do attract a significant amount of students, so seating near the bar can be hit or miss. Regardless, you'll have front row seats for the Big Game (Stanford vs. Cal), the battle for Paul Bunyan's Ax (Minnesota vs. Wisconsin) or any other game that suits your fancy.
And if the sports scene isn't your cup of tea, B-dubs also has carry out. Call ahead or show up, they'll hook you up with a box of wings or a nice buffalo chicken wrap (my personal favorite). It's definitely an option for the student on the go who needs to grab a quick bite between classes.
But if you do manage to find a weekend out with some friends, one of the things I like about B-dubs is the fact their walls are literally packed with TVs—which comes in handy when you're trying to simultaneously watch the Oakland A's and the Stanford Cardinal play at the same time. They're also very accommodating when you try to configure the TVs so all your games are on adjacent screens, or simply when you want the big game on the big screen.
While I don't drink, the happy hour features some great offers to satisfy your hunger or quench your thirst. Also, their game day specials on some of their tap beers are worth mentioning, since happy hour is only on weekdays. If you're confused about what you should get, Bob or Brix (pronounced: Brē) at the bar will help you out.
Unfortunately, since they're still relatively new, the service slows down a little during their busier hours. While this hasn't always been the case, it has happened. Luckily the TVs provided a healthy distraction!
Also, while most of their items have additional vegetarian options, the menu itself isn't the most conducive to vegetarians. But with the amount of sauces they offer, you just might find a combination that you enjoy.
Overall I would have to say if you're looking for somewhere to get out of the Mac Bubble without venturing too far or spending too much, you should definitely consider making Buffalo Wild Wings your go-to place. It offers a change of pace from the piles of work you've been neglecting and has pretty good food. And if you're worrying about missing the latest Mac confessions, B-dubs has your back: they have free Wi-Fi.