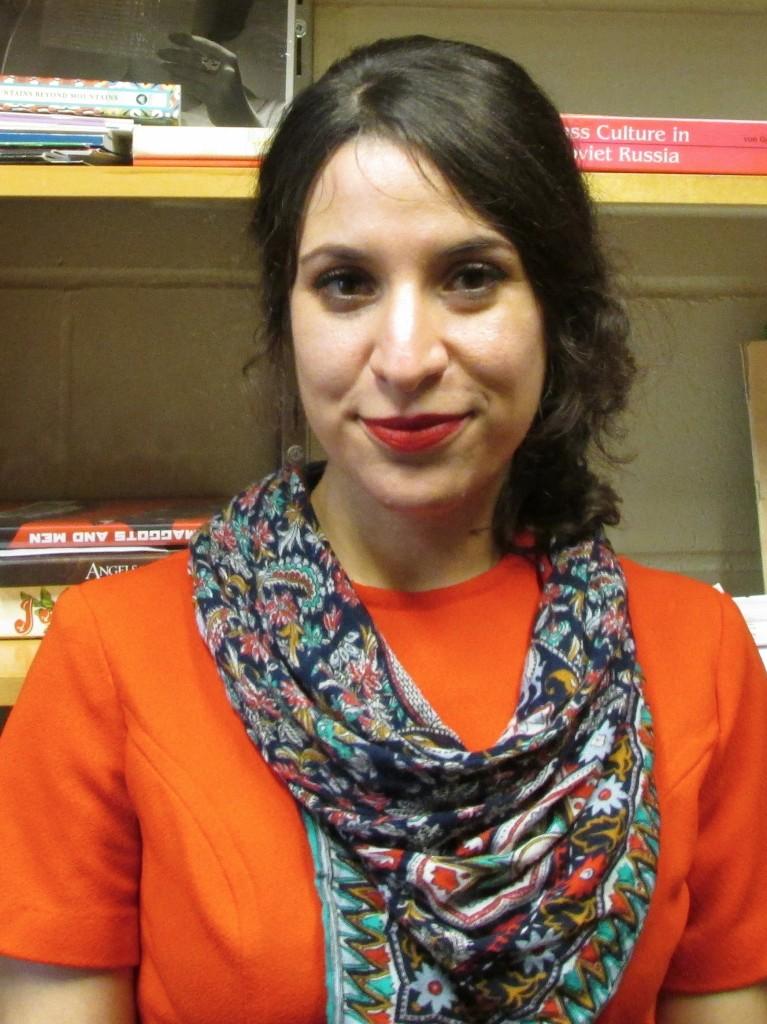 Can you tell me a bit about your background? Are you Russian?
Not a drop. It's a Greek name. The Russians borrowed it when they borrowed eastern orthodoxy, too. But it means resurrection in Greek. My family is from various places. My dad is from New York but his family is from Italy, and my mom's from Colorado and her family is Greek. They met in Colorado and moved to San Francisco and that's where I lived until I went to school at Reed College in Portland. I was up there for five years and then came back and a couple of years later [and] started grad school at Berkeley. So it's been a mostly Californian existence, entirely west coast until now.
How did you choose Reed College for your undergraduate college?
It was a total crapshoot. I didn't really know anything about colleges at all. I did know that I wanted to study Russian. I was also trying to get full financial aid, so I just typed these variables into the computer in the student center and up came Reed and a couple of other places with which I wasn't familiar. My parents just went to whatever schools were nearest them so I didn't have guidance so much there, but I had this internal drive to study either Russian or Japanese literature at the time. I had friends who visited Reed who said I'd like it there so I applied and I got the full scholarship. I applied when I was 16, and I don't think people usually have such a directed sense like, 'I need to study Russian literature!' So I think that made it a lot easier. So many things fell into place and my experience was also as serendipitous and good as the process of applying was. I had a really great experience there.
Then did you go straight to grad school at Berkeley?
No, I worked for a little while because there were still some loans, but I returned to San Francisco. I came back to San Francisco when the dot-com [bubble] had just burst, so there were no jobs, especially for a person who had majored in Russian. So I just kept getting temp jobs at real estate agencies, and having studied Russian as a Trotskyite, I just felt hugely compromised so I ran back to school, not knowing very much about it then either. My mentor at Reed suggested that I go to Berkeley. He knew that I studied sexuality and that it would be a great place for me. So I applied there, and he said, 'You have to apply someplace else.' I got into both Berkeley and Columbia. The packages were basically the same but I thought, 'I want to stick around,' so I did. It was great to be by my family too.
What are you teaching this semester?
This semester I'm doing the Cold War Gets Hot class, and that's cross listed with American Studies and WGSS and Russian. I'm also team-teaching a course with Joan Ostrove in the Psychology department, who has been an incredible mentor and so generous. That one is called Minding the Body. It's one that she's taught before, and it's also a First-Year Course. So I'm also being introduced to that very unique animal which I don't fully understand. But I don't really have to because Joan is there to facilitate both the first-year faculty and the first-year students. And then I'm teaching intermediate Russian.
Do you have a favorite class?
They're so different! I like them all for different reasons. As far as the Russian class goes, Russian requires a very specific student, I would say, because these students have opted for a language that they may have had some exposure to but is not as readily available as some other languages. With Russian, like Chinese or any language that requires you to learn a new alphabet, you know from the first day you're going to be learning to read and write again and there's something so challenging about that. You have to be humble before it and you have to be willing to make a fool of yourself. And in response, whoever instructs that class should also be willing to play the buffoon. It helps everyone. So I like that class, although we all struggle with 9:40.
The Minding the Body class is also really interesting because students are simultaneously negotiating the class itself with the transition of so many things, whether they're international students or domestic ones. The transition from high school to college is a lot to deal with.
The Cold War class has also been really excellent. Students are so receptive that they've actually rallied to have an extra screening. They want more reading. It makes me very, very pleased. I'll be a little proud right now: I really dig the syllabus. Each reading interweaves so well, in different historical moments and different places. This last week we had a section on hipsters. So we had Soviet hipsters, the Soviet poets of the post-Stalin period of the Khrushchev cultural thaw, and there was a collaboration between Russian hipster poets and Avant-garde Cuban poets of the period, too. Then the next class was about American hipsters, so we read Norman Mailer and Lenny Bruce's piece about the Cuban missile crisis. Then in the subsequent class we watched the Mad Men episode about the Cuban missile crisis that's framed by Frank O'Hara's poetry. So it bleeds together really well. Everything is in conversation.
How did you come to Macalester?
I'll spare you the hairy details of the academic job market, but let's just say it's very slim on the ground. There aren't a lot of jobs, especially because I don't do canonical Russian literary studies. I don't teach what we refer to in the biz as Toltsoyevsky, straight up Tolstoy and Dostoyevsky. It's hard for me to find a place that will allow me to be who I am as a scholar and work interdisciplinarily, and so I had a handful of interviews and was not feeling any of these places. It's the kind of thing you can feel even when you're doing a phone interview. With Macalester it just felt really right, and there was no academic drag where you're impersonating the form of scholar that you think they want to hear on the other line. It just felt completely natural, and the campus visit was the same. I thought to myself, 'Even if I don't get this job, I know what kind of job I want, and what kind of colleagues I want and what kind of students I want to be interacting with,' so it was terrific. It felt like things were falling into place.
So the prospect of Minnesota winters didn't deter you even a little?
No, definitely not. I was living in L.A. at the time, and let's just say I'm really incompatible with the city. I don't know how to drive; I ride my bike or walk everywhere. The whole culture is built around the notion that people drive and want to just get to where they're going, be there, drive home. It minimizes the kinds of interactions that I find really sustaining, just walking down the street and even just through the halls. Especially because the work that we do is so intensive and can be really lonely if you're decomposing in front of your computer for hours. It's nice to just walk outside and have moments of interaction. So I just said, 'Get me out of L.A. I'll take the cold.'
What are your hopes for the Russian department while you're here?
I understand that the Russian department went through a couple of moments of crisis and so I'm here in a moment of its rebirth. I'm really excited to work with Julia Chadaga and Jim Von Geldern, and I'm thinking about what ways I can attract people who wouldn't normally come to Russian, and just play up its really fabulous attributes because the classes offered in the Russian department are incredible and I can say from experience in the job market and in Russian departments (now three) that Russian tends to be a kind of closed circuit in a lot of ways. It doesn't tend to be comparative, and it doesn't tend to introduce theory, and that's one of the ways in which this department is really special. Thinking about Putin and Snowden and all these people, and the question of Syria, all of these things continually prove the relevance of Russia. Even if we're not living in the Cold War moment, it's not as though Russia has disappeared from the horizon as a political player. It has eleven time zones; it's a really big place! A lot of people in the world speak Russian and a lot of people from Russophone countries live in the Twin Cities as well, so it seems that there's a need for it.
How long can we expect to see you around campus?
I'm here on a three-year renewable position, so I hope to be here for a really long time. I like it here so much. I do really feel like other small liberal arts colleges aren't necessarily as receptive to the kinds of interdisciplinary things I like to do. The community here is incredible, the faculty and the students are so enthusiastic and intelligent, and I've learned things in my own classes about books that I've been teaching to less interested and less curious and risk-taking students in other contexts. So that in itself encourages me in my research too, and that type of interaction wasn't going to happen if I was at a larger school where I have to just teach text to which I'm not so attached. Here I get everything that I want. My colleagues are incredible, too. I haven't lived through a winter yet, though, so I might be whistling a different tune in a few months.
And finally, have you ever been told that you look like Regina Spektor?
No, but I'll take it! I've gotten PJ Harvey, and Amy Winehouse. Growing up, I wanted to grow up into Maria Callas, but Regina Spektor is good too!