Environmentalist Bill McKibben returns to promote new book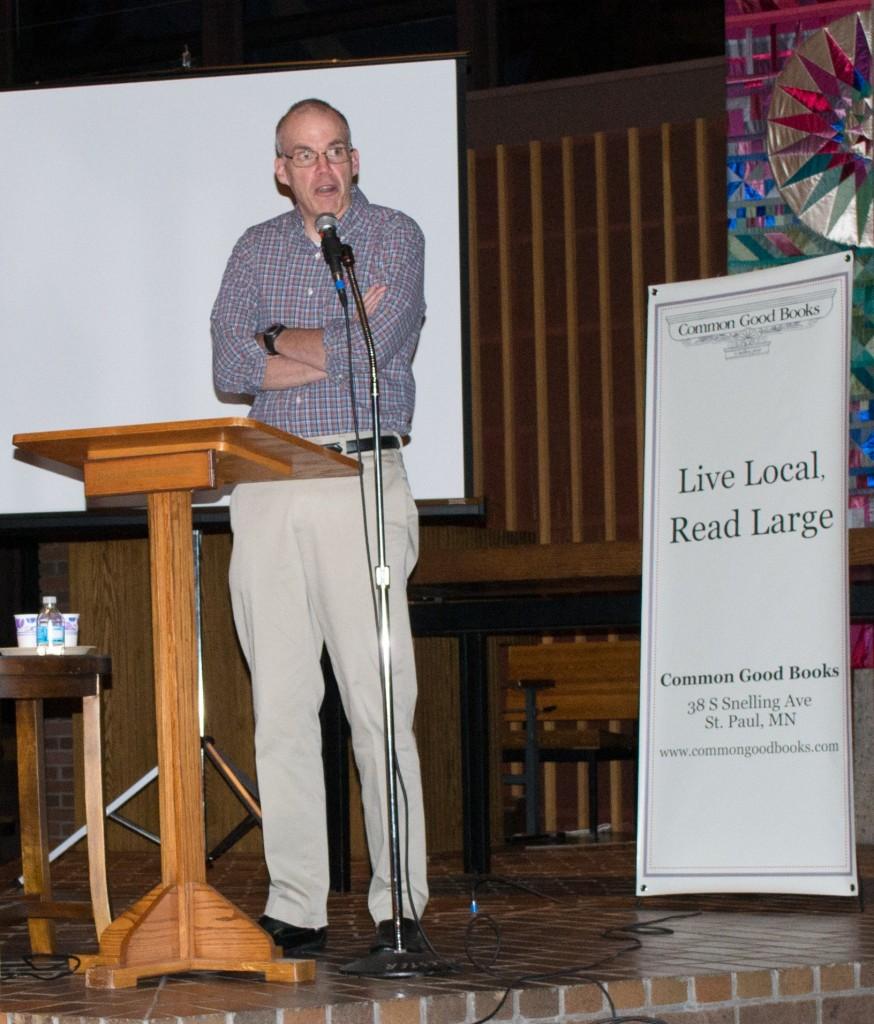 The last time Bill McKibben—a professor at Middlebury College and founder of the anti-carbon emissions group 350.org—was on campus, he helped spark the Fossil Free Mac divestment group. This time, many of the students who were fired up from his last visit came to hear him discuss his latest book.
McKibben explained the analogy running "Oil and Honey: The Education of an Unlikely Activist" to a full audience of primarily non-student community members in the Weyerhaeuser Chapel Tuesday. Though the Oil in the book's title is obvious, Honey merited some explanation.
"Corporations are like bees," McKibben said, "simple in their approach to complete one task with efficiency. They can gather resources from far away and work together to achieve amazing things. They are powerful, but only people are complex. Only people can cry, can go to jail. Only people can decide if building tar sands is a good idea."
McKibben gained fame after leading the 2011-2012 protests against the proposed Keystone XL pipeline project, which would transport oil from Canada to Texas. McKibben served three days in prison for this protest, one of the largest in 30 years in the United States. He also founded 350.org, an international environmental organization that raises awareness about global warming and attempts to slow its effects.
In his speech, McKibben said that few believed the protest against the Keystone Pipeline would be a success at its start.
"After 800,000 e-mails [have been sent] from citizens to senators," he said, "The verdict from President Obama, which will be made in six months, might be the first time a President will say no to a big project in order to protect the environment." McKibben also said that more elders should step up as leaders in the climate change movement instead of relying on youth. He added that protest consequences like prison time can hurt student employment opportunities.
"For anyone in here who's a professor—put that tenure to use!" he cracked. "You guys are some of the most protected people in this country."
Before his presentation to the public, McKibben met students in Environmental Studies and students involved with Fossil Free Mac. He learned that the Macalester College Student Government voted 20-2 in favor of divestment from fossil fuel companies, and criticized Macalester for not taking action to divest.
"By not doing anything, Macalester has been taking a side," he said. "It has been saying that the actions of Chevron and Shell are acceptable."
McKibben added that 155 colleges divested from Apartheid South Africa during the 1980s. When Nelson Mandela was released from prison, McKibben said, he came to America and thanked colleges for their support, not the government. Gabriel Barret '17 heard about McKibben's presentation in his Water and Power class.
"I wanted to go because this seemed like a such a relevant issue," he said. "And getting to hear from an established individual is still a new thing for me. Hearing him talk to all of us like we were already part of this big movement was exciting. It was like he was rallying troops."
Henry Kellison '17 learned about the event through the Minnesota Public Interest Research Group (MPIRG).
"I first learned about Bill when I watched a recorded lecture of his last year for my high school environmental science class," he said. "Even though his lecture was about ten years old, it was still remarkably relevant."
The crowd responded with affirmative nods and vocal approval throughout McKibben's presentation, especially at his final comment in support of environmental protest.
"Who are the radicals?" he asked. "The radicals are those who work at oil companies. They're the ones who are attempting to chemically alter the composition of the atmosphere. We're not the radicals."