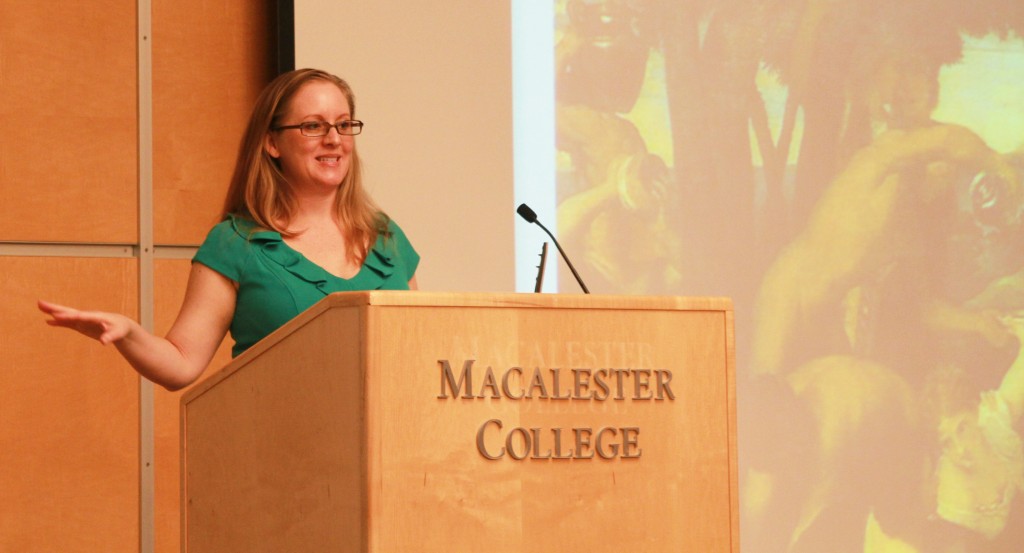 On Tuesday night, Dr. Lisa Wade stepped onto the Kagin stage, ready to address a room full of staff, community members and students. While there are plenty of interesting and intellectually stimulating events at Macalester, it is not often that there is much (academic) attention paid to this particular topic: "hook up culture."
"It's just now that researchers are starting to really understand what is really happening on college campuses," Dr. Wade explained in an interview before her talk. "I'm always trying to ask myself what the new research is and how it might change the message of my talk."
While much of the information in her talk relied on large-scale survey data and student diary entries, Dr. Wade opened with a fact that needed no empirical support: "There's this rumor that college is some kind of bacchanalian orgy," she said. "Things are happening every weekend that you aren't writing home about. So today we are going to ask: is it true that college students are actually hooking up quite a lot? And if you are, should we care?"
She then quickly went on to debunk the first myth. "Your generation did not invent casual sex," she assured the audience, citing that students today actually have slightly fewer sexual partners than their parents did a generation ago. She went on to explain that while relatively few people are actually hooking up, the overwhelming majority of people say that it characterizes the social and sexual culture on their campuses.
Dr. Wade's talk centered around the idea that while casual sex and hook up culture are not inherently bad, the fact that they are the only visible option on many campuses leaves many students feeling isolated and dissatisfied. She pointed out that many students feel excluded from hook up culture, including those who are of a racial minority, identify as queer, or don't have the money necessary for regular drinking and partying. She also pointed out that about 70 percent of college students (of all genders) want to find a stable romantic relationship, though fewer are willing to admit that.
In closing, she recommended that we, as students, work to establish opportunities for sexuality and romance outside of the hook up model—not to eliminate hook up culture, but to grow alternate scenes. If so many students are dissatisfied with what hook up culture is offering them, then it is our job to create space for more diverse options. After the event ended Nola Pastor '14 said that she thought the talk was "really optimistic," going on to explain "how amazing it is to think about what the sexual world here, or anywhere, would look like if it was really about what we wanted or didn't want, and if we all had the freedom to imagine different relational and sexual possibilities and felt enough agency to choose among them … I think this presentation potentially opens doors to different conversations about sex at Mac by debunking the idea that hook up culture actually dominates college students' sexual experiences, or that it is a universally good thing."
Dr. Wade is an Assistant Professor of Sociology at Occidental College who is a regular contributor to Jezebel, Ms Magazine and The Huffington Post in addition to running her own widely read website, Sociological Images.