20 years and stronger than ever: "Drink Blood, Smoke Crack" creator revitalizes quirky cheers in soccer stands
Simply looking into the stands this Tuesday, one might have assumed that the men's soccer game versus St. John's was not a major affair. But with Andrew Virden '96 leading the student section in cheers seemingly every other minute, Macalester Stadium was hopping.
Virden sat in his usual post, halfway up in the center of the bleachers. A crowd of friends and admirers sat nearby, as close to St. Paul's human tourist attraction as they could. Students would occasionally glance up towards Virden, awaiting his cues for the next cheer.
For the past 20 years, Virden has been the indisputable face of the Macalester fanbase. Unlike most state flagship universities, Macalester athletic events aren't broadcast nationwide. And good luck purchasing the jersey for your favorite athlete. The smaller Division III environment at Mac hasn't discouraged Virden from cheering his Scots on years after graduation.
"I used to fly home from Detroit to go to games for the day," he said. "Sun Country had a $99 trip to Minneapolis to go to the Mall of America, and my friends would pick me up to drive me to the game. We'd drive to Cossetta's and then they'd drop me back off at the airport and I'd fly back to Detroit."
Aside from a stint of nine years when he worked in Detroit and Philadelphia, Virden said he's only missed a handful of Mac soccer games. Within 24 hours of relocating back to the Twin Cities in 2006, Virden was back at Macalester Stadium for a game. To his surprise, someone handed him a list of Macalester cheers, most of which were his creation. "I had no connection to the team at all. I didn't know anyone on the team. I didn't know nothing," he said. "But I'm like, 'Wow. Most of my cheers are still done at Mac.'"
In the bleachers, Virden is often referred to as the "Dark Goat," which is in reference to Virden's most popular cheer, "Drink Blood, Smoke Crack." When a talented men's soccer squared off against a fast Amherst team in the mid-1990s, Virden recalled Amherst scoring within the first minute, leaving the Scots behind at the half. Virden said that fans came up to him asking what they could do. "It was me and three of my friends and I'm like, 'We're going to have to conjure the spirit of the dark goat, the lap dog of Satan," Virden said.
From there, Virden and his friends strung together the lines to the famous "Drink Blood, Smoke Crack" cheer. The cheer proved to be good luck as the Scots fired back to win 3-2. As the final horn sounded, students stormed the field. The rest is history. In 2010, the magazine Mental Floss recognized the cheer as one of the seven most memorable sports chants. "Drink Blood, Smoke Crack is our go-to," Virden said. "That's the cheer that alumni who don't even know me know of."
Virden recognizes that athletics are not the first priority for most, if any, of the student body. Still, he insists that attending soccer games is a great experience. "One good thing for people to remember is that there is more to your college experience than your papers and your tests," he said. "When you graduate you won't remember, 'Man, I studied the hell out of that Spanish test.' What you do remember are the friends that you meet in an environment like this."
If you arrive early to a Mac home game, you'll likely see Virden standing in the middle of the bleachers, a list of his "unofficial" cheers in one hand and his cell phone in the other. While Virden's low, passionate yells are more than enough to get the crowd jeering, he is quick with his phone to round up more alumni to get out for the game.
Virden is the first to admit that fan attendance has been down the past few years. Last year, a cheering controversy was sparked from an off-campus cheering incident during a women's soccer away game. While there are varying accounts of the matter, the event led to signs and verbal warnings from campus administrators regarding disrespectful fans. While Virden was disappointed with how the dispute was handled, he responded by writing up new cheers to replace last year's most contested cheers.
A History and Communications double major, Virden now works for DFL politics in Saint Paul. "I could sit there with my history book and get work done and cheer at the same time," he said.
"It's kind of my gift to the school," Virden said. "I don't give a lot of money to the school, but what I give is …" Virden paused as he was greeted by some of his co-workers, who, despite having no affiliation to Macalester, were attending the game per his suggestion. "The Dark Goat, the Dark Goat," Virden's co-workers yelled.
One of them was a St. John's grad, who immediately broke out into a Johnnies cheer. Virden responded promptly by leading the Mac student section in tuning him out by singing the school song, "Scotland the Brave."
"For me, it's also a way to connect with current students," Virden said. "I run into parents at the State Fair and at the Capitol, and they'll be like, 'Oh, my son was the goalkeeper on the 2000 team. Aren't you Dark Goat?' So that's kind of cool."
While Virden led the majority of the night's cheers, the most repeated chorus of the evening was not of his creation. "We love you, Dark Goat!" the fans shouted throughout the game.
Virden was known as "Grimace" by his friends, but he said several years ago a men's soccer parent confused him as being "Dark Goat." The confusion has persisted ever since. "Every time they [the fans] say, 'We love you Dark Goat,' they're really thanking Satan, the unofficial mascot of Macalester soccer," he joked.
A tradition of the women's team is to do the Jiggalo cheer at the end of every home game. "That's kind of a nice legacy that we've left," Virden said. "The fact that the team appreciates that they're being cheered for and regardless of a cheer or a loss they come, it brings the fans and the players closer together."
Virden said his relationship with current players including Georgia Cloepfil '14, Maggie Molter '14 and Izzi Speer '14 is particularly strong. "I really like this senior class of women in particular," he said. "It's also kind of my way of contributing to the player experience. I'm told by people who are here who say, 'Hey the reason I'm here, the reason I came to Mac, was because I came here as a PF and I saw you leading these fans and everyone going bonkers.'"
Molter said that Virden was quick to welcome her during her first year. Since then, their bond has grown. "Grimace is such an awesome guy who shows a genuine interest in the success of our team and the well-being of each player," Molter said. "[He] is a huge part of the soccer community here. It's so fun to hear him cheering for us and also to cheer alongside him at the men's games."
"There was a moment during a game earlier this year when the game was very close, both sides were battling, and it was starting to get really tough," Molter said. "All of a sudden I hear the Dark Goat cheering at the top of his lungs: 'FEAR DOES NOT EXIST IN THIS DOJO, DOES IT??' and the huge crowd responds 'NO, SENSEI!!' I just looked at Georgia who was nearby and we both had the biggest grins on our faces. One of my favorite moments of my Mac soccer career for sure."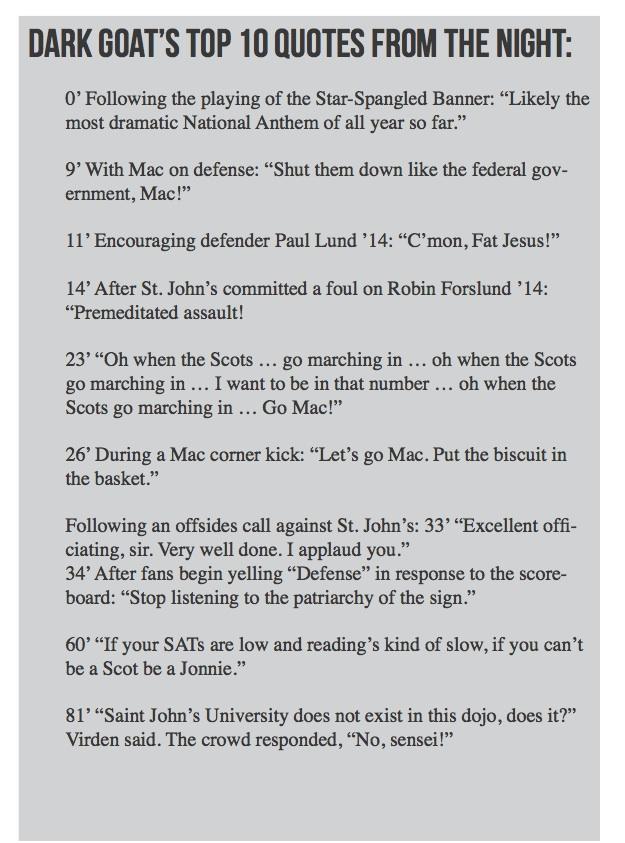 For Virden's Mac soccer updates, follow @fearthedarkgoat on Twitter.