A night at First Avenue usually consists of strobes, a steady bass that stays in your ears for a few days and maybe a few hundred gallons of foam. It's not the kind of place you'd expect to see Sam Beam, who goes by the stage name Iron & Wine. Beam, a contemporary folk singer known for his peaceful, melodic songs that draw much of their inspiration from contemplating his own upbringing in the South, generally appears nowadays at larger festivals, usually outdoors. But the relative smallness of the main stage at First Avenue made for an intimate show experience that Beam doesn't often achieve, despite his deeply personal lyrics.
I don't have much to say about the opening act—I've actually forgotten their name. The lead singer and electric guitarist looked and sounded much like she was asleep, and the lack of energy exhibited by the rest of the band followed suit. But all was made right when the curtain came back up and Beam appeared, acoustic guitar in hand, for the first show of his 2013 tour. His beard was longer than when I saw him two summers ago at Ravinia, near Chicago, and for diehard fans I'm proud to say that his signature protruding forehead is still as bulging with genius as ever.
With the release of his album "Kiss Each Other Clean," Beam launched a new style for Iron & Wine, combining his earlier influences with jazz and R&B. He developed this blend further in his most recent Ghost on Ghost. Beam shared the stage with a sizable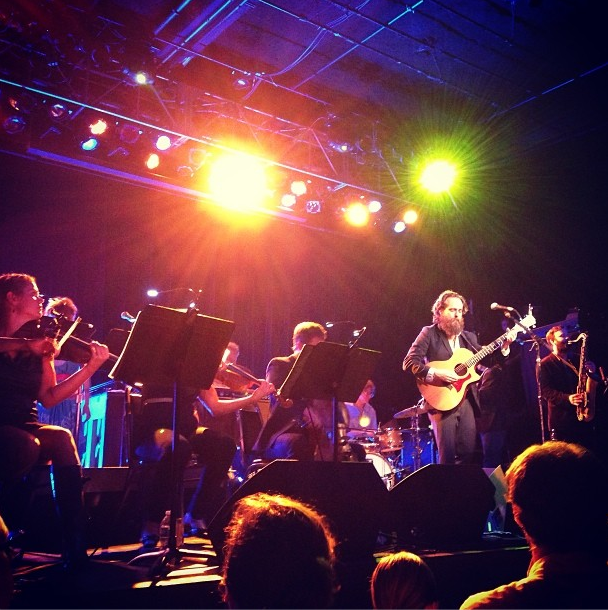 and eclectic band, including a violin, viola, cello, drum set, several saxophones, a trumpet, and something called a flugelhorn which closely resembles a trumpet, as well as three female backup singers. Beam showed his usual mastery in the arrangements, never once playing a song as it appears on the album. The selections started out pretty much exclusively from Ghost on Ghost and then began slowly working backwards, including classics like "Jezebel," "Boy With a Coin," his cover of "Such Great Heights" by The Postal Service, and my personal favorite, "Passing Afternoon," instrumented entirely by a trio of clarinets. As someone who is much more a fan of Beam's earlier work (especially the album "Our Endless Numbered Days"), I couldn't believe how much I enjoyed the old songs rendered in his new, jazzy style. I will definitely be taking another listen to his more recent stuff.
In response to growing shouts demanding "The Trapeze Swinger," an acoustic ballad that Beam wrote for the soundtrack to the movie "In Good Company" (never seen it) and that has become probably Iron & Wine's most beloved song, Beam chuckled into the mike. He said he was trying not to play that song on this tour, as he had sung it "every damn show" for the past seven years. Of course this only made them yell louder, but he kept his word. That must have taken a lot of courage, with a nearly constant barrage of, "Play Trapeze Swinger!" between songs from every section of the main floor and the balcony. With a pleasant mixture of old and new, complex jazz beats and harmonies and solo acoustic songs (oh yes, he did kick everyone else off stage eventually!), the show brought together everything I love about Iron & Wine. If you see Beam live, come open to experimentation and expecting an absolutely top-notch performance. The man with his gentle, molasses-like Southern accent and deceptively simple themes and lyrics is truly a giant in contemporary folk.