CRSL mobilizes after O'Donnell reassigned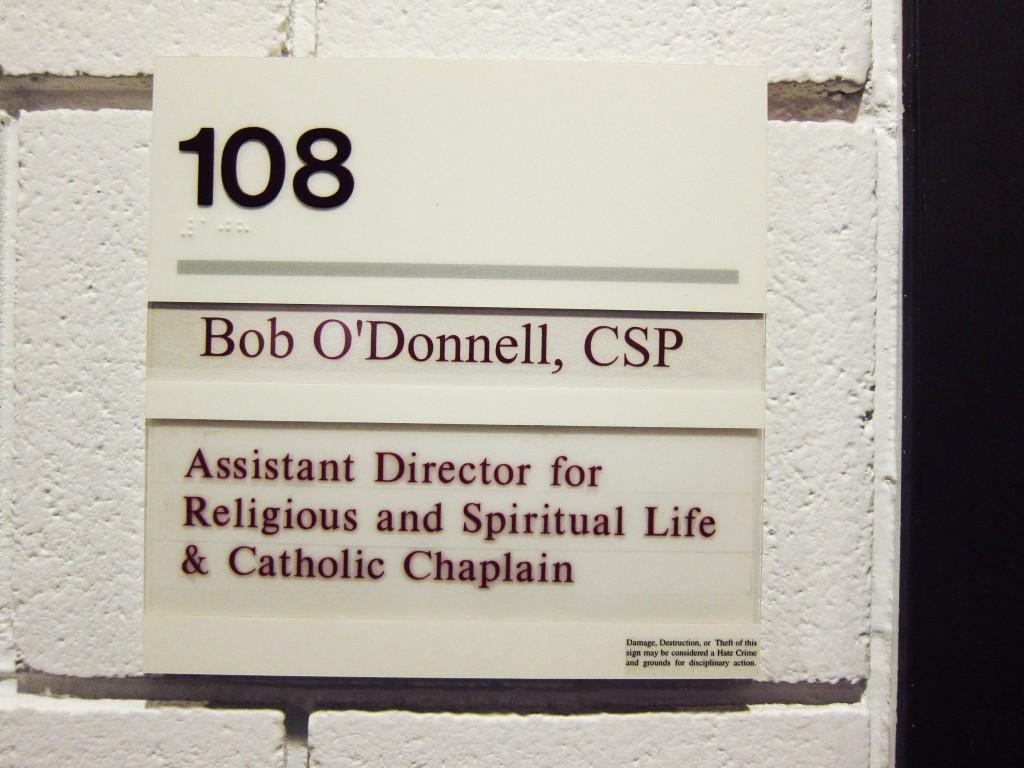 Toward the end of last year, word came out that K.P. Hong, Associate Chaplain at the Center for Religious and Spiritual Life (CRSL), would be leaving Macalester after funding for his position was exhausted. Students, the CRSL and the College mobilized to find ways to fill the void that would be left by his departure. Over the summer, the CRSL received news they would have to accommodate another departure by one of their staff, as Catholic Chaplain Fr. Bob O'Donnell was reassigned by the Archdiocese over the summer and would not be able to return to Macalester in the fall.
The departure of O'Donnell leaves Macalester with just two chaplains—CRSL Dean Lucy Forster-Smith and Jewish Rabbi Barry Cytron.
O'Donnell was a member of the Paulist Fathers, an order of Catholic Priests known for their involvement in campus ministry and interfaith dialogue. Although ordered priests such as the Paulists differ from diocesan priests because they are not assigned to one parish and are also overseen by their order, they still fall under the authority of the Archdiocese in which they are located.
In addition to serving as the Catholic Chaplain at Macalester, O'Donnell worked with the rest of Minnesota's Paulist community at St. Lawrence Church, which served as the Newman Center for the University of Minnesota. Toward the end of May, O'Donnell and the other Paulist priests were notified that they would no longer be in charge of ministry at St.
Lawrence and their services would be replaced, effectively severing O'Donnell's ties with Macalester as well.
According to a joint statement released between the Archdiocese of St. Paul and Minneapolis and the Paulist Fathers, the Paulists at St. Lawrence will be replaced with diocesan priests, and the archdiocese "has been considering a migration of leadership [at St. Lawrence] back to the archdiocese for many years."
Both the Paulist Fathers and the archdiocese declined further comment.
The statement goes on to cite availability of diocesan priests making the replacement possible but does not state any motivation for the archdiocese's move.
The archdiocese did not reach out to Forster-Smith or the CRSL to discuss the impact that O'Donnell's reassignment would have at Macalester, according to Forster-Smith. She was not aware of O'Donnell's departure until he told her himself early in the summer. No representative from the archdiocese notified her otherwise.
"The archdiocese basically described what happened at Macalester as 'collateral damage,'" Forster-Smith said. "I said we need a priest, you need to help us find somebody because we don't have anybody, [and] I never heard from you that Father Bob was leaving. [The archdiocesan representative] said, 'yeah, we realized later it was collateral damage. We realized we made the decision at the University of Minnesota to make that change, and then after the fact realized that you guys were without anybody.' It's like it wasn't even on their mind."
Last-minute mobilizing to fill O'Donnell's shoes
No official public announcement has been made about O'Donnell's departure, but that isn't intended to keep his departure silent, according to Forster-Smith. She intended to time an announcement about O'Donnell's departure with the announcement of a new Catholic priest being assigned to Macalester, but since that has not been worked out yet, no announcement has been made.
Word of O'Donnell's departure has spread very slowly, with knowledge of his reassignment away from Macalester contained mostly to those in the CRSL, Mac Catholics and students that worked with him personally. His nameplate is still intact on the door to his former office.
Judith Wodzak '15, a co-chair of Mac Catholics, said they were given very little information about circumstances leading to O'Donnell's departure.
"All we were told is he was reassigned by the archdiocese, and his order was reassigned so they would no longer be involved in campus ministry, so it's sort of unclear why that happened," Wodzak said.
"The response from [Mac Catholics] in general was no one was really that happy to see him go," said Kevin Dowling '16, another co-chair of Mac Catholics. "A lot of people were understandably quite miffed at the archdiocese because he was a big part of our organization and a big part of larger campus life. He would go to all the sports events and be there for people, Catholic or non-Catholic. He was more of a community leader too."
The news broke to the rest of Mac Catholics in an email that was sent out in late June to alert the organization of the "unprecedented situation" and attempted to sketch out a path forward despite not having O'Donnell at the helm to supervise the group.
O'Donnell's reassignment created two issues for the CRSL to resolve: Mac Catholics' continued desire to offer Mass to students despite lack of a permanent Catholic priest to supervise the group, and the CRSL's need to fill O'Donnell's position with a priest on a permanent assignment to the college.
At the beginning of the year, Mac Catholics performed various means to provide Mass for students. For a few weeks, they bussed students from campus to St. Thomas More Catholic Church. After that, they began having guest priests from St. Paul Seminary perform Mass on campus.
Wodzak said this stopgap arrangement is not ideal for the organization, since the permanence and continuity that comes with having the same priest perform Mass at the same time every week is ideal.
Forster-Smith is currently meeting with representatives from the archdiocese, Deacon John Vomastek. She hopes to find a permanent replacement priest as soon as possible.
Currently, they have reached an agreement to have Rev. John Forliti begin saying Mass on campus on a temporary basis. Forliti is a retired priest and the former Dean of Students at the University of St. Thomas who currently serves as a chaplain at St. Catherine's University and Cretin-Derham Hall High School.
Unfortunately, Forliti is likely unavailable on a permanent basis, according to Forster-Smith, but he will be at Macalester until at least mid-November, where by that time she hopes to have found a permanent fixture for the CRSL.
Complexities of locating a new priest
Despite the lack of communication from the archdiocese to Macalester at the time of O'Donnell's reassignment, Forster-Smith says the archdiocese has been very helpful and accommodating during the transition process.
"The archdiocese has been really gracious throughout the years of appointing amazing people to Macalester throughout the years, and Fr. Bob is one of those amazing people," Forster-Smith said. "The archdiocese is very interested in getting someone assigned here."
The challenge in finding a replacement priest is locating one that is well-suited to Macalester's reputation of a predominantly liberal student body, said those involved in the process.
"It's not that our students are all the kind of very liberal Catholic students — many students are, but there are a lot of pretty traditional Catholics who take a range of positions on the hot-button issues," Forster-Smith said. "Our students are not of one voice on that, but we need someone who's open to a range of perspectives."
"That's what makes this process so hard, because of our unique and intentional community. We want to find a person who will be respectful of the diversity here," Dowling said. "Some of our meetings last year centered around these themes, saying 'oh, I identify as a gay individual but my faith is really important to me. I struggle so much with the doctrine versus how I feel.' And it's a big discussion, but we don't want to make anybody feel like they're not welcome to come because of sexual orientation or political views or anything like that. We want to be an open and welcoming community, so we need a priest that will be tolerant of everyone."
Wodzak also spoke to the need to sustain the interfaith dialogue present in the CRSL.
"It's tricky, because Macalester is such a multi-faith school, so if you have a priest coming into this environment, they have to be really aware of that," Wodzak said. "It doesn't need to necessarily be someone who has the same opinions as Mac students, but [someone who] is open to talking about how to think about it and how to be respectful of people's viewpoints and learn about them."
O'Donnell is currently working at Newman-Hall Holy Spirit Parish, the Catholic community at the University of California-Berkeley. According to Forster-Smith, he will be back at Macalester in mid-October for a farewell ceremony and reception.
Students attempt to fill leadership voids
The departure of two Chaplains (O'Donnell and Hong) from the CRSL over the summer left somewhat of a leadership vacuum in certain areas throughout the CRSL, which have been, to some extent, filled by student leadership.
Sarah Fleming '14, who is involved in the Multifaith Council and co-chairs Sitting at Mac, points to the increased presence of student leadership in the organization after the departure of Hong, who was deeply engaged in the program before his departure.
According to Fleming, Hong began to phase himself out of leadership roles towards the end of last year, having other students lead meditation sessions and help facilitate the retreat. Now, in the absence of Hong, Fleming and the other co-chairs are leading some meditation sessions, and they are reaching out to instructors in the greater Twin Cities to help lead other sessions.
The CRSL has been providing financial support to allow that to continue, according to Forster-Smith.
Jacob Kraus '15, who works in the CRSL, said there has been increased pressure on student leadership to fill the void across the CRSL, and that push has both advantages and pitfalls.
"It's simultaneously really cool, but can also be really stressful. There's this tension that students are here to learn, but they're also here to develop. How much of a role can students take on in filling those missing spots?"
"They've been amazing," Forster-Smith said on the increased presence of student leadership. "They've just done amazing work."
In addition to taking leadership over organizations like Sitting at Mac, Forster-Smith said she noticed that she has seen increased student participation in planning worship services and leading programs or workshops.
"I think it's hard to state the impact that KP and Father Bob had on the wider community," Dowling said. "They kind of went well beyond what their positions on paper said, and they did so much more than what they had to do. It's kind of hard to fill those vacancies on campus."
The Multifaith Council and Student Religious Organization Council, both of which were co-facilitated by Forster-Smith and Hong, will be Forster-Smith's responsibility. Other services which were performed by multiple chaplains, such as Sunday night Vespers and the annual Christmas Candlelight Service, will continue, albeit with fewer chaplains.
The CRSL has begun an effort to plan a solid foundation for the department's future, in the face of its smaller capacity. According to Forster-Smith, programming has been cut due to a lack of staff and reduced capabilities of the department. Programs such as Sacred Stories and a series of talks on forgiveness, both of which the CRSL sponsored last year, will simply not be possible this year due to the transitional period of the department.
In addition, the counseling and personal advising components of the CRSL have been scaled down.
"It's felt the most in terms of our time to do one-on-one conversations with students," Forster-Smith said. "I think that's the place, given student need for support and care and counseling."
Building a future foundation for the CRSL
Forster-Smith has been meeting with administrators to begin prioritizing needs and priorities for the CRSL and potentially scope out future sources of funding for the department. The college is currently in a hiring freeze and not undertaking a capital campaign, Creating a position for the department, such as Hong's former chaplaincy, is therefore a highly unrealistic option for the CRSL. Instead, the CRSL has begun engaging administrators and student religious leaders to brainstorm possibilities for donors and outside sources of funding for the CRSL. According to Forster-Smith, the college has been incredibly cooperative.
"[The college] sees it," Forster-Smith said. "They know that there's a need, and they know that we're not staffed at the level of where we need to be. It's not any surprise, but it's just an unfortunate set of circumstances where the soft money ran out and we're in the middle of a hiring freeze."
"We need to make a case for the CRSL to be prioritized as a campus resource," Kraus said. "From what I've heard in conversations with folks, really the administration was working right alongside with the chaplains and folks to see what could be done about both departures. And for KP's situation, there was a point where there was no way for the numbers to add up regardless of how hard everyone tried, and with Father Bob it was a diocesan decision. This is not like the CRSL waging war against the administration."