FAC Chair Zilton forced to resign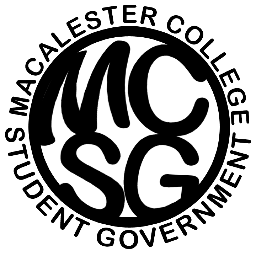 The Financial Affairs Committee (FAC) of MCSG reviews budgets from student organizations and is charged with managing the student activity fee. As the new semester begins, its own management is in a state of flux.
Adinah Zilton '14, the current FAC Chair, was recently forced to resign from her position. An election process to fill her spot on the Executive Board has begun, and will conclude at the start of next month.
On Sept. 6, Zilton received a letter from Ann Minnick, Director of Academic Programs, informing her that she was on academic probation and would not be allowed to serve as FAC chair. Zilton appealed the decision, and learned Sept. 13 that her appeal was denied. The Executive Board of MCSG was informed of the decision in their weekly meeting this Monday evening, and the Legislative Body of MCSG was informed on Tuesday evening.
The announcement surprised the other members of the Executive Board.
"It took us aback a little bit," said MCSG President Kai Wilson '14.
According to the MCSG bylaws, if an office on the Executive Board is vacated, a special election to fill it must be held within three weeks. The election process has already begun. In the meantime, Zilton will continue to facilitate meetings of the FAC and work with student organizations to assist with the transition.
"People can still email me if they need to," she said. "I'm still meeting with people this week to go over OrgSync."
Other members of the Executive Board, such as Student Organizations Committee (SOC) Chair Maddie Arbisi '14, will also fill in the gaps.
"As for SOC, we will be the bridge between orgs and FAC during this transition period," Arbisi said.
Wilson and Arbisi both stressed that there were no hard feelings among the board members, and that they continue to work well together.
"We really want to support Adinah," Wilson said. "The dynamic still remains positive."
"Personally I will miss Adinah a great deal but moving forward is the main priority to ensure orgs are and can function as normal," Arbisi said.
Zilton will publish an op-ed in this Friday's issue of The Mac Weekly with more details on her forced resignation.
The filing form for candidates interested in the FAC Chair position will be sent out on Wednesday. Candidates will have until Sept. 22 to file to run for the office.
The forms have more depth than typical candidate filing forms, according to Wilson. They will include more questions asking for information about a candidate's qualifications for the position and reasons for their interest.
"I can't stress enough how important the FAC Chair is and those who are applying should think about this commitment very seriously," Arbisi said.
The candidates meeting will take place on Sept. 23, with biographies due the next day. A debate between the candidates will be scheduled either on Sept. 24 or Sept. 25. The voting period will then begin on Sept. 27 and last through the weekend. Results will be revealed on Oct. 1.
Dean of Students Jim Hoppe has advised MCSG for the past decade. He provided some historical context for Zilton's forced resignation.
"In the ten years I've advised MCSG, the resignation of an exec (or in some cases more than one) mid-year has been relatively common," he said. "It's only been the past three executive boards where the slate originally elected fulfilled their entire term."
As the Executive Board moves forward, they hope to continue this recent trend as much as possible.
"Three elections within the first month of school is not something that we're used to," Wilson said, referring to first year Legislative Body elections and the sophomore year representative special elections that have already occurred. "We want to recreate the stability that has been present in the last couple years, and also keep things transparent with what we know and what the student body knows."