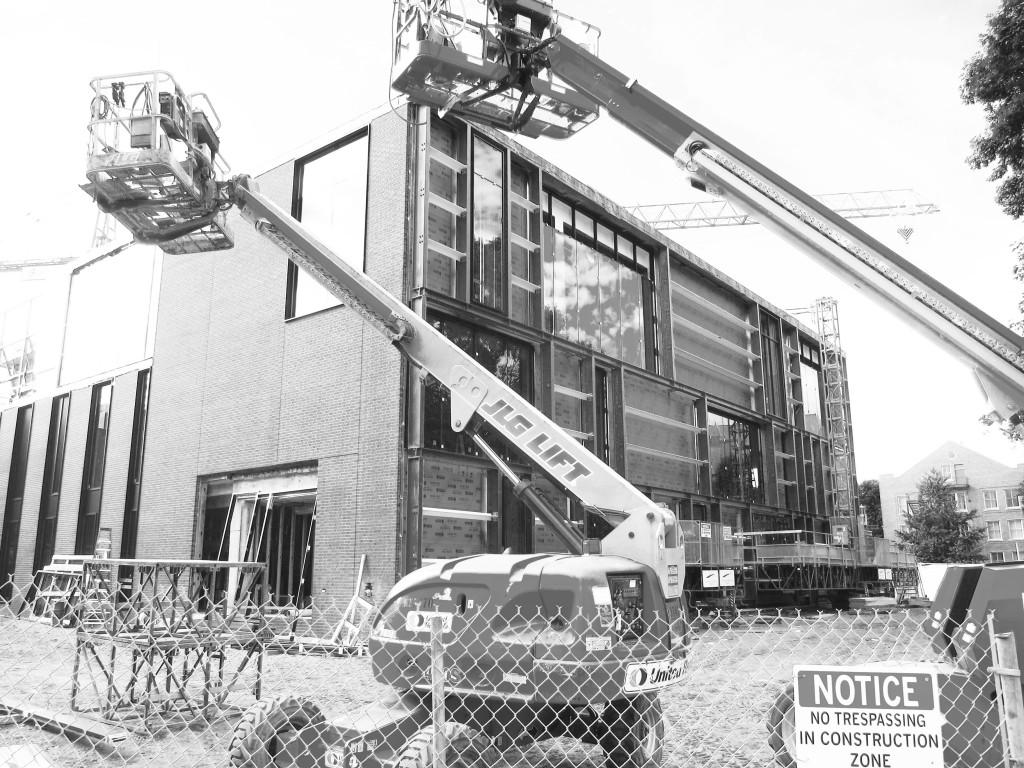 The sidewalk in front of the Janet Wallace Fine Arts Center opened briefly on Monday and has remained fully open since Tuesday. The open pathway, now full of students, is a sign of the progress made on continuing construction at Janet Wallace during the summer.
The renovation is on schedule and will be finished during January, said Macalester Project Manager Kevin Maynard. After that, equipment will be moved in and offices set up for the building to be ready for spring semester.
"It's going along real well," he said. "You can see it coming together, so it won't be long now." Over the summer, windows were replaced, the walls were sheetrocked, boilers were installed and landscaping began. Boilers will be operational in time for the fall chill, and landscaping will continue through the early part of the semester. In order to complete landscaping in a timely manner, the sidewalk on the west side of the building will be closed intermittently until landscaping is completed
"I want to have it open as much as possible," Maynard said. "But when we are doing work with heavy machinery, we can't have people walking on there."
Several students voiced relief that the sidewalk reopened, allowing them to resume taking direct paths between classes, to the parking lot and across campus.
For AJ Zozulin '14, the sidewalk is the most convenient route between his room in the Food Justice House and the majority of campus. "To get home, I had to go around Olin-Rice and the Theater Building or go by Weyerhaeuser," he said. "Now I can cut by Old Main, which is where all my classes are." For others, the construction did not seriously get in the way of their routine. "People can take their usual routes to classes and cars," said Isabella Seaton '15. "It was harder to get to my car, but I live in Kirk so the sidewalk was not as much of an issue."
Art students are looking forward to the reopening of the art building next semester.
"I'm excited for Studio Art to have real spaces," said Marian Herzog '15, who is enrolled in both Studio Art and Art History courses. "Using a sink for washing brushes is hard if it isn't designed for that." Studio Art minor Ross Hutchens '15 anticipates a rise in student participation in the arts at Macalester as a result. "The Music department has grown a lot with the new facility," he said. "I expect the Art Department to experience that as well."
He will also benefit from a floor plan that puts the new print studio and tablesaw on the same floor. Of course, while it lasts, renovation adds difficulties for a department. Relocating during the renovation required extra overtime work to adapt the new studio spaces and changed the content of printmaking courses for Professor Ruthann Godollei of the Art and Art History Department.
"I couldn't teach stone lithography, as there was no way to bring 100 litho stones up the stairs in Lampert," she said. "To compensate, we've adapted a commercial form of plastic plate lithography, which uses an office laser printer to make simple plates for printing."
Support from Macalester staff has eased the relocation period, according to Godollei.
"The custodian generously let us use the mop sink for a washout area for water-based screenprint," Godollei said. "It's been a lot of work, frankly, but sometimes challenges produce interesting work." She looks forward to moving back in next semester, working with the new facilities and introducing new techniques.
"We will be adding some new processes," Godollei wrote, "Such as [a] digital laser stencil cutter, which I really look forward to using with the students."
She emphasized the student benefits of the new space.
"The building will be full of light and we will have senior studios for the majors to prepare their capstone projects," she said.