Inaugural poet Richard Blanco addresses a packed Kagin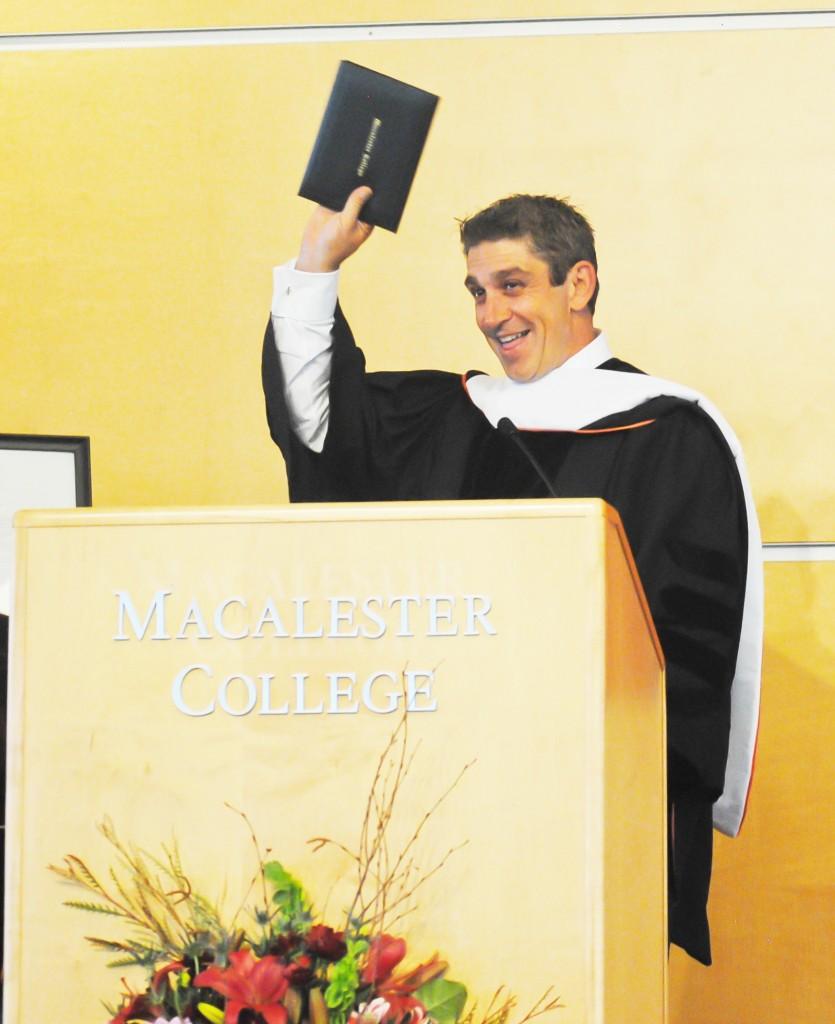 Richard Blanco addressed the Macalester community this Wednesday in a packed Hill Ballroom at opening convocation, an event made all the more memorable as the audience watched the poet receive his first honorary degree.
An accomplished poet, writer, engineer and public figure who served as the Inaugural Poet to welcome in President Obama's second term, Blanco delivered his message in a speech that drew on his original works to explore a broad range of topics, from the question of American identity to his own roots and true location of home. He ended with a reading of the now-famous inaugural poem, One Today.
Drawing upon the qualities that distinguish his literary work, notably his ability to work in a personal narrative as a metaphor for the progress that America is making as a nation, Blanco delivered a well-received address that some hope will set the tone for the new academic year.
Following the Invocation delivered by Chaplain Lucy Forster-Smith and a speech about the possibilities and dangers of language by MCSG President Kai Wilson '14, Blanco received an honorary Doctorate in Humane Letters from Macalester. He opened his speech by thanking the college and the community, also mentioning his gratitude for his parents and their strong emphasis on the importance of education. "Knowledge is knowledge, and no knowledge goes to waste," Blanco said, addressing the importance of the liberal arts. As an engineer-turned-poet, Blanco made the case for a Macalester education.
"I would have felt, with a liberal arts education, more confident about who that [multifaceted] Richard Blanco was," he said, noting specifically his identity as a Cuban-American and gay individual.
As an immigrant Blanco has looked to make a home for himself in this country, a search that he has captured in his poetry. Starting the speech with two poems that illustrated his early childhood, "America" and "Betting on America," Blanco highlighted his cultural identity and roots in diverse Miami. He then moved into the journey of his search for a utopia, a home away from home, as illustrated by his poems "We're not going to Malta" and "Looking for the Gulf Motel." Blanco ended by describing the process of writing the inaugural poem, a task he was asked to complete in the midst of the tragedy at Sandy Hook Elementary School in December.
"The tragedy [at Sandy Hook] opened up a new emotional and creative pathway for me. Writing the inaugural poem wasn't the same assignment anymore; I began asking questions of myself and our country that I never dared to ask or explore," Blanco said.
As he addressed Macalester on the 12th anniversary of the September 11th attacks, Blanco said "tragedies reminds us who we are as Americans."
In the question and answer session that followed his address, Blanco continued to speak about his beliefs in what America can be and the lessons that the Macalester community can learn from our country.
"I feel that America is coming out of so many closets. One of them is of course the immigrant closet, one of them is the sexuality closet, and the other closet is I think we're finally understanding is that we are very complex human beings," he said.
Campus reactions
"It's a fabulous way of starting the year this annual tradition, and even with the wonderful weather outside, it was nice to see the chairs full and the sense of Macalester community here to welcome our convocation speaker," said Laurie Hamre, Vice President of Student Affairs.
Students also expressed positive reactions to Blanco's speech.
"I thought it was beautiful, he was very down to earth, profound and honest, and I think that he really gracefully can weave together his identities, which I believe was very important for a lot of people in this room to hear who are struggling to figure out how to piece together the different parts of their lives," said Josie Ahrens '14. "I think he was a great choice and I'm proud of Macalester for bringing him here."
"It was captivating," added Zack Avre '14. "I think that Dr. Blanco gave us all a very genuine and authentic example of how to tell our own stories and tell our collective stories, and to think about the ways in which our stories are journeys, and to figure out where we're going."