13 in 2013: Best moments of Macalester Athletics in 2012-13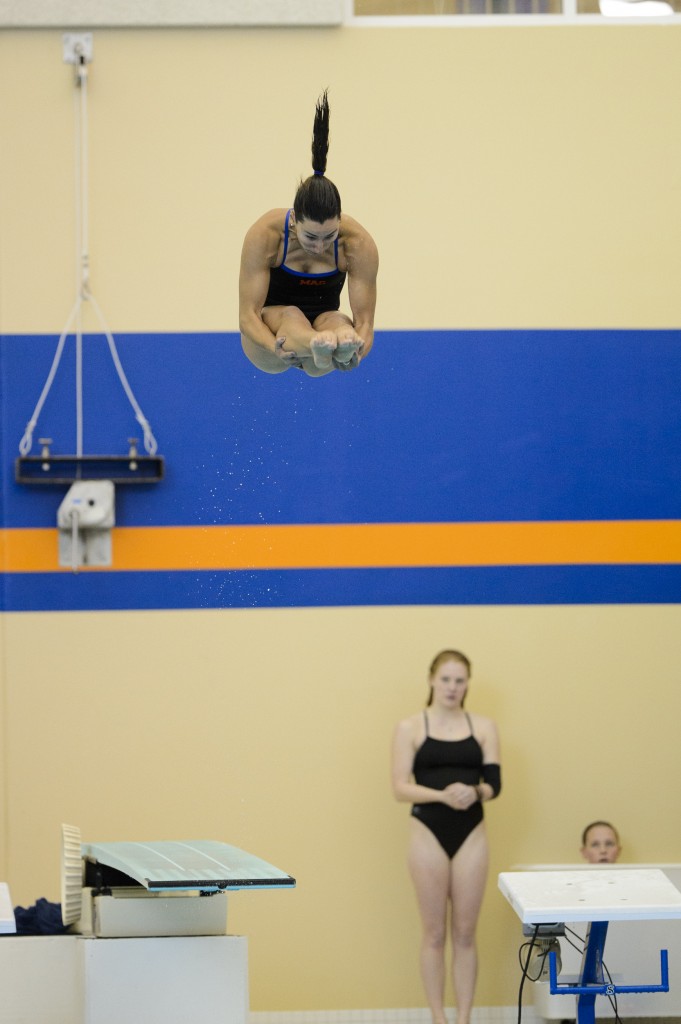 While Macalester's reputation may primarily ride on its strong academic programs, a largely successful 2012-13 sports campaign could provide another source of campus pride. Mac's athletic prowess is exhibited at all levels: varsity, club and intramural. Read on to see the top 13 athletic moments of the year.
13. Cricket team scores 182 runs in second game versus Carleton
Led by avid cricket player Ahmad Chattha '16 (Manchar Chattha, Punjab, Pakistan), the Macalester cricket club competed in its first competitive event in some time. The squad competed against Carleton last weekend in a series of two matches that began late in the morning and ended late in the afternoon. In their first match, Carleton defeated the Mac team by 25 runs; however, an inspired Macalester team prevailed in the second match, scoring 182 runs in 12 overs, winning by 80 runs. Chattha said he was happy to see students in Minnesota have the opportunity to compete in the sport. "It was one of the most enjoyable games that I have played in my life," he said.
Chattha said he's encouraged by the team's enthusiasm. While many of the team's players hail from the Indian subcontinent, Chattha was pleased to attract American members such as Harry Kent '13 (Columbus, Ohio), Zachary Golden '13 (Long Beach, Calif.), Clark Bledsoe '13 (Jacksonville, Fla.) and Hugh Kelley '13 (Albany, N.Y.) to the team as well.
12. Trio of new coaches welcomed to Mac
Gregg Olson (men's soccer), Michele Kornish (women's soccer), and Tomas Adalsteinsson (men's and women's golf) joined the Macalester sports community as head coaches last fall. All three had big shoes to fill after taking over for previously successful coaches Ian Barker, Jemma Perkins and Martha Nause. The coaches achieved a mixture of results in their first seasons. It took the Olson-led men's soccer squad eight games to notch a win, but the team showed promise for the future. Olson's first victory, an overtime thriller against Hamline, was described as an "emotional roller-coaster" by Dylan Wong '16 (Clarksburg, Calif.). "Everytime we put one in, they equalized," Wong said. "We lost the lead only minutes before the end of the match. However, winning it in overtime made it all the better." Kornish's team finished 10-6-1, winning five of their last six. Adalsteinsson led the Scots to a victory against St. Mary's to bring home the Mac-Mary dual.
11. Graham Sutherland earns 7th Mac Champs shirt
Quite possibly the most successful intramural athlete in Macalester history, Graham Sutherland '13 (Seattle, Wash.) capped off his storied IM sports career by earning his seventh Mac Champs t-shirt. "My friends and I play just about every team sport IMs offers," Sutherland said. "It's been particularly nice as a way of continuing to play soccer, something I did a lot of in high school and was afraid would stop in college." Sutherland said he's happy with the seven shirts he won. "One for each day of the week," he quipped.
10. Men's basketball start season 3-1 after five wins in previous 100 games
Going into their 2012 season, the men's basketball team had won five of their last 100 games. This year's squad got straight to work jumping out to an early 3-1 record, while racking up wins against Wisconsin Lutheran, Occidental College and Caltech by a combined point spread of 29. Helping to lead the charge was starting point guard Dylan Kilgour '16 (La Crescenta, Calif.). Kilgour finished the season on the All-MIAC Freshman Team, finishing first in points per game (12.6), assists per game (2.6), and three-point field goal percentage (39.6) among first-year players. For his early success, Kilgour was recently named Macalester's First-Year Male Athlete of the Year.
9. Men's CC one-of-a-kind practice routine: Ben Mayhew runs 4:51 medball mile
In a unique Labor Day team tradition, the men's cross country team competed in their annual Med Ball Mile race. Trevor Maggart '16 (Tokyo, Japan) described this competition as "the hardest pile of bullshit ever."
"You have to run a mile as fast as possible holding an 8-pound medicine ball," he said. "I'd say it's one of the most mentally challenging shitshows ever, but it sure makes every other mile I run feel like a breeze."
To the amazement of teammates, Ben Mayhew '14 (St. Paul, Minn.) galloped away from his teammates to the tune of a 4:51 mile, easily setting a new Mac Pack record in the event.
8. Men's frisbee qualifies for Regionals for first time since 2004
It had been nine years since the Blue Monkeys frisbee team last qualified for Regionals competition. However, after seeing gradual team improvement over the past four years, the Monkeys were poised to return to the second round of the playoffs. A couple of weekends ago, the Blue Monkeys placed 4th at the Sectionals tournament, high enough to qualify for Regionals. This successful spring campaign follows a fall that saw the Monkeys win their second straight Mac-Tommie game at Summit Avenue rival St. Thomas. The Monkeys hope to maintain their win streak this Saturday, May 4th, in the Mac-Tommie rematch at Macalester Stadium.
7. Men's golf retains Mac-Mary plaque led by Dan Shi's 74
Led by a round of 74 shot by Dan Shi '15 (Loveland, Ohio) at the Mac-Mary (St. Mary's University) dual meet on Aug. 31, 2012, the Macalester men's golf team retained its Mac-Mary plaque with a 328-342 victory. Shi's performance earned him medalist honors by 7 shots. In a bold move, the team didn't even bring the traveling victory plaque to the tournament. "It was glorious," Shi said.
6. Football team earns spot in Midwest Conference (MWC)
After leaving the MIAC in 2002, the Fighting Scots football team had been an independent team for the past 11 years. That all changed beginning with a text message from Coach Tony Jennison at 11 a.m. last Wednesday, April 24th. It was short and to the point: "Team meeting, noon, in the LC atrium." According to linebacker Nate Yordy '15 (Libertyville, Ill.), some of the team had an idea of what was about to happen, as they had been talking to coaches from the Midwest Conference almost all year. When the team arrived, graduating seniors included, Jennison informed them that it was official: the Fighting Scots would be joining the Midwest Athletic Conference in 2014. The feeling in the room was something that Yordy said he will never forget. "Looking around, it was hard to see who was more excited by the news: the seniors, who had worked for four years to help put this program back on the map, or the underclassmen, who were eager to take the field and show the Midwest Conference what the Scots could do," he said. "It was like a weight had been lifted off of us. It was as if every one of us, for a moment, was of the exact same mindset: 'We did it! We finally did it! Now let's prove to them that we belong here.'"
5. Stephanie Goei repeatedly breaks 20lb weight throw record
Women's thrower Stephanie Goei '15 (Shoreline, Wash.) entered her sophomore campaign with her name already intact among the Macalester women's throwing greats. Her strong first collegiate season included top 50 recognition among Division III throwers nationally. With high expectations following her, Goei succeeded. In her team's Feb. 9 meet at the St. John's/St. Benedict Alumni Meet, Goei placed second in the 20-pound weight throw, establishing a new Mac record at 14.02 meters. She followed up this performance by winning the same event at the home Pre-MIAC meet on Feb. 22 with a throw of 15.08 meters, re-breaking her own Macalester record. Goei figures to remain in the conversation of top Division III throwers moving forward.
4. Kyanna Jones makes two half-court shots in a week
With her team down by 18 points against Gustavus Adolphus and only four seconds remaining, Kyanna Jones '13 (Brooklyn Park, Minn.) dribbled up the court and threw up a meaningless shot from beyond half-court. To the applause of her teammates and fans, the half-court prayer went in.
Five days later on Feb. 9, Jones realized that her shot wasn't a fluke. In a competitive game against rival Carleton and with the first half winding down, Jones got the ball in transition off a turnover and threw up a similar half-court shot, banking it in. While her Scots lost the game 61-53, Jones' long-distance shot capped off a strong Senior Day performance. She finished with 17 points, eight assists and eight rebounds.
1. Swim Team Conference: Hedenberg 1st, Harlem Shake for conference foe
While MIAC Swimmer of the Year Jordan headlined the MIAC Swimming Championships, teammate Hunter Hedenberg '16 (Newton, Mass.) one-upped her in the 1-meter dive. Hedenberg's freshman year in the MIAC couldn't have ended much better as she placed first with a score of 412.10, qualifying her for the Division III Regional Meet in Grand Rapids, Mich. Perhaps an even bigger highlight from the MIAC Championships was a non-competitive event. After learning that a Gustavus Adolphus swimmer was recently diagnosed with cancer, all MIAC swimming and diving athletes performed a Harlem Shake routine in solidarity, wearing t-shirts in the girl's honor. The dance routine ended with an older male referee jumping off the high board in a button down and dress pants.
2. Konnor Fleming: first year track, first place conference in 200; Rochat 1st in LJ, Roemer 2nd in 600
Konnor Fleming '15 (Charlotte, Vt.)'s first lifetime track competition wasn't until February of this year. Less than a month later, he was the first to cross the finish line out of 20 conference qualifiers in the men's 200-meter run at the MIAC Indoor Track Championships. In the process, Fleming broke the Macalester school record, finishing with a time of 22.70. Fleming was joined in the medalist's circle by teammate Sebastian Roemer '15 (Kimberton, Pa.) who entered the meet as the seventh seed in the 600-meter but stormed back late in his race to finish second. On the women's side, Kate Rochat '13 (Portland, Ore.) made her last long jump attempt count as she leaped to a first place finish and All-Conference accolades.
1. Renee Jordan: All-American
After earning MIAC Diver of the Year accolades and breaking all four Macalester women's diving records there wasn't much Renee Jordan '14 (Anchorage, Alaska) hadn't done. Her strong regular season qualified her for the NCAA Division III Championships on March 22, 2013 in Shenandoah, Texas. This wasn't Jordan's first experience at Nationals. She qualified as a freshman and placed 12th and 20th in the 3-meter and 1-meter board dives, respectively, earning All-American honors. But after breaking her hand at last year's MIAC Championships, she didn't have the opportunity to repeat. This year, she not only qualified for Nationals, but she placed eighth and ninth in the 1-meter and 3-meter board events, regaining her position as one of the top women's divers in Division III.