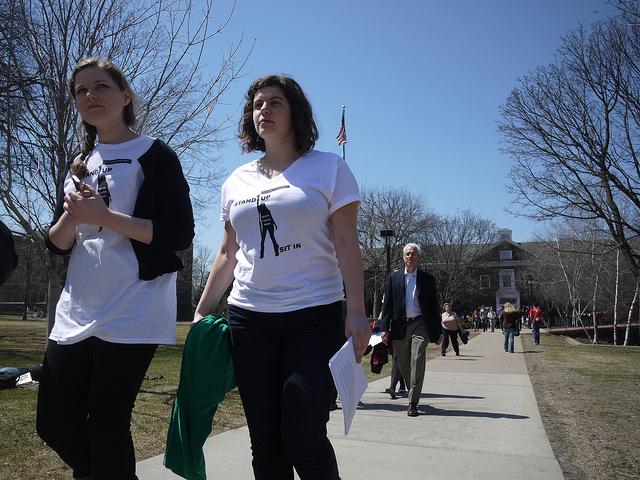 Updated: May 2, 2013
President Brian Rosenberg and David Wheaton, the Vice President for Administration and Finance, met with four representatives from Kick Wells Fargo Off Campus (KWOC) on April 26 in a meeting scheduled after negotiation between the two parties following the group's barricade of Weyerhaeuser. Both administrators reiterated their support for the college's decision to maintain its contract with Wells Fargo following the process outlined in the memo written to KWOC leaders last Monday.
Students ended their partial occupation of Weyerhaeuser Friday afternoon before the beginning of the meeting.
Rosenberg took specific issue with the organization's tactics over the last few weeks, though he also disagreed with the group's assessment of the college's responsibility to boycott a specific corporation. He emphasized that Wheaton and Walker looked at the purchasing contract for a year by examining the information submitted by KWOC students and housing justice coalition groups along with their own independent research. He said that the memo they submitted to students was a "full and fair report" of the information they had collected over the last few months and that he had "no plans to contradict the report or change policy" based on the recent protest actions of students.
Rebecca Hornstein '13, Sarah Knispel '15, Maya Pisel '13 and Leewana Thomas '14 attended the meeting as representatives of KWOC. All four wore t-shirts that read "Cut the contract—Stand up with those who sit in" with a silhouette holding up scissors.
KWOC members and supporters partially occupied Weyerhaeuser from Tuesday morning to Friday afternoon following the release of the memo on Monday.
KWOC leaders, administration disagree on college policy
Hornstein and Knispel began the meeting by reiterating their concerns with Wells Fargo's mortgage lending practices. KWOC and other housing justice organizations have identified the bank as the worst lender in Minnesota because it has foreclosed on the greatest number of homes in the state. A fact sheet given to administrators at the meeting indicates that the bank has engaged in predatory lending, a term for unfair or deceptive lending practices that obscure the amount of debt homeowners will accrue from their received loans. KWOC also criticizes the bank for blocking remittances to Somalia and owning shares in GEO Corp, one of the largest providers of private prisons in the country.
Knispel said that ending Macalester's purchasing relationship with the bank would send a "strong message" that would have a "profound effect on Wells Fargo's policies." Students say that ending the contract would create political pressure for the bank to introduce policies like principal reduction that would help homeowners struggling to pay their mortgages.
Thomas specifically asked both administrators why the college was not interested in moving its purchasing contract to Sunrise Community Banks, the institution that KWOC identified as their preferred replacement for Wells Fargo. Rosenberg said that the administration reached a different understanding of the college's purchasing contract's relationship to Wells Fargo's lending practices based on the facts presented and that such disagreement did not signify a lack of support for homeowners under distress. Wheaton said that changing the contract would only grant Sunrise Community Banks a small amount of revenue and would provide greater benefit to US Bank. Elan, the platform used by the bank for their purchasing program, is a wholly owned subsidiary of US Bank. "When we pick up the phone, we'll be talking with them, not Sunrise," he said.
Thomas emphasized the "symbolic importance" of placing money in a community bank as opposed to Wells Fargo, while Rosenberg said that the college already invests more money in Sunrise than the amount of funds that are part of the purchasing program. "We do already support local community banks with our business," he said.
"We have had a deposit of $500,000 at University Bank [one of the three institutions that make up the Sunrise group] for several years," Wheaton wrote in an email. "University Bank uses those funds to make loans to businesses or individuals, or they invest the funds to earn interest."
"While we purchase about $7,000,000 of goods and services using the Wells Fargo purchasing cards, that amount of money simply passes through the bank on the way to the vendors who have sold us those goods or services," he said. "Wells Fargo has no use of those funds; they are simply an intermediary moving money from one place to another. We do keep about $45,000 on deposit at Wells Fargo to help facilitate certain payments that arise each month."
Thomas went on to say that Wells Fargo was specifically targeted as part of a "solidarity campaign with community groups."
She mentioned that US Bank allows remittances to Somalia and is located locally, two factors that distinguish it from Wells Fargo. Other groups in the Twin Cities have also targeted the bank for its lending practices, including Minnesotans for a Fair Economy and Neighborhoods Organizing for Change.
"Every college in the Twin Cities area uses Wells Fargo for their purchasing card system," Rosenberg said. "The president of the University of Minnesota told me this week that U.S. Bank is harder on its students as renters, as tenants, than any other bank."
Both Wheaton and Rosenberg emphasized that there very few options for purchasing-card platforms. They mentioned that Carleton College recently switched their purchasing card program from JP Morgan Chase to Wells Fargo because it was advantageous price-wise for them.
Pisel wanted to know what the college planned to do in response to the number of foreclosures that have occurred in the state of Minnesota. Rosenberg asked if members of KWOC had any other ideas beyond ending the college's purchasing relationship with Wells Fargo.
"I think that part of our mission is producing students like you who are involved and care about these issues," Wheaton said. He added that the student's campaign has already raised visibility about foreclosure issues for many people he knew personally.
Thomas emphasized that the college's missions of civic engagement and multiculturalism made Macalester responsible for the effects Wells Fargo's lending practices have had on communities of color in the Twin Cities. She compared ending the college's relationship with the bank to the Board of Trustees' decision to publicly oppose the marriage amendment last November.
Rosenberg said that "taking a position on a public policy issue" was qualitatively different from "boycotting a particular company." He said that he endorsed the college's decision to oppose the amendment because it affected the safety and security of LGBT students at Macalester.
Administrators question KWOC's framing and tactics
Throughout the conversation, Rosenberg contested the terms of the debate proposed by KWOC. The group has often used messaging tactics that frame the purchasing decision as a choice between Twin Cities communities or corporations.
"You dismissed the information we received from non-profits who have a more favorable opinion of Wells Fargo," he said. "They are also a part of the community."
The CEOs of both Habitat for Humanity and Project for Pride in Living (PPL) told administrators that Wells Fargo was a supporter of their affordable housing efforts. That information was included in the memo given to students on Monday.
Rosenberg went on to identify two major reasons why he would not end the college's purchasing contract with Wells Fargo.
"I have a great deal of respect for the two people [Wheaton and Walker] who spent so much time thinking about this decision," he said. "Your tactics have shown that you don't understand me. I will never make a decision based on increased application of pressure or threats."
Rosenberg said that many staff members expressed a great deal of frustration over the Weyerhaeuser barricade on Thursday morning. He specifically mentioned hourly workers who did not know if they would be paid and employees who wanted to file "hostile work environment" claims against the group in response to their actions.
The office phones of the president and his administrative staff have been placed on forward this past week in response to the number of phone calls they have received in relation to the college's contract decision. Rosenberg said that many of the calls were abusive and qualified as harassment. Thomas said that she and other KWOC leaders also respected Wheaton and the concern he has given the process.
"We want the college to take a stand against predatory lending," Pisel said. "Retreating into inaction is a choice to support the existing unjust system."
Hornstein agreed. "Lots of community groups have targeted Wells Fargo because they're the worst bank in the state," she said. "Their leaders are standing outside the campus center today to support us because they know what we're doing is so important."
"There are lots of bad things out there, but there are good reasons why colleges don't do boycotts," Rosenberg said in response. "The student body is large and has a diverse set of viewpoints. We can't say that certain viewpoints are not allowed on campus."
Pisel asked both administrators if they would be willing to reopen a Request For Proposals (RFP) process at the beginning of next semester. They said that the decision had already been made and asked again if the group had any other suggestions.
Rosenberg and Wheaton both disputed the group's understanding of their refusal to meet with them. KWOC leaders claim that Wheaton temporarily canceled the process following their action after the strategic planning session, while he characterized the change as a postponement.
A letter written by David Wheaton to KWOC members suggests that the process was canceled following the group's action at the strategic planning feedback session. Administrators were concerned that the group's attempts to target President Rosenberg were "unacceptable actions" that nullified the decision-making process. "We regret that we could not reach the endpoint of the work we have done together over the past few months," Wheaton wrote in the letter. "We have appreciated the opportunity to work with you on this complex issue."
He also asked KWOC leaders why they said their barricade of Weyerhaeuser was a response to the administration's refusal to meet. Rosenberg mentioned that the barricade began 11 hours after an email was sent to him asking to meet again.
"We have always been willing to meet with you," Wheaton said. "I can only invest so much time in this process before I need to pay attention to other parts of my job."
KWOC leaders say campaign is not over
"We are disappointed that President Rosenberg focused on our tactics rather than this devastating issue and this pragmatic step the college can take," the four representatives wrote in an email following the meeting. "He told us he never makes decisions based on pressure, which shows that this has become about a personal power play rather than the college's responsibility to the broader community that we are a part of."
As students and administrators exited the Campus Center, they were met by a crowd of almost 100 KWOC supporters on Bateman Plaza. The group had organized a rally with community members to be held simultaneously with the administrative meeting.
"Today, as on so many other days, we hoped to stand here as part of an institution whose actions align with its values," Hornstein read in a prepared speech to onlookers. "But today administrators again chose to hold up the status quo rather than take pragmatic steps towards meaningful change." She emphasized that the group's campaign was not over.
"This is the beginning of a new three-year phase of Kick Wells Fargo Off Campus," she said. "Student and community power will grow. We hope the administration comes to its senses soon."