Limchi Tofu House: Korean comfort food
Tofu House is a small, no-frills Korean restaurant in Stadium Village, which is a complex in the heart of the U of M's campus. When I say small, I mean there are only 24 seats in the restaurant. And there are even fewer items on the menu. So while you shouldn't come to Tofu House expecting a menu with the page count of a Cheesecake Factory, you can trust that they excel in what they do offer.
Tofu House specializes in soondobu jigae, which is a Korean comfort soup. It's a boiling stew of uncurdled tofu and red pepper paste in a stone bowl with veggies, variety of meats or dumplings, and a fresh egg. This is a more interactive meal than many may be accustomed to, so let me help you avoid the same mistakes we made.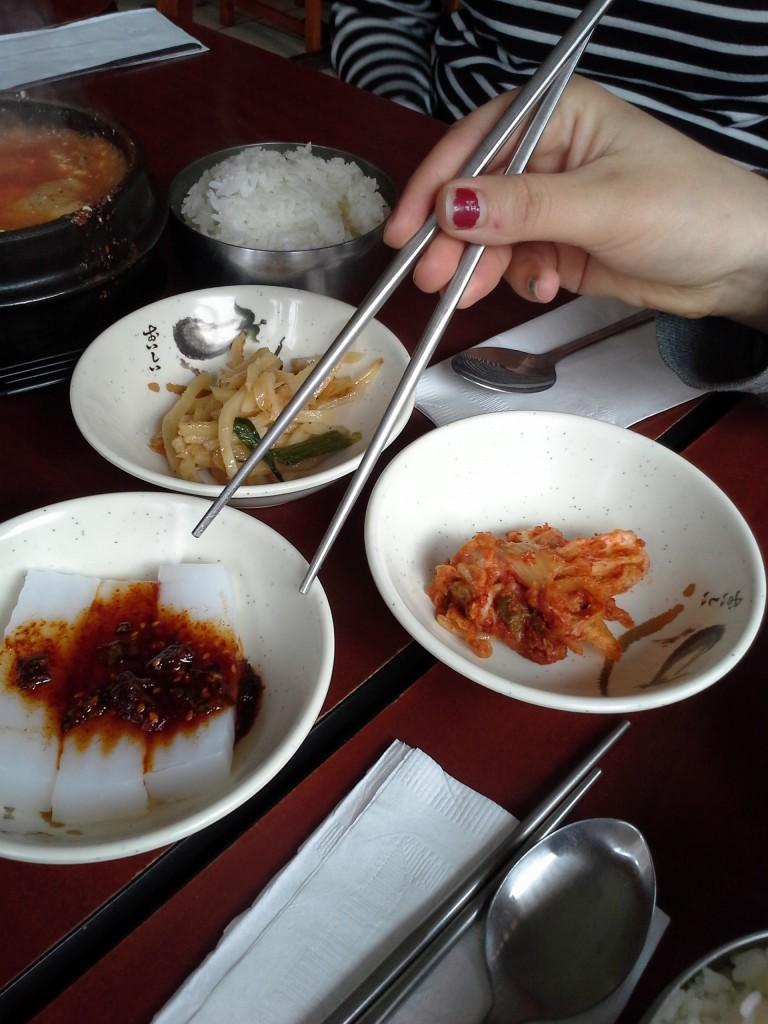 The whole eggs for the soondobu jigae came out with a bevy of small plates that are customary at Korean restaurants, so fellow dining companions Emma WestRasmus '13 and Camille Cauchois '13 and I were convinced these were merely hard-boiled eggs that were part of the accompaniments. Our server returned shortly when she realized we had yet to add the eggs to the bubbling broth and swiftly cracked the egg while the dish was still hot enough to cook it. You're also supposed to add the canister of rice into the stone dish, not the other way around. In addition to the choices of proteins for your soondobu jigae, you can customize the spice level. You can order the soup on a range of, I kid you not, white to mild, medium, spicy, or extra spicy.

Other staples include bulgogi served on a raging hot skillet and the bibimbap, which I ordered. Bibimbap is a hot hodgepodge dish of beef, shredded lettuce, carrot slivers, rice, sprouts, other sautéed vegetables, and an egg. It was good despite not being served in a hot stone bowl, which shouldn't really affect my enjoyment, but it did lose a little something in the presentation and the heat. Also, unlike the soondobu jigae the egg was pre-fried and was hard to mix up evenly in the dish. But it was quick, cheap, and filling.

Overall, I would highly recommend Kimchi Tofu House if you're in the neighborhood. Almost everything was under $10 and the portions were generous, especially considering that five additional small side dishes ranging from kimchi to cold noodles are included in your main dish. If you are looking for a more expansive range of offerings, try any of the Korean restaurants on Snelling Ave, particularly Mirror of Korea.

It's also worth noting that Kimchi Tofu House is conveniently located next to YogurtLab, the crème de la crème of froyo in the Cities, so it's the perfect way to beat the heat after your visit either from the spice or HOPEFULLY from the weather!

307 SE Oak St.
Minneapolis, MN 55414