KWOC occupies Weyerhaeuser in response to contract decision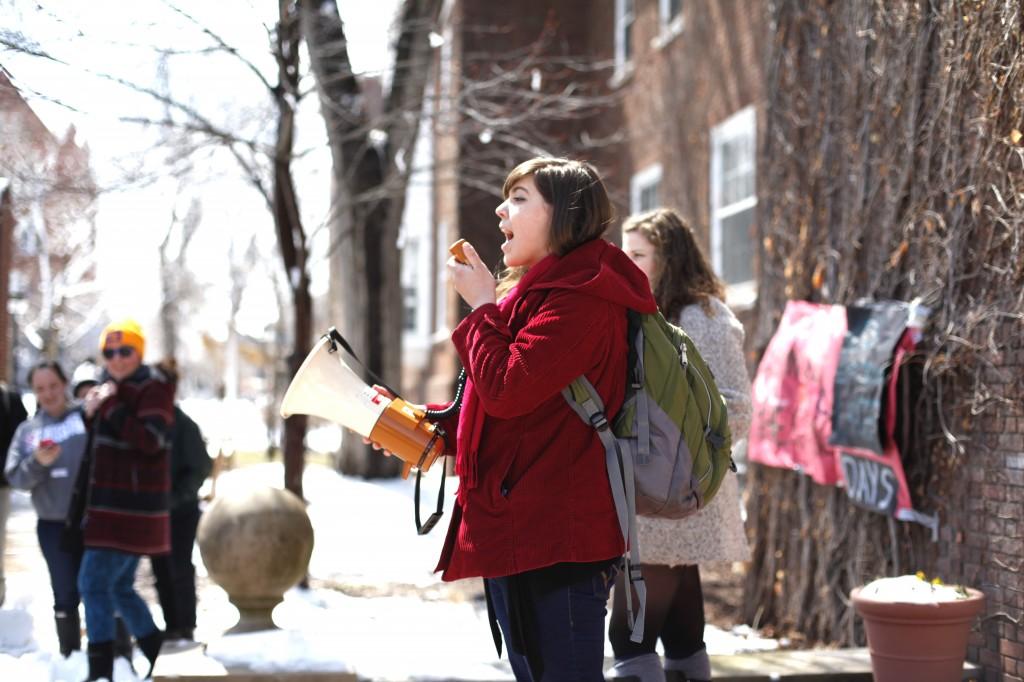 Update: President Rosenberg agreed to meet with students on Friday afternoon following their barricade of Weyerhaeuser Thursday morning.
Kick Wells Fargo Off Campus (KWOC)'s yearlong campaign to end the college's purchasing relationship with Wells Fargo continued this week after college administrators decided on Monday to maintain the existing contract. In response to the college's decision, 14 students staged a sit-in in the hallway outside of President Rosenberg's office beginning on Tuesday morning. Students associated with KWOC were still partially occupying portions of Weyerhaeuser in protest of the college's actions as of Thursday morning.
The decision comes two weeks after the administration initially broke off conversations with the group following KWOC's direct action after the first strategic plan feedback session and one year after the initial campaign to end the contract was launched by Occupy Mac. Students in the group expressed frustration over the college's decision, which some found unexpected following the lead-up to their final meeting with the administration.
"I'm really disappointed to be a student at this school that claims to be a good neighbor in the Twin Cities community," Sarah O'Connor '13, a member of KWOC, said. "When given a clear choice to act in line with that professed value, the school chose corporate interests for convenience and comfort over the communities we claim to support." O'Connor was one of the 14 students who staged the initial sit-in Tuesday morning and afternoon.
Five members of KWOC met with David Wheaton, the Vice President for Administration and Finance, and Kate Walker, the Assistant Vice President for Finance, on Monday afternoon to receive their final decision. Wheaton had previously told students they would make a decision on the college's purchasing relationship by April 22nd. Both staff members have published a letter they wrote to Wells Fargo regarding student concerns and a letter to KWOC leaders explaining how they reached their policy conclusions.
"After investing significant amounts of time considering your request that the college change providers for purchasing cards used for college business, we have decided to leave our current arrangement in place for reasons that are described below," Walker and Wheaton wrote in a letter addressed to KWOC leaders. "In addition, we have attached a copy of the letter that we will be sending to our account manager at Wells Fargo advising him of this outcome. In it, we encourage Wells Fargo to consider our request that they carefully evaluate their possible role in providing leadership on the mortgage foreclosure issue here and elsewhere." [Note: Kate Walker and David Wheaton's letter to KWOC leaders can be read here, as well as KWOC's response to the memo.]
In the letter to KWOC, the two administrators laid out the four-step process by which the decision was made. Over the past few months, they compiled information on foreclosures, met with community members concerned about mortgage lending policy, met with Wells Fargo to listen to the bank's perspective and then collected information from organizational leaders of local affordable housing non-profits, Project for Pride in Living (PPL) and Habitat for Humanity.
KWOC has been pressuring the administration to end its purchasing contract with Wells Fargo in response to the bank's foreclosure and lending practices in the Twin Cities. Students say that the bank has deliberately stripped wealth away from residents by issuing subprime loans to prospective homeowners in low-income communities. Such loans often carry high interest rates that make them difficult to pay back.
Minneapolis Public Schools divested from Wells Fargo late last year after a report calculated that foreclosures on mortgages issued by the lender cost the district $28 million in lost funding. The report, which was generated by Neighborhoods Organizing for Change (NOC), calculated the number based on the number of pupils whose families moved out of the district following foreclosure on their homes.
Wells Fargo was the target of a Department of Justice lawsuit alleging that "the largest residential home mortgage originator in the United States engaged in a pattern or practice of discrimination against qualified African-American and Hispanic borrowers in its mortgage lending from 2004 through 2009." The lawsuit was settled for $125 million in 2012.
"In the two hardest hit zip codes in Minnesota for foreclosures, Wells Fargo has only reissued 10 loans since the housing crisis," Rebecca Hornstein '13, an organizer with the group, said. "They're doing nothing to mitigate the damage they caused. This campaign came as the result of a lot of student engagement and housing work in the Twin Cities. Banks caused this housing crisis and have been worming their way out of the problems they caused. No one was holding them accountable because their focus was on the bottom line."
Students occupy portions of Weyerhaeuser in response to decision
In response to the college's decision, 14 students, including non-members of KWOC, began a sit-in campaign outside President Rosenberg's office on Tuesday morning. At 10:20am, those students walked up to the corridor outside his office on the second floor and sat down outside after discovering the office was locked. Throughout the day, several actions occurred in and outside of Weyerhaeuser, including a rally outside the building at noon that more than 60 people attended. Most members of the administrative wing where Rosenberg's office is located relocated to 77 Mac soon after the sit-in began. Cynthia Hendricks, the Assistant to the President, remained in the wing along with security guards.
Weyerhaeuser was initially locked down following the beginning of the sit-in, although employees not located in that administrative wing continued to work. KWOC supporters were allowed into the building around 12:30pm, although doors to the administrative wing remained locked. Students were prepared to remain in the building until they were arrested or the college ended its purchasing relationship with Wells Fargo. They brought sleeping bags, kitty litter, a backpack full of food, computers and other supplies.
"Students are sitting in President Rosenberg's office to demand that the college cut its contract with Wells Fargo," Maya Pisel '13, a member of KWOC, said. "We're going to stay here until they cut the contract. This is a crisis in our community, for families, neighborhoods, and schools, and it should be a crisis for our school, too."
One of the students involved in the sit-in, Jenny Hunken '16, left the group to use the bathroom and then was not let back into the office hallway.
"I went in with the students this morning," she said. "We occupied the lobby area where [Rosenberg's] secretary is. We chanted for about an hour. Someone went to the bathroom and she was let back in, so I decided to go as well but when I came back up I was told I could not be let in."
Other students used a kitty litter box to urinate after Hunken was not allowed back into the hallway.
President Rosenberg responded to the sit-in by giving students jelly beans before leaving on a previously scheduled trip to Chicago. He was expected to return to St. Paul on Thursday.
At 4:00 pm, students moved from the administrative hallway upstairs into the main area on the first floor of the building. They were joined there by other members of KWOC as well as non-student supporters and continued chanting for a half-hour.
Around 20 members of the group stayed in Weyerhaeuser overnight accompanied by security guards.
Throughout Tuesday and Wednesday, students occupying the building were joined by professors and outside supporters. Wessam El-Meligi, a professor in Classics, compared the occupation to his experiences in Egypt. Paul Dosh, a professor in political science and Latin American studies, led a teach-in about student activism on Wednesday morning. Ryan Murphy, a visiting professor in Women's, Gender and Sexuality Studies, was expected to visit on Thursday.
Brother Ali, a hip-hop artist from Minneapolis, appeared at a rally on the steps of the building early Wednesday afternoon to support KWOC's efforts, drawing a large student crowd.
Sunrise Community Banks offered as alternative purchasing system
KWOC take specific issue with Wells Fargo's lending and foreclosure policies. Wells Fargo is the nation's largest mortgage lender and is responsible for the largest number of foreclosures in Minnesota. Student leaders say that ending the college's relationship with the bank will increase pressure on Wells Fargo to adopt policies more beneficial to homeowners, like principal reduction.
Wheaton and Walker disputed KWOC's claim that Wells Fargo was an appropriate target.
"Macalester's relationship with Wells Fargo is quite limited," administrators wrote in their letter to students. "It's hard to know whether Wells Fargo's significant footprint in foreclosure action is any better or worse than other market participants and whether the impact is simply related to size."
The college's current relationship with the bank is through its purchasing program. Academic departments and student organizations on campus use Wells Fargo p-cards, which function as credit cards, to purchase supplies and other items. The amount of money that is paid through the p-card system each month is confidential, although administrations say it is not substantial compared to other aspects of college financing.
"Throughout this whole process we found out it was really easy [to switch], it's the kind of contract that gets changed around all the time," Hornstein '13 said. "We found out that there are other banks that could completely handle our money and invest in the community. It's easier to stick with the status quo because it's a stronger pull. Now we're trying to show that the status quo is not the easiest choice to make."
Students in the group want the school to transition to a purchasing relationship with Sunrise Community Banks, which runs a p-card program comparable to the Wells Fargo system currently utilized. Sunrise Community Banks is certified as a Community Development Financial Institution (CDFI), a designation given by the U.S. Department of Treasury to banks that fulfill a number of criteria indicating responsibility to community.
Administrative officials say that switching to the new bank would not make a substantial change in any lender's foreclosure policy. Sunrise's p-card program is run by Elan, a subsidiary of US Bank, which has also been targeted by housing justice advocates for their foreclosure practices. KWOC leaders say that the new purchasing relationship with Sunrise Community Banks would not only be more ethical but would offer the college lower interest rates.
"I was optimistic that they would cut the contract because the socially responsible decision lined up with the best business decision, so there was no reason for them not to," O'Connor said.
"Our discussion with Sunrise Community Banks made it clear that we would be working with US Bank if we were to move to an alternative purchasing card platform," administrative officials wrote in their letter to KWOC leaders explaining the decision. "When we asked the Sunrise Community Bank team about daily operations for the p-cards, the Elan representative made it clear that we would be dealing with her organization, not Sunrise."
Although KWOC targeted Wells Fargo as the lender responsible for the most foreclosures in the state of Minnesota, other banks have been criticized for their lending policies. In their letter to students, officials wrote: "We have done no research on US Bank with regard to the mortgage issue and no data was presented that relates to that organization, although our discussion in the community partners meeting strongly suggested that some of their practices may be similar to those of Wells Fargo and other banks."
"It's always been part of our strategy to target the worst bank on foreclosure, which is Wells Fargo," Hornstein said in response. "We're working within a financial system and we're not trying to dismantle it. We think it's ok that Sunrise is using a platform through US Bank. It's not a concern for us, so it shouldn't be a concern for the administration."
Students question KWOC's tactics
The tactics of the group have come under critique from different members of the college over the last few weeks. KWOC has been the target of several complaints from students regarding its balloon drop in Café Mac, which encouraged students to contact President Rosenberg about the college's policy.
Elliot Averett '15 is critical of Wells Fargo's lending practices but found KWOC's tactics unproductive.
"There is a process by which students can lobby the administration, and at times KWOC took detours outside that process that alienated the student body and needlessly irritated the administration," he wrote in an email. "Specifically, the balloon stunt in Cafe Mac, the 'PBR Failed his Midterm' Tumblr, and the signs in the Link windows went too far for my tastes. Many people I know were offended by the tone or believed it made the college look bad."
Alex Schieferdecker '13 agreed. "I actually agree with KWOC's larger points, but I completely disagree with their methods," he wrote in an email. "I have no idea where their distrust and anger towards the school administration comes from."
Kaspar Mueller '15 disputed the implications of changing the college's purchasing system.
"KWOC's concern for community is no longer aligned with its current goals," he wrote in an email. "Originally they worked with Wells Fargo to try to get them to reduce principal on home loans. Now they are fighting with the administration over which bank the school uses to provide funding to our student organizations, and creating an enemy for the sake of creating an enemy. No one should think that ceasing to use Wells Fargo will motivate them to reduce principal on homes."
Hornstein disagreed with accusations that KWOC did not adequately engage the administration previous to the sit-in. "We participated in the system for over a year, and we worked hard with the administration," she said. "That process didn't produce the easy outcome we wanted, but we definitely participated in it in good faith."
Other students were more supportive of the group's actions.
"I think the administration is afraid of caving to students' demands, which is ridiculous because these students really know what is best for the community," Anne Sombor '14 said. "They're being stubborn for no reason."
Members of KWOC plan on remaining inside of Weyerhaeuser until Macalester ends its purchasing relationship with Wells Fargo.
"It's easy to cut the contract and it's even easier to meet with us," Hornstein said. "That's what we're asking for. We would love to meet with Brian Rosenberg to talk about this."
Editor's note: Jonathan McJunkin, co-Editor-in-Chief of the Mac Weekly, is a member of KWOC and participated in actions at Weyerhaeuser. He was not a part of the sit-in.