Baseball hopes to shine on field with Macklemore, T-Swift and more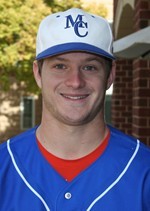 Music is a source of inspiration for many. As Friedrich Nietzsche once said, "Without music, life would be a mistake."
This spring, the baseball team is hoping their at-bat songs will help prevent team mistakes. Headlined by Macklemore and Ryan Lewis' "Can't Hold Us," Taylor Swift's "22" and Imagine Dragon's "Radioactive," the Scots are hoping to "Go Crazy" (Young Jeezy) this season.
Tom Forster '15
Stillwater, MN
Imagine Dragon's "Radioactive"
My walk-up song is "Radioactive" by Imagine Dragons. I was looking for walk-up song that fit my musical taste, as well as got me focused and ready to hit. It's not obnoxious or really loud but still gets me ready. Surprisingly, I heard the song for the first time a day before we were supposed to have our songs chosen. I was set on doing "When the Levee Breaks" by Led Zeppelin, but I heard "Radioactive" and knew I had to make the change. I see the lyrics of the song representative of taking on a new challenge and although baseball as a whole is not new to me, I'm always ready to face whatever new challenge each game brings and I think the song shows that very well.
Ross Bronfenbrenner '14
San Anselmo, CA
Macklemore and Ryan Lewis' "Can't Hold Us"
My song epitomizes my general approach to the game. Some of the best times I've spent on a baseball field have been rocking out to our pre-game CD that's usually filled with ridiculous throwbacks and what Jimmy Belfont '13 (Olney, MD) would refer to as "rage your face off" music. There's a time and a place for that (pretty much always), but there's also a time and a place for a song that can help me just get focused. Baseball, for me, has to be a balance between relaxed fun and focused energy. I know that for me to be able to play at my best, I have to be both wholly in the moment, and also able to step back and reflect. Accordingly, I picked a song that would get me pumped, but would also keep me grounded. I was about to choose a Daddy Yankee song, but I'm pretty sure the umpire would have had to physically pull me into the batter's box to get me to stop dancing.
Justin Kleschen '15
Evanston, IL
Taylor Swift's "22"
I picked it because it is a song about being care-free and relentless, which is a good representation of how I feel on the baseball field. Listening to the song gives me the confidence to go out and be thankful for the opportunity to have fun while I am competing at a high level. It eases my nerves and puts me in a good mood, both being key to good performance in baseball.
 
Nick Sia '16
Gambrills, MD
Young Jeezy's "Go Crazy"
Well, my song and I have a lot of history. It's called "Go Crazy" by Young Jeezy. I first heard the song in middle school. I used to play a ton of video games and I'd mute the game and play rap music instead. This was just one of my favorites from back in the day. I picked it because I wanted a song that I really love and will never grow tired of, as well as one that not many baseball players will have heard before. I think it's very appropriate to my character/playing style because I'm a high energy guy and can get a little ridiculous and crazy at times. I think my teammates would tell you the same thing.