Meet your 2013-2014 MCSG executives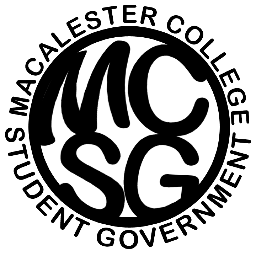 On April 8 and 9, over 50 percent of the student body participated in executive elections for the coming 2013-2014 school year. Maddie Arbisi '14 (SOC chair), Merita Bushi '14 (AAC chair), Rothin Datta '16 (Vice President), and Kai Wilson '14 (President) were elected and will join Matt Dehler '14 as Program Board chair and Adinah Zilton '14 as FAC chair.
Maddie Arbisi '14, Student Organizations Committee Chair
What do you see as the role of the SOC chair in MCSG?
The position of SOC chair is fairly new in MCSG. That being said, I think that most orgs are unsure as to how to approach SOC. I would like to see the SOC chair form relationships with each org in an effort to better facilitate the needs of different student organizations. That way the SOC chair has direct contact with all orgs and can bring their concerns to MCSG or the legislative board (LB) if needed.
How will being a student involved orgs impact your time as SOC chair?
I plan on still being involved in a few orgs next year. However, I am very excited about being SOC chair and I have made a commitment to that, meaning I will give this position my full attention.
What is one thing you hope to accomplish in this position?
I hope to be able to facilitate orgs interacting with each other. I would love to be able to start a trend of several orgs working together to incorporate their missions into one large event for the entire student body.
What are you looking forward to the most about this position?
I am most excited to share the knowledge I have acquired over the past three years at Mac due to my own personal experiences in student orgs. I wish I would have known half of what I do now as a first-year. I am excited to give back!
What is the biggest issue that you see in the governance of student orgs?
Leadership transitions tend to cause disturbances in many of the student orgs. I have several ideas as to how to make those transition easier on all parties.
Merita Bushi '14, Academic Affairs Committee Chair
What do you see as the role of the AAC chair in MCSG?
Besides the roles outlined in the Bylaws such as running committee meetings and serving on EPAG, a big (but perhaps underrated) part of this position is being a part of the executive board. I see MCSG execs as having their own clearly delineated responsibilities but also serving the role of making decisions as an exec board, giving the LB (Legislative Body) direction to accomplish the bigger picture goals of the year and overall providing resources and/or comfortable environment for the LB so they can better represent their constituents.
How do you foresee your time on the AAC impacting your time as the chair of that committee?
Serving on AAC for the past two years will allow me to hit the ground running already this week as well as in the summer before the next academic year begins. In addition, the institutional knowledge and memory is helpful so that as a committee, we ask the right questions when meetings are hard to come by, know what has been attempted in the past in order to better gauge the "temperature" of issues, and don't reinvent the wheel.
What is one thing you hope to accomplish in this position?
First, I want to establish a solid foundation within the committee. It is important for this small group to bond (to some extent) so that they are motivated to get their individual projects completed and have a support network when they hit a roadblock. Then I want to accomplish (or at least make significant progress on) all of the goals in my platform. With effective delegation, it is feasible. If I had to pick one thing though, it would be continuing the project I joined this semester in making the textbook reserve program more robust and sustainable, more predictable/easier to run and more accessible (the recent MCSG survey results indicate about half of respondents use the program and half don't).
What are you looking forward to the most about this position?
Getting things done and building on this committee's past success.
What do you see as the biggest issue that the AAC can impact?
This was my biggest motivation in running for AAC: our work impacts everyone on this campus. The one thing we all have in common in the sea of diversity at Mac is that we are all students. AAC is a way to bring student advocacy to the forefront of MCSG because we all deserve to challenge and improve the academic resources available to us. We should critique our community constructively because that shows how much we love and care for it. To do that, a lot of one-on-one communication is needed with departments, faculty, staff, administration and especially students. There are only so many concerns a group of six can identify on their own and the rest is up to you. Please feel free to talk to me (after all, I ran to be your advocate) and tell me your academic concerns, big or small, and when the new LB is voted on, talk to them too.
Rothin Datta '16, Vice President
What do you see as the role of the vice president in MCSG?
Like I said at the candidate debate, the position I ran for was chair of the Student Services and Relations Committee (SSRC) as there are no real Vice Presidential functions. Basically, I will do things for Kai when he isn't around—for instance it's my responsibility to run the upcoming LB elections since he is abroad.
How do you think your service on the SSRC this year prepares you to be the Vice President?
I think a year on the SSRC has really helped me understand the disconnect between student body and MCSG. We spent the last year trying to make MCSG more accessible through social media and a lunch table program but neither seemed to be particularly effective. I think the biggest problem is that we don't currently have well-defined roles and as the services and relation committee it really is our job to be accessible. This year has helped me understand that as a committee we need to put ourselves out there more so the next time someone wants to complain about an ice rink or Cafe Mac pizza they know there's someone they can approach.
What is one thing you hope to accomplish in this position?
Over the next year I hope to make MCSG a lot more accessible to the student body. Not just orgs, but individuals should be able to voice their opinions and I hope a well-structured, responsible SSRC will get us moving in the right direction. My hope for the moment is to create a website just for current students so they can access information about fun stuff on campus, get information about MCSG and orgs and give us feedback easily.
What are you looking forward to the most about this position?
It's hard to say really. I think I had such a great learning experience on the SSRC and that's what made me want to run for chair. I look forward to working with a diverse group of people and making progress on some of the projects we've been discussing this year—like the website I mentioned before.
What is the biggest issue that you see facing MCSG?
I think the biggest issue is that the student body knows who we are but has no idea what we do or how to approach us. This year's exec elections saw over 50 percent of the student body vote—the highest since 2005—so I really hope we can use this opportunity to change our image.
Kai Wilson '14, President
How do you see the role of the president in MCSG?
The president coordinates the legislative body meetings, structures the MCSG executive meetings and bridges the void between administration and student interests. On these three levels, the president uses his/her experience as student and MCSG member to advocate transparent and equitable decision-making. In the end, the president has the same voting power in policies and monetary decisions as every other class representative.
How will your previous experience serving in MCSG impact your time as president?
After three years of MCSG experience, I have learned from the past presidents of the importance of guiding civil discussion and of naturally reaching consensus. Even though MCSG is regularly divided on funding/policy decisions, the previous presidents showed their diplomacy by uniting the legislative body and I will try to emulate their prudence.
What is one thing you hope to accomplish in this position?
I will encourage student organization bookkeeping to diminish the rollover.
What are you looking forward to the most about this position?
I look forward to introducing the freshman class to student activities at Mac and to engaging with a new MCSG legislative body.
What is the biggest issue that you think is facing student government?
The biggest issue in MCSG is that we struggle in consistently and appropriately funding student organizations. MCSG's treatment of cultural organizations and hobby activities (like Climbing Club/SSERBA) should follow defined FAC guidelines. Moreover, block-budgeting could help this issue.