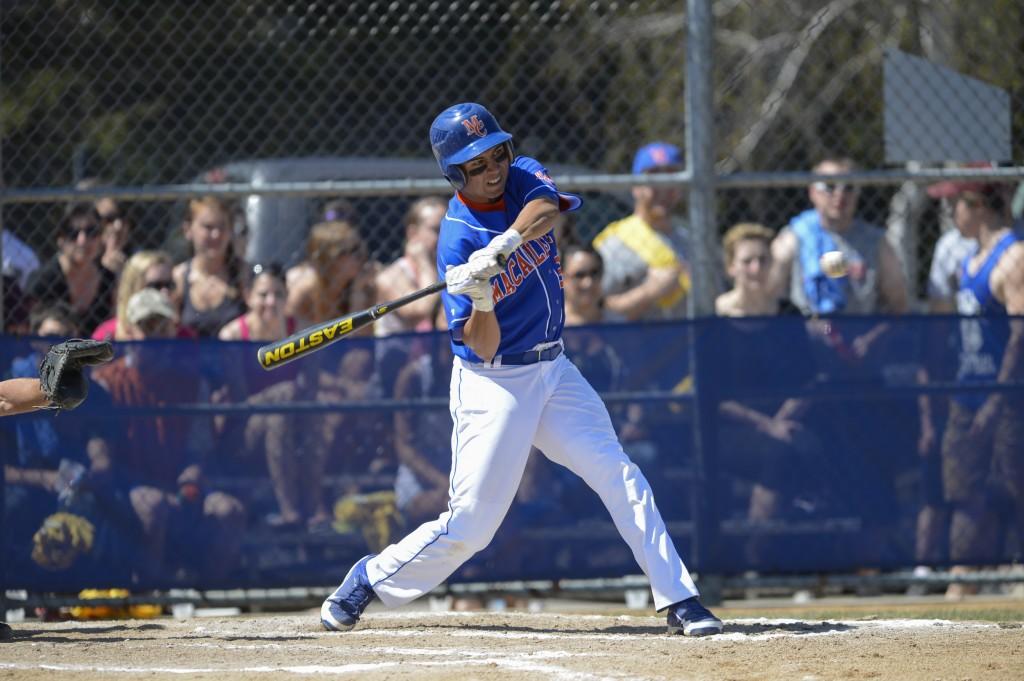 The snow has melted, birds are chirping, and the flowers are set to bloom: it's baseball season folks.
Well, kind of. Although spring is a long way off, the 2013 Macalester baseball season is officially underway.
The Scots opened up their season Monday night by splitting a doubleheader against #21 in all of DIII St. Scholastica, winning the first game 6-1 before dropping the second 1-0.
C.J. Smith '14 (Ashland, WI) earned the win in the first game, giving up no earned runs and only two hits while striking out nine in six innings.
In the second game, Nathan Kelleher-Crew '14 (Cool, CA) took the loss despite giving up no earned runs and only two hits in the complete game effort.
"It's hard to ever be happy with a split, but honestly our pitching was outstanding," said outfielder and captain Ross Bronfenbrenner '14 (San Anselmo, CA). "Both guys just went out and executed. It was definitely a good start."
Three first-time starters led the hitting in the first game. First baseman Justin Sims '14 (Bronx, NY) scored three runs and knocked in two while going 3 for 3, while Nick Sia '16 (Gambrills, MD) and Joe Dobbins '16 (Washington, D.C.) both went 2 for 3 while driving in two and three runs respectively.
"Sims is an incredibly hard worker who is really dedicated to the team," Bronfenbrenner said. "It was great to see him come out and just get the results he's earned."
Even after the solid opening effort, Coach Matt Parrington was not ready to jump to any conclusions.
"We're trying not to look ahead too much," Parrington said. "We want to take everything one step at a time. I would certainly hope we're a team that is going to compete for a MIAC title, but I think right now it's yet to be determined. We're clearly going to have to develop within the season to get to that point, but my expectation is we'll be a solid pitching team, a good defensive team, and the hope is we'll be able to get some timely hits."
Players were more straightforward with their goals.
"I expect to compete for a MIAC title," said catcher Tom Forster '15 (Stillwater, MN). "We have some good returning talent and a lot of incoming talent, so I expect to be right up there with the top teams in the conference."
"Based on how we played Monday, coming out and winning against one of the top teams on our schedule, I think we can safely say that we can expect to compete in every game this year," Bronfenbrenner said.
Despite internal confidence regarding how the Scots will fare in the MIAC this year, these expectations are far from universal, and the preseason coaches' poll picked Macalester to finish ninth in the league.
Macalester graduated nine seniors last year, including all-conference players Robert Williams and Nick Meerson, as well as White Sox draftee Mitch Glasser. Glasser is currently playing for the Bristol White Sox in the Rookie League.
"We've lost a lot of good parts over the last two or three years," Parrington said. "But I think we're replacing them with good parts. The phrase I've been using is 'the cupboard's not bare.'"
"When you lose those guys it's tough to see them go, they're good players and leaders, but I think where our program [has] some players who could've contributed more had they been given the opportunity, and now that they've been given the opportunity we want them to run with it."
Captains this year are David Melms '13 (Wauwatosa, WI) and Jimmy Belfont '13 (Olney, MD), as well as Bronfenbrenner and Colin Carpenter '14 (Harvard, IL).
This year's team is young, with 11 freshmen and six sophomores. Nick Marotta '13 (Sea Cliff, NY) is the only other senior on the team.
"We've got big shoes to fill all across the diamond," Bronfenbrenner said. "But the seniors were selfless guys who worked hard to prepare us for this. They don't really leave the program, because they set us up for success just like we hope to do for the guys entering the program now."
Macalester will play three more doubleheaders in the Metrodome before heading to Arizona over spring break to play in a tournament in Tucson.
The Scots missed the playoffs by a single game last year after winning the conference in 2011. Still, Bronfenbrenner believes the disappointing near-miss can be a lesson.
"I think we learned a lot last year about just how incredibly good the MIAC is, and that every team is going to give you two good, competitive games," Bronfenbrenner said. "As soon as we start the MIAC schedule we have to know that every game counts, and go in from day one ready to play."