Weyerhaeuser Memorial Chapel was packed full on Feb. 21 in anticipation of celebrated climate change expert Bill McKibben. His visit to Macalester was sponsored by the Environmental Studies department as part of a lecture series called "Celebrating and Preserving Winter: Responding to Climate Change in Minnesota and Wisconsin."
The large crowd of both students and community members filed past numerous petitioners promoting everything from fossil fuel divestment to public transportation on their way into the Chapel. A wall inside was covered with cards filled out by attendees listing what they loved about winter.
McKibben, a Schumann Distinguished Scholar at Middlebury College, is well-known in the environmental community for his expertise on climate change and extensive journalism surrounding the issue. He founded the international climate change organization 350.org in 2009 and has written 12 books on environmental issues,
He began his lecture with warm comments about winter, which he referred to as Minnesota's default season. "It would be sad to lose this beautiful period of rest," he said.
McKibben then proceeded to lay out concerns presented by a rapidly changing climate, mixing facts with specific calls to action. He emphasized the grassroots aspect of the environmentalist movement and its accessibility to all people.
"What people will remember about 2012 is that this was the year we saw the rapid and unprecedented melting of ice caps," he said. "Changing the climate is by far the biggest thing humans beings have ever done."
A portion of McKibben's speech focused on divesting from fossil fuels and the role fossil fuel companies play in the politics of climate change.
Fossil fuel divestment has already been a topic of discussion on the Macalester campus. A coalition of student organizations recently formed Fossil Free Macalester in an effort to convince the campus administration to completely divest from fossil fuels. The group is collecting signatures for a petition to urge the college to take its funds out of investments that support fossil fuel companies and is planning events for the future.
Rick Beckel '15, head of MacDems, said that many of the messages that McKibben expressed in his speech were important for the college community.
"This divestment campaign should take away the fossil fuel industry's social license to operate," he said. "I encourage anyone who is interested in this issue to attend the meetings of Fossil Free Macalester." Shaina Kasper '13 and Maria Langholz '14 are both involved in the Fossil Free Macalester campaign, which is still in its beginning stages.
"The divestment campaign is important because the endowment has lots of power," said Kasper. "As students of this college, we have a responsibility to work for the betterment of the future by protecting the environment." Langholz said that McKibben's structure for divesting college endowments from fossil fuels is a useful tool. "Using [the structure] is good because it is being used by so many colleges, and that gives us the leverage," she said.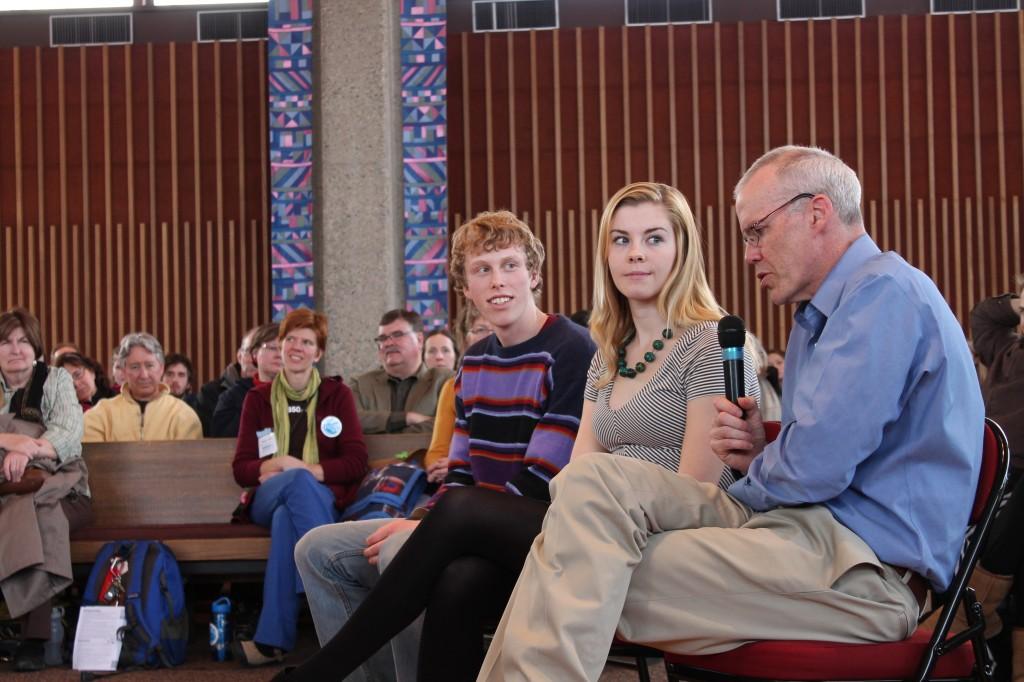 McKibben acknowledged that the companies have nearly unlimited finances, and that to fight against them is a sizable challenge. He feels it is a necessary step to halting greenhouse gas emissions.
"We cannot outspend [fossil fuel companies]. Our only currencies are passion, spirit, creativity because reason alone is not working," he said during his speech.
McKibben also criticized the current defensive nature of the environmental movement. "We're playing defense a lot, but we're going to have to go on offense," he said, citing the fight against Keystone Pipeline as an instance where environmentalists are trying to stop a project rather than start one. "If it's wrong to wreck the climate, it's wrong to profit from it."
Beckel cited this message as his favorite in McKibben's speech. "You can't win a game by playing defense all the time," he said. "We have to directly attack the institutions that are profiting from the destruction of the planet."
McKibben also touched on the pervasiveness of environmental issues. Nearly every global issue, he said, gets harder to fix as the planet warms.
Beckel echoed this concern and said that it especially relates to Macalester students. "Our campus is full of passionate students with deep concern for a whole host of problems," he said. "As global warming worsens, there will be heightening conflicts over resources…enhanced spread of pathogens and millions displaced due to changing agricultural patterns. I'm willing to bet that any issue you care about will probably get worse if the atmosphere warms."
Following McKibben's speech, he showed a video made by his international climate change campaign, 350.org, called "400 Reasons to Fight," that showcased international grassroots movements to fight climate change. Six student panelists from Macalester and St. Thomas asked McKibben questions ranging from confronting reluctant authority to dealing with the relative lack of political progress.
The speech, which was met by a standing ovation at its end, had an urgent yet hopeful tone.
"It's not a fit thing for those of us who know what's happening to do nothing," McKibben said.