KWOC brings action to campus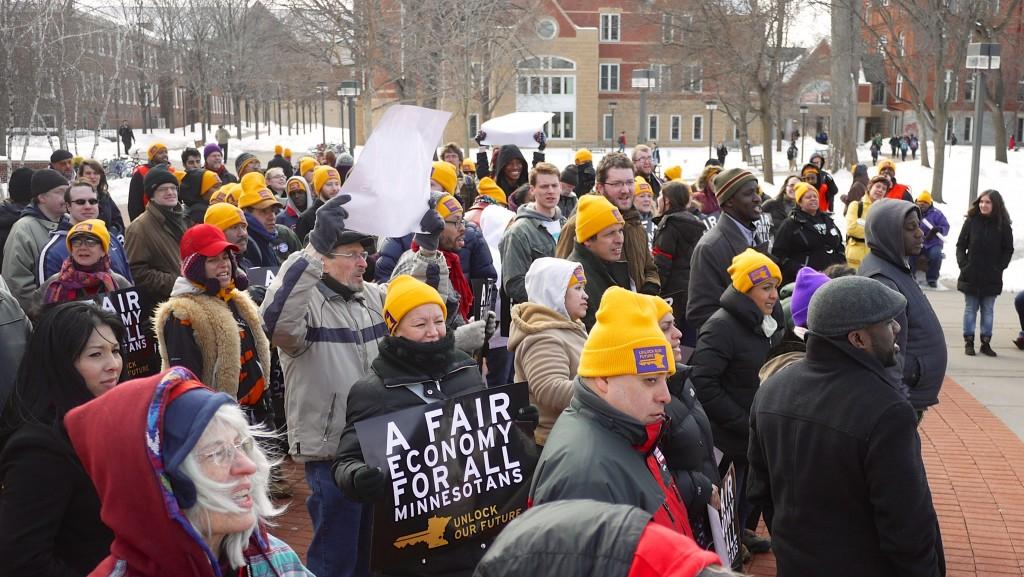 Over 200 students and community members rallied on Bateman Plaza Wednesday morning to demand that Macalester reevaluate its banking relationship with Wells Fargo. The protesters, who wore yellow hats from the Minnesota Property Union (SEIU 26) emblazoned with the message "Unlock Our Futures," hoisted signs with messages like "Beat Back The Bank Attack!" and "A Fair Economy for all Minnesotans" as they assembled in front of the Campus Center to protest Wells Fargo's foreclosure policies.
This rally brought the cities-wide Week of Action facilitated by Minnesotans for a Fair Economy (MFE) to Macalester's campus, marking another stage in Kick Wells Fargo Off Campus' (KWOC) campaign to end Macalester's financial relationship with Wells Fargo. The Week of Action was coordinated by MFE to bring further attention to labor and housing issues ongoing in the state. This rally focused specifically on Wells Fargo's foreclosure policy, which some students say is uniquely destructive in the Twin Cities.
"Wells Fargo forecloses on more homes in Minnesota than any other bank," said Sarah Knispel '15, a member of KWOC. "It is literally tearing the Twin Cities community apart. At the peak of the housing crisis, over half the homes in North Minneapolis were facing foreclosure. [Vacancies] are everywhere in neighborhoods like North Minneapolis, Frogtown and Central/Powderhorn."
KWOC, a student organization active since the fall, has been in conversation with the administration over the college's banking relationship with Wells Fargo. Macalester currently uses an account with the bank to process P-Card payments each month. The group aims to end Macalester's relationship with the bank unless Wells Fargo agrees to implement a principal reduction policy on underwater home mortgages, which KWOC members say would more accurately reflect the value of owners' homes.
"We want Macalester to use the weight of its power as a large institution in the community to hold Wells Fargo accountable for dismantling our communities and stripping them of their wealth," said Sarah O'Connor '13, an organizer with the group. "We think that Macalester cutting its ties with Wells Fargo is in line with previous campaigns that have worked to change corporate policy."
On Tuesday, four students met with Wells Fargo representatives and members of the Macalester administration, including David Wheaton, the Vice President of Administration and Finance, to formally ask the corporation to change its policy on principal reduction. After the representatives told students they would be unable to honor the request, KWOC continued their efforts to pressure the administration. "The representatives said that there was sufficient political pressure in other places to change their policy, which validates our campaign strategy as an effective approach," O'Connor said.
The rally Wednesday featured a number of speakers, including Ryan Murphy, a visiting professor of Women's, Gender, and Sexuality Studies, and Jessica English, an active member of Occupy Homes MN who lost her home to foreclosure.
"I would like all of our colleges and universities to take a lead in our communities, and divest from institutions that hurt students," English said. "I hope that they would consider how much they receive in federal student loans and Pell Grants. I don't think Wells Fargo needs to profit anymore from our tax dollars."
The rally also featured students Jeffrey Lyman '16 and Eivind Bakke '16, who marched with KWOC and MFE members to the Wells Fargo branch on Grand & Fairview Ave. before the rally. Both students along with community member Cat Salonek closed their accounts to protest the bank's lending and mortgage policies.
"I saw it as an opportunity to help out my community and to send a message to both Wells Fargo and Macalester that we all have to do whatever we can to promote economic justice," Lyman said.
Members of the cities' community were also present throughout the morning. Some protesters were initially involved in other economic justice movements like Occupy Homes MN, while others are part of the local branch Minnesota's Property Service Union (SEIU 26).
After the rally, Fred Anthony II sat half-asleep in Smail Gallery in Olin-Rice. A member of SEIU 26, Anthony had not slept for over 32 hours.
"I'm here because we were in a contract negotiation fight with security contractors," Anthony said. "Because of support we got from [our] allies, we were able to get one of the contractors to take the lead in the negotiations. We need to continue to support everyone, including our members whose contractors did not meet our demands, as well as community members who supported us in our fight."
"I'm supporting the students in their fight against Wells Fargo," protester Griselda Paz said through a translator.
After protesters refueled with coffee, juice and snacks in Smail Gallery, they boarded a bus to head to a rally at the foreclosed home of Gayle Lindsey in South Minneapolis. From there, they marched to the Wells Fargo Home Mortgage headquarters.
Macalester students Leewana Thomas '14, Rebecca Hornstein '13, Maya Pisel '13 and Luke Mielke '16 were arrested while linking arms with nine other protesters on the 26th Street bridge overlooking I-35W in an act of civil disobedience.
It is not clear how Macalester's administration will respond to increasing pressure from KWOC. Similarly, SEIU 26 is still engaged in a battle for workers' rights. Some Macalester students are optimistic about the effects of the Week of Action events.
"The rally was quite exciting," said student Arianna Feldman '16. "Seeing Macalester campus security workers joining the rally in solidarity was quite moving to me and made me really happy. Seeing so many students, workers and even professors joined to rally made me think that KWOC has a real chance at beating back the bank attack. I think [it] gave hope to many that this fight is going somewhere."
"I'm a college student and I know how busy it is to balance classes, homework, work and trying to have some kind of social life," English said. "I am so impressed that even with all of those time commitments, college students are taking the time and effort to demand justice in their communities."
Editor's Note: Editor-in-Chief Jonathan McJunkin was present at the rally and is a member of KWOC.