Led by first-year Ben Kromash, men's swimming and diving team competes at MIAC Championships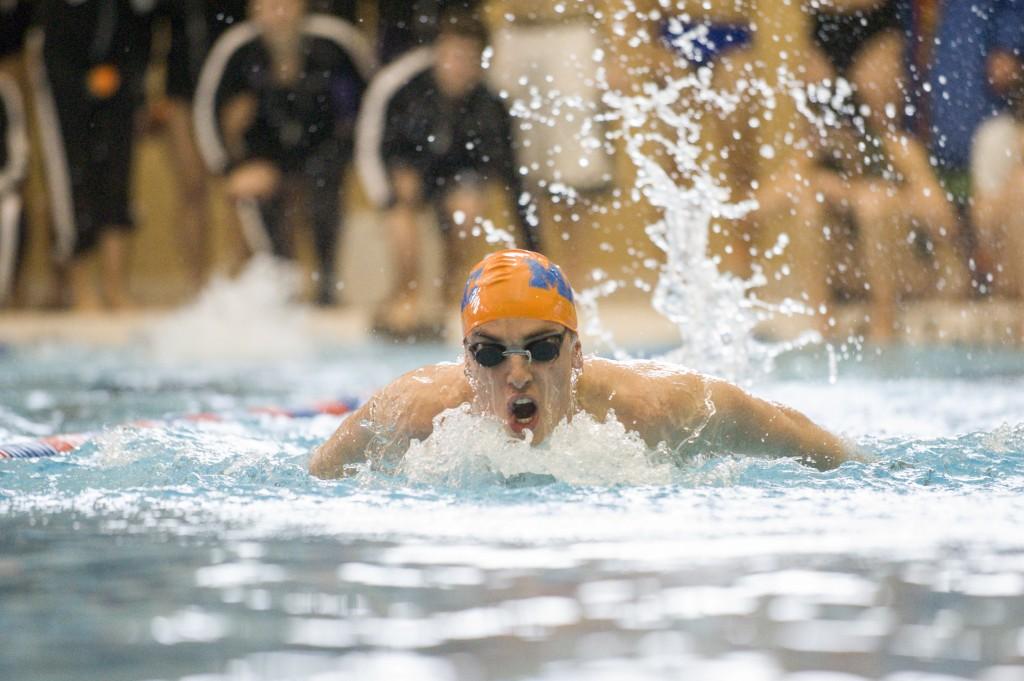 The MIAC Swimming and Diving Championships, which took place Feb. 14-16, marked the final competitive challenge for the Macalester men's swim team this season. The Scots placed seventh out of eight MIAC teams with an overall score of 134. With a squad of only 13 swimmers, two of whom are abroad (Clark Jacobson '14 (Harvard, MA) and Nathan Schachman '14 (St. Louis, MO)), the team churned out some impressive performances at the University of Minnesota Aquatic Center, where the championships took place.
Ben Kromash '16 (Chicago, IL) placed 5th in the 1650 yard freestyle with a time of 17:57.12. The Scots swam in five relays, including the 200 freestyle relay, 400 medley relay, 200 medley relay, 800 freestyle relay and 400 free relay.
Macalester's 200m freestyle relay, comprised of Jackson Gilkey '13 (Millis, MA), Domi Lauko '14 (Whitefish Bay, WI), Alex Rack '16 (Swarthmore, PA) and Wojciech Michno '15 (Domsjo, Sweden)  placed sixth out of eight teams with a time of 1:32.09.
In the 400m medley relay, made up of Rack, Gilkey, Michno and Ted Metz '13 (Teaneck, NJ), the Scots also placed 6th with a time of 3:48.94, beating seventh place St. Mary's by over 30 seconds.
Rack, Metz, Lauko and Michno swam for the Scots in the 200m medley relay, earning another sixth place finish with a time of 1:43.59. Mac's sixth-place 800-yard relay was made up of Kromash, Gilkey, Metz and Walter Benson '16 (Amherst, MA).  In the final event of the championship, the 400m freestyle relay, the Scots sent out Gilkey, Lauko, Kromash and Michno. The Scots placed sixth with a time of 3:24.25.
For some swimmers, the meet marked the end of a season, but for Metz and Gilkey, it marked the end of their swimming careers at Macalester.
"Looking back on my four years with this program I could not have asked for a better group of people to be on the team this year. There have been a lot of ups and downs on this team and every year has been special to me, but this year felt more like a close knit team and family than any other team before," Metz said.
Kromash, a young and valuable asset for the Scots, had similarly positive sentiments. "This team proved to be one of the strongest and most resilient I have ever seen. People dropped impressive amounts of time," he said.
The Macalester squad is small compared to many of the top-ranking schools in the MIAC. The MIAC Champions, St. Olaf, have a roster over twice the size of Macalester's. For swimming, and for other sports teams at Mac, placing in the top half of the conference is challenging not for lack of talent, but for lack of depth. However, the future looks bright in that department, as the talent of this year's first year class should attract plenty of recruits for the 2013-2014 season.
The men reflected on how coming from a small squad influences attitudes entering competition.
"Although it is hard to compete against the likes of St. Olaf or Gustavus, swimming is a sport in which one can compete both against others and against oneself," Lauko said.
Rack explained, "Coming from a large and very competitive high school, the attitude within the team was very different from what I'm used to. In high school we would be upset if someone lost a race to a team we were competing with for the overall title. At Mac, celebrations are much more individual and overall standings become less important."
Kromash, also in his first year on the team, had a positive take on coming from a small squad. "Being the underdog is always exciting and more motivating for me.  Yeah we are small, but we bite deep," he said.
Now that the season is over, daily life looks different for swimmers, especially for seniors.
"In some ways it's a relief to be done, but it's only been a few days and I miss seeing all of my teammates every day already," Metz said. "Swimming with Suzanne Oh '13 (Waukesha, WI) and Jackson Gilkey '13 (Millis, MA) since freshman year has been one of the best parts of my college experience. I am going to miss seeing them everyday and can't believe our college swim careers are over. It feels like yesterday that we were the first years!"