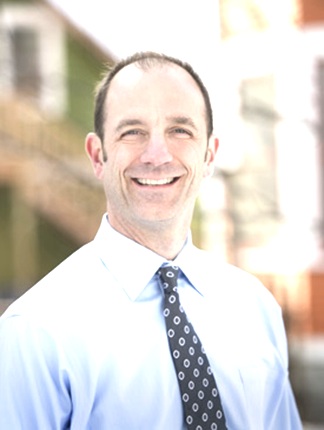 Residing just six blocks north of Macalester, Roger Meyer, 45, is the newest candidate for Mayor of St. Paul. Meyer, who is seeking the Green Party nomination, brings 20 years of community building experience in St. Paul to the table. He's spent the past 14 years with his consulting firm, Meyer Consulting, working with and advising Twin Cities organizations ranging from small nonprofits to neighborhood district councils.
The Mac Weekly sat down with him in Shish to discuss his plans for the city.
Why the mayor's office?
I've been active in St. Paul politics for 20 years. I live just north of Macalester and have volunteered and have my own consulting company. I work with nonprofit and neighborhood organizations. I've worked supporting neighborhood groups, business associations and neighbors to make change in St. Paul. I look at this as a service. I like to serve St. Paul, and I was very interested in the mayoral race this year to kind of take it to a new level of service.
What's the attraction to St. Paul?
Well, I grew up out in Minnetonka, and I went to the University of Minnesota. I met my wife there, and our first apartments out of graduating were in St. Paul. One right up here on Grand Avenue. We fell in love with that, and when we pooled our money to get our first house, we bought the house we're in now in Merriam Park and just fell in love with St. Paul. I love its people. I love its places. It's just a great city.
What previous experience would you say supports your bid?
One is my knowledge of St. Paul neighborhoods and my work with neighbors. So, through my consulting work, I've worked with half of the district councils. There are 17 neighborhood organizations recognized by the city that do city participation and crime prevention, and so through my consulting work, I've worked with over half of them. I've worked all over St. Paul with human service nonprofits and community development nonprofits, so I know a lot about the issues that St. Paul faces and I've worked with them. So that's one thing that gets me excited about the position and feel like I'm a good fit for the position­—kind of an awareness of what's going on in St. Paul. Secondly, the other part of my consulting business is interim executive director, so I work with nonprofits when they've lost an executive director. I go in, quickly learn the organization, and run it as their executive director, and then pass it on when a new leader comes on board.
So, what are your priorities for the city?
The Twin Cities has some of the worst income disparities between our communities of color and our white communities, and I believe that needs elevated attention. What we're doing right now as a region and as a city isn't enough. These are very challenging issues, but we've got to bring attention to them. I think that income disparity plays into our achievement gap in schools, it plays out in health disparities, it plays out in our future workforce and it's something we need to really be paying attention to and trying to work on. I also believe we could be doing more on environmental issues. Climate change is real. It's not going away. We can't wait for action at the state and national level before we get busy.
What are some things you enjoy doing when you're away from work?
Well, I have three kids: 13, 11, and 8. So I love hanging out with them. I help my sons' Cub Scouts. I help with my daughter's basketball. I love riding my bike. I'm a home brewer. I love brewing my own beer. I like camping. So, outdoors stuff.
What's your campaign motto?
My campaign motto is "It's Time." I mean this year in St. Paul we have ranked choice voting. It's the first time in St. Paul for a mayoral race. We had it two years ago for city council. But it's a great way where you don't have to worry about a spoiler effect or voting for the least worst candidate if you feel that way. You really get a chance to vote your hopes and dreams. Again, one of my fundamental beliefs is that more voices and more choices make for a good democracy.
What are some issues where you have a distinctive position on that's different from current mayor Chris Coleman?
I think the difference I would point to is that the focus on the public dollars that go to the Saints Stadium and the big marquee developments. To me that's not the right way to build a sustainable downtown and a vibrant local economy. I would rather take the approach of more smaller investments, more infrastructure, investments in creating a downtown that supports the people that want to live and stay down there, less about people coming in and out.
Could you explain your thoughts on one of your website's "Big Ideas," public banking?
I want to clarify something with those "Big Ideas." Those are other people's ideas. They put them up there. I love them, and that's one of the things I'll do as mayor. You really got to make sure people are free and putting their ideas out there, because somewhere out there there are the ideas that will make St. Paul great. The idea around public banking I like a lot. I personally bank locally. I give my business and my personal accounts to a local bank, Park Midway Bank, because I believe in keeping money local. Local banks are more likely to make loans to small businesses in the area, and I think that helps our economic growth and vitality. I think where the city banks matters.
What about the solar community project?
Well, there are these models where you can have access to maybe a Parks and Rec building. They could put a big solar install on the roof, sell that to community members on a per-panel basis, and they get some of their energy from solar. They feel like they're part of the solution, and they're building community because they pooled some of their money in something together with their neighbors to get it to happen.
Aside from the website, what are some other ways that you're trying to engage with community members?
As mayor, what I would commit to is what I call "Mayor on the Move," and I would bring myself as mayor, a department head, the chief of police, and the fire chief, and we'd go out maybe every two weeks to a different part of St. Paul, sit down, be available for residents to talk with us to share their ideas and concerns.
Where's your campaign based out of?
We don't have a campaign office. It's my campaign manager's house, around the kitchen table. It's a small campaign. We're not going to raise anywhere near the money or have anywhere near the machine as the incumbent.
Who's your favorite movie or book character?
(Long silence.) Who's yours?
I guess I'd have to think about that.
See, it's more difficult than you think. Let me give you my favorite author instead, Kurt Vonnegut.
What are your favorite Vonnegut stories?
I like "Player Piano," "Slaughterhouse-Five." I just enjoy reading his stuff.
What historical figure do you look up to?
I'd have to say Martin Luther King Jr. And, it's not too historical, but Václav Havel, the [Prime Minister] of the Czech Republic and Nelson Mandela, people that have really let their light shine and spoke truth to power.
Why should a Macalester student vote for you?
I think I'm going to bring forward the items and issues that are important to people who want to live in St. Paul after graduation. I think the things that I'm talking about matter. The environment, social justice. I think these issues that will need to be taken on to transform the city and make it a great city for all of St. Paul is something that Macalester students will resonate with. I think there's just an excitement and energy around change and moving away from the status quo at Macalester, and I think that's what my campaign represents.
For more information on Roger Meyer's mayoral bid, visit his website, http://www.rogerformayor.org/.