MCSG funds KBL renovations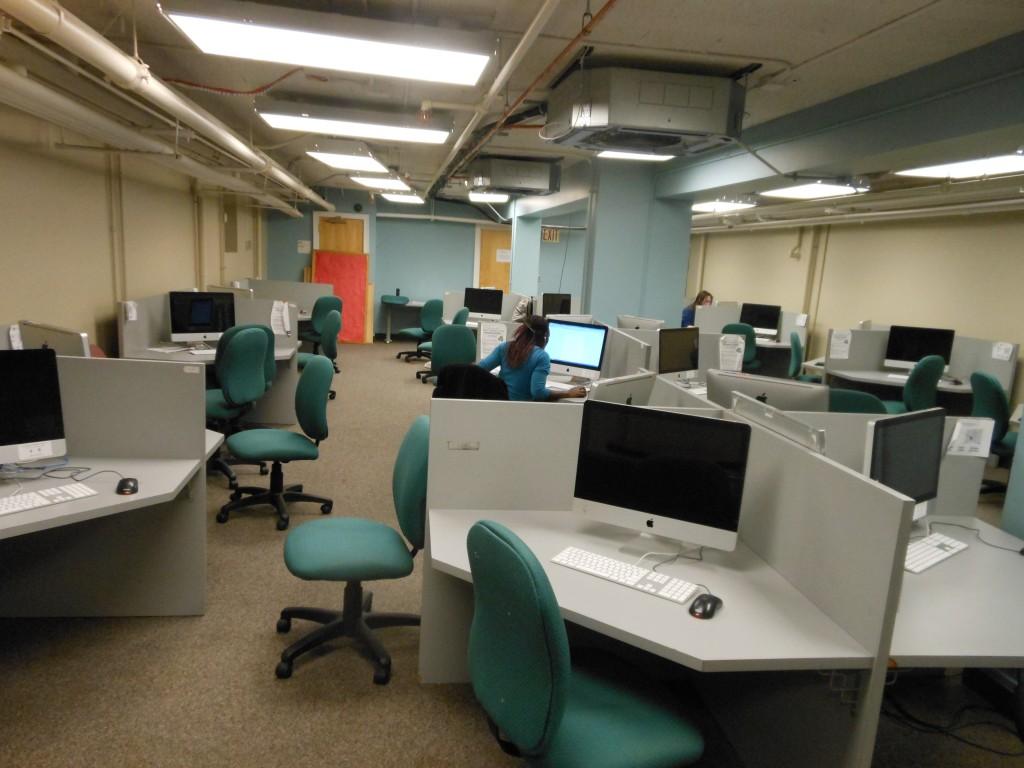 To many working students, the Kirk Basement Lab (KBL) becomes a place of last refuge. As one of the only 24-hour study spaces on campus, and the only one with carded access (allowing off-campus students to utilize it), KBL is often used to cram for exams or pull all-nighters to finish a paper due the next day. KBL, however, also carries a reputation as anything but an inviting, luxurious place to work.
"It's just very depressing. There's a feeling of imprisonment [in KBL]," said Margaret Mulligan '16, who has occasionally used the lab for late night work.
"KBL has this reputation on campus of being this awful place," said Kai Peterson '13, MCSG Vice President, who assisted with plans for the renovations. "A lot of people who spend time down there talk about how terrible it is."
In order to make KBL a more welcoming, attractive spot for students to study, the Macalester College Student Government (MCSG) budgeted $20,000 for cosmetic renovations to the lab, many of which are already underway.
"The renovations stem from the concern that we don't have enough 24-hour study spaces on campus," said MCSG President Patrick Snyder '13. Although weekday library hours were successfully extended to 1 a.m. a few years ago, after that time, students were limited to options such as the Link and computer labs in Dupre and George Draper Dayton – all of which required D key access.
Because KBL has a central location, is relatively large and comparatively under-utilized, MCSG decided to focus exclusively on renovations in that space.
KBL has been in need of renovations for some time; much of the furniture inside was recycled from different parts of the school.
"Right now, KBL has been on the lower end of the priority list for the college when it comes to upgrading furniture and spaces," Snyder said. "All of the desks were, at one point, in a different place. All of the chairs were, at one point, in the library. The couch is something that has been recycled through dorms countless times."
Independent of MCSG's efforts, the school installed central air conditioning in the lab over J-term to replace the window units that operated in the past and did a poor job of ventilating the room. That installation allows the school to eventually remove the window units, opening up the windows and exposing the room to natural light, something it currently lacks.
"There's just not good lighting or ventilation," Mulligan said.
The lab was already repainted over J-term to minimize disruptions caused by its temporary closing. Many other renovations are on the way. The carpet will be deep-cleaned in the coming weeks, and the majority of the furniture will be replaced.
"Hopefully, we'll have some nicer things when you first walk in, to make it a little warmer and more inviting," said Snyder.
A new couch and two lounge chairs will replace the current, infamous couch currently inside the lab. According to Peterson '13, new desk chairs will begin arriving this week. The couch and lounge chairs will hopefully be in place by mid-March, with most of the renovations complete before spring break.
In addition, discussions are underway about expanding the number of dry-erase boards on the walls, as well as potentially adding a lamp and area rug near the lab's entrance. Tentative plans also include eventually displaying student artwork on the walls.
Aside from the carpet deep-cleaning, these renovations will not require KBL to be closed for any length of time, and the shutdown for carpet cleaning will be for, at most, a day. The renovations are scheduled so as not to interfere with heavy-usage times for the lab, such as midterms.
At the Dec. 11, 2012 meeting of the MCSG Legislative Body, a capital request of $20,000 was approved to fund the renovations.
"It's probably going to be significantly less than [that amount]," said Snyder. "We've authorized up to $20,000 for cost overruns." Currently, about $12,000 of that amount has been spent or budgeted for the remaining work.
The funds for the renovations came from MCSG's Capital Fund, which is intended to provide funding for long-term projects that will have lasting effects for more than two years; the KBL work fell under this category. Those funds are allocated separately from the Operating Fund, which generally provides funding for student organizations on campus.
One additional goal of the renovations is to better publicize the lounge and make it more widely known on campus.
"After this renovation is complete, we have some ideas to increase its prominence on campus," Peterson said. "We might even offer coffee and snacks with a grand opening. That might let people, especially underclassmen who don't live in Kirk or haven't heard of [the lab] yet, know it's down there, and it's a good resource to be able to use."
By making the KBL a more attractive place to study, there is a concern that the atmosphere KBL is known for – a very intense, focused study spot – could shift as people potentially begin using the new furniture as a lounge space.
When MCSG began discussing potential renovations of KBL, they sought student input by asking them to write their concerns about the space on a poster, hung on one of the KBL walls during finals week.
"That was the bigger point that came through, that this is, above all, a study space, and we don't want you to turn it into a lounge or hangout space," Snyder said, summarizing the points raised by students. "We want to respect that, but we want to turn it into a more comfortable, accessible, and widely used lab."
"[The environment is] fairly studious. People are there to get work done," Mulligan said, "[but] sprucing it up would make it a much nicer place to study and help draw in some people during day hours."
Peterson agreed, saying that especially with the renovations to the Student Lounge, there will be no shortage of spots on campus for students to socialize, and it is unlikely they will choose to make KBL their hangout spot.
"I don't think it'll become this lounge where people go down and have conversations," Peterson said. "I think we already have good spaces for that…I don't think it'll take on that role. I think it's going to stay a study space – we just don't want it to be such a bland and inhumane one."