Men's tennis team looks to start season on winning note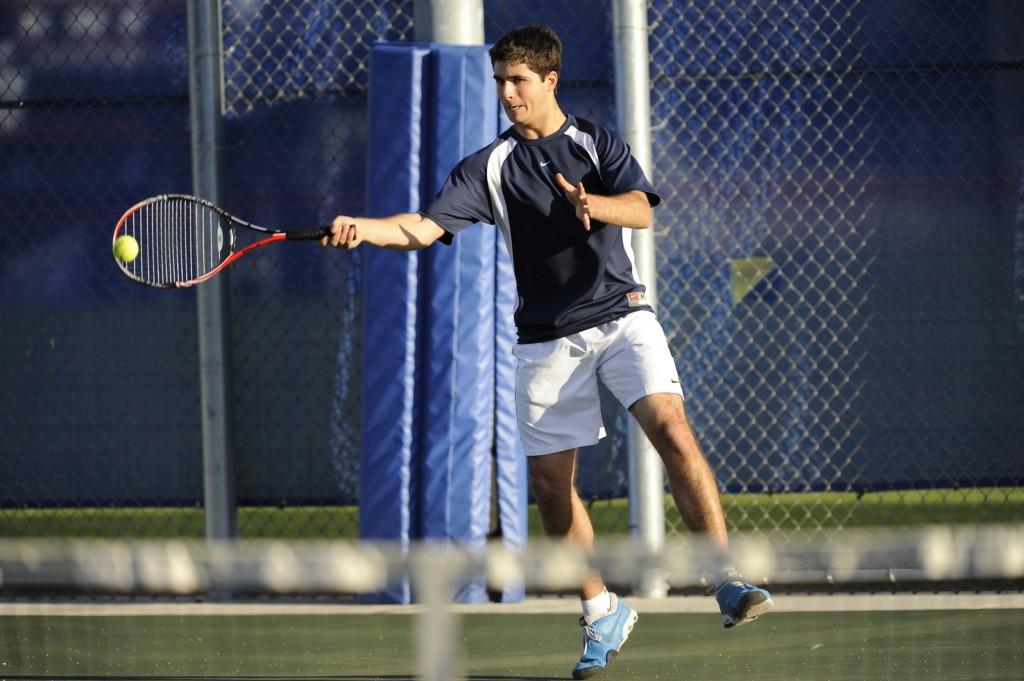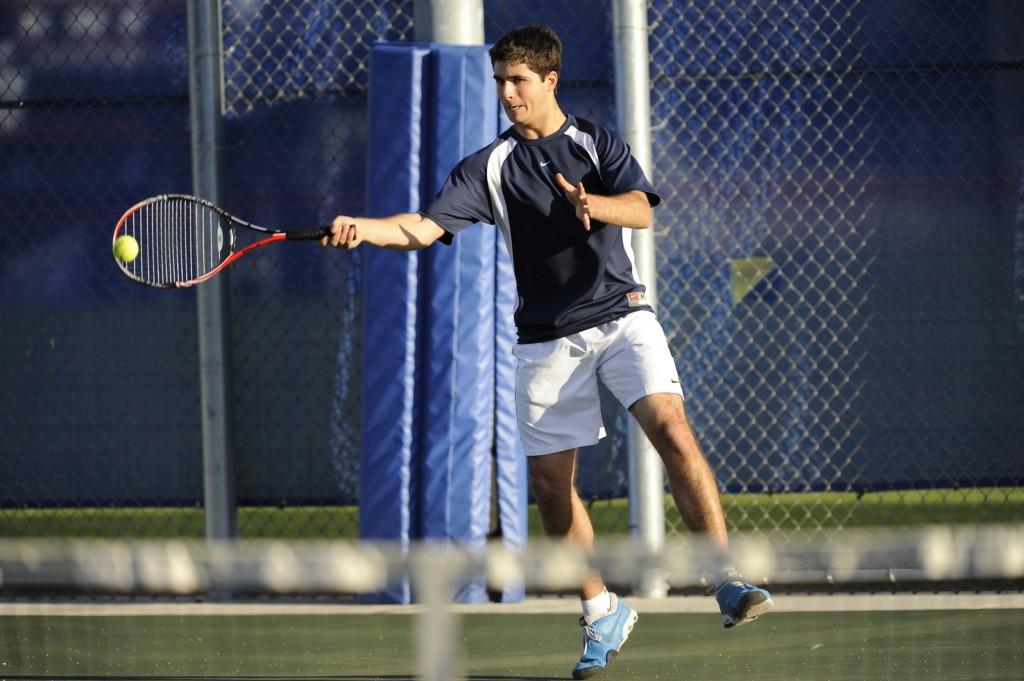 Last year, the Macalester men's tennis team finished with a record of 9-11, losing in the quarterfinals of the MIAC playoffs. This year, the Scots, led by head coach Jason Muhl and captains Stephen "Derp" Tyndel '13 (Toronto, Ont.), Max Edwards '13 (Rochester, MN) and Kai "Barely Legal" Peterson '13 (St. Paul, MN) hope to improve that record.
The 2013 season started with the Scots' first match against Division II St. Cloud State University on Feb. 2. The Scots put up a good fight against the Blizzards at the Fitness Evolution Tennis Center in Sartell, MN. Unfortunately, SCSU swept the doubles matches and went on to defeat Macalester 7-2, although the match was definitely tighter than the final score would indicate. Four of the team's losses were close, including three tiebreakers. The Blizzards' doubles wins came by 9-8, 8-5 and 8-5 tallies.
Macalester's two wins came at third and fourth singles.  Edwards battled to a 6-7, 7-6, 1-0 (10-7) triumph at number three singles, and teammate Max Soghikian '14 (Piedmont, CA) won 6-4, 6-2 in the number four singles position.
"We lost 7-2, but it was a definite improvement over our start from last year and everybody looked good," Tyndel said. "Last year was a good season and we're hoping to match that level of success."
The team graduated three top players last year: Chris Fowler '12, Evan Elderbrock '12, and Lewis Wilcox '12.
"All three were important players for us, but we've kept the same team dynamic and we are lucky to have players that can step in and compete for us right away," Edwards explained.
First-years on the roster this year include Brian Utz '16 (Rochester, MN), Paul Yeo '16 (Temple City, CA) and Wilson Merrell '16 (Poughkeepsie, NY).
"Brian Utz plays a mean game, so we should have some excellent replacements for last year's graduating seniors," Tyndel said.
Among the upperclassmen, Edwards and Soghikian are expected to be very strong this season. Hopefully their wins against SCSU are signs that the duo will have big seasons. The team also returns Max "The Hoff" Hoffman '14 (Newton, MA) from study abroad.
"(Max has) returned from abroad with a vengeance by playing the best tennis of his career," Peterson said. "Now more than ever it is important to keep in mind the chief rule of Mac tennis: don't hassle the Hoff."
The men competed in two matches during the fall semester but began in-season practices on Jan. 21. The 10-man team devotes hours every day to practice and the Scots' season extends through early May. Though practice, matches and lifting take up considerable time in the Scots' daily schedule, the team is tight-knit, compatible and more devoted than ever.
"Practice is always something that I have looked forward to. It's always great to have a constant during the semester. Whatever happened during the day, there's nothing like going out to stroke some balls during the night," Edwards said.
Tyndel agreed with his teammate.
"Basic training schedule is pretty tough and time consuming. But it's also nice to get a break from classes and everything and just hit some balls."
Although the team hopes to be competitive in MIAC play, it's also likely to experience internal competition. Many players are currently competing for starting spots.
"We have a very close team this year, both physically and on the court. Practice matches have been tight at every spot. All of the upper and lower classmen are in the mix for a variety of spots," said Edwards.
With only a few months of Macalester tennis left in their careers, Tyndel, Edwards, and Peterson were enthusiastic to relate some favorite tennis memories. As Peterson put it, "Mac Tennis is all about the living the life of a pirate, jarly barns, beating St. Thomas in the MIAC playoffs, cheesing the beaver, bowers and the crab dance."
The Scots face Simpson College (IA) on Feb. 10 in the Leonard Center. The following week, the men battle at home again against Northwestern.