What are you involved in on campus?
I am a co-chair of the Art Alliance. We publish The Lion and run the Drawing Co-Op on Thursday evenings.
Favorite artists?
John Singer Sargent, Rembrandt, Carlos Santana, Paul Cézanne, Norman Rockwell and Fleetwood Mac.
When did you first become interested in art?
I drew a lot of cartoons when I was in junior high, and then in high school I wanted to become better at realism.  I've always loved drawing people, especially their faces, which resulted in a lot of really awesome looking faces and less awesome disproportionate bodies.  My experience at Macalester has been wonderful and has allowed me to expand my mediums and grow within those I was already interested in.
Why did you come to Macalester?
It's funny, because at first I was dead-set on going to Carleton… but I got waitlisted.  I was actually so upset about it that I threw my Macalester acceptance packet in the trash that day (my parents fished it back out—thanks mom and dad!).  Since my family is local, it was convenient to visit Mac for the sampler, but I went in with no intention of actually enrolling.  What happened was that I had an incredibly amazing night of fun with my host, and afterwards there wasn't a question that I was going.  And so here I am!
When did you decide to be an art major?
I came in thinking about Biology, took a Chemistry class and then was planning on being a Chem major, but I burned out on that after sophomore year. Then I decided to pursue Studio Art.  I have never regretted my decision, even if it means that I will live in a cardboard box one day.  I just tell everyone that it will be the best-looking cardboard box on the street.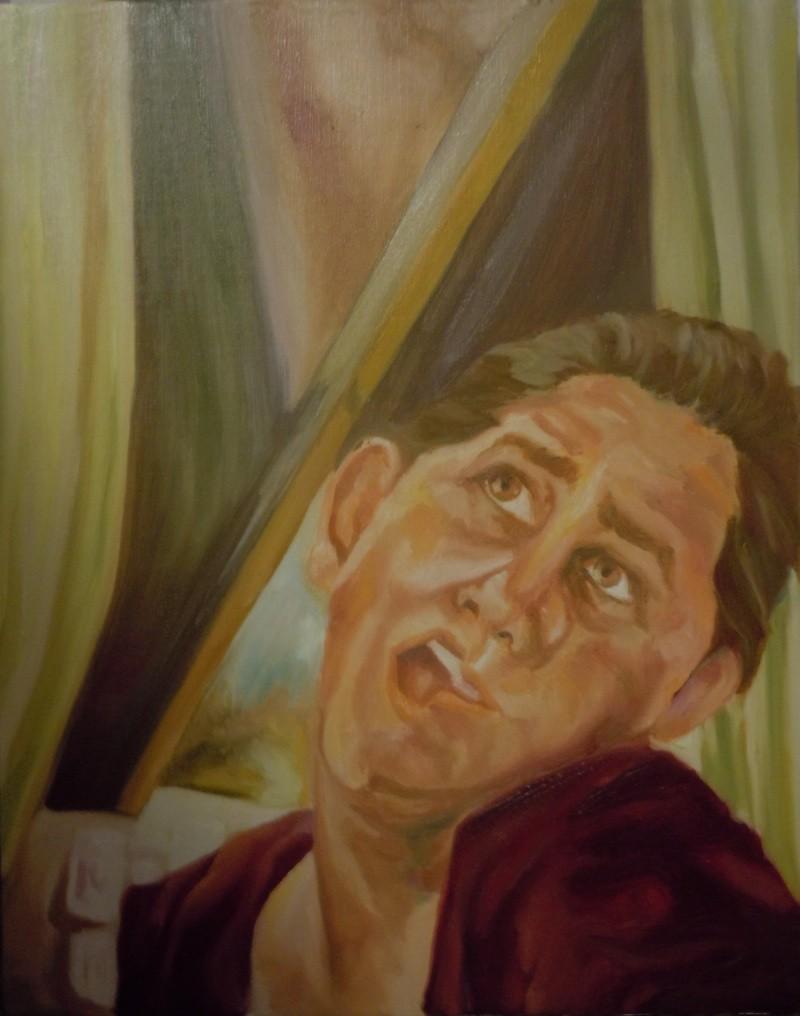 How do you view your role as an art student in relation to the Macalester campus? How does your art interact with the immediate surrounding communities?
This is definitely one of my biggest fixations, in a way—that of finding my own personal space in society.  I love the idea of public art, and of making art accessible to everyone in an interactive way.  I know that I enjoy looking at museum art, but I get that some people simply don't love it.  We just need to keep growing the art movement to gradually include more people, to find different niches. I also love seeing the many community members who attend the Drawing Co-Op on a regular basis.  It's great to feel like we're allowing the community to grow artistically, especially since we don't charge a fee for attendance like many other Co-Ops do.
Could you briefly describe what you've been doing for your honors project and/or what you're thinking about doing for your senior seminar project?
Haha.  It's kind of complicated right now, but I'm working with the concepts of emotion, color, fragility of memory, and expression.  I am an overly sentimental person and manifest this sentimentality by hoarding pieces of things.  I love going through my stuff and remembering memories associated with particular objects.  Part of the reason I do this is because I'm terrified of forgetting all the wonderful memories I have—and I want to reflect this in my art alongside the fleeting and ever-changing nature of human emotion.  It's sort of like moving beyond the typical portrait as a means of expression and instead trying to show how the interplay of all emotions creates an individual.
What mediums do you currently enjoy working in most and why?
My first loves were drawing and painting because I am a doodler at heart, but I'm partial to almost anything.  If I had more time, I would likely do more ceramics work because I love the intense feeling I get when sculpting clay.
How do you see art taking a role in your life in the future?
It has to be there.  I don't know what exactly I would like to do, but I know that I won't work in a job I don't love.  I'm always soul-searching and thinking about what I want, and it will eventually come to me.  Working with whatever community is around me is currently a priority, so we'll see where that leads.