Students support Lara Nielsen's tenure appeal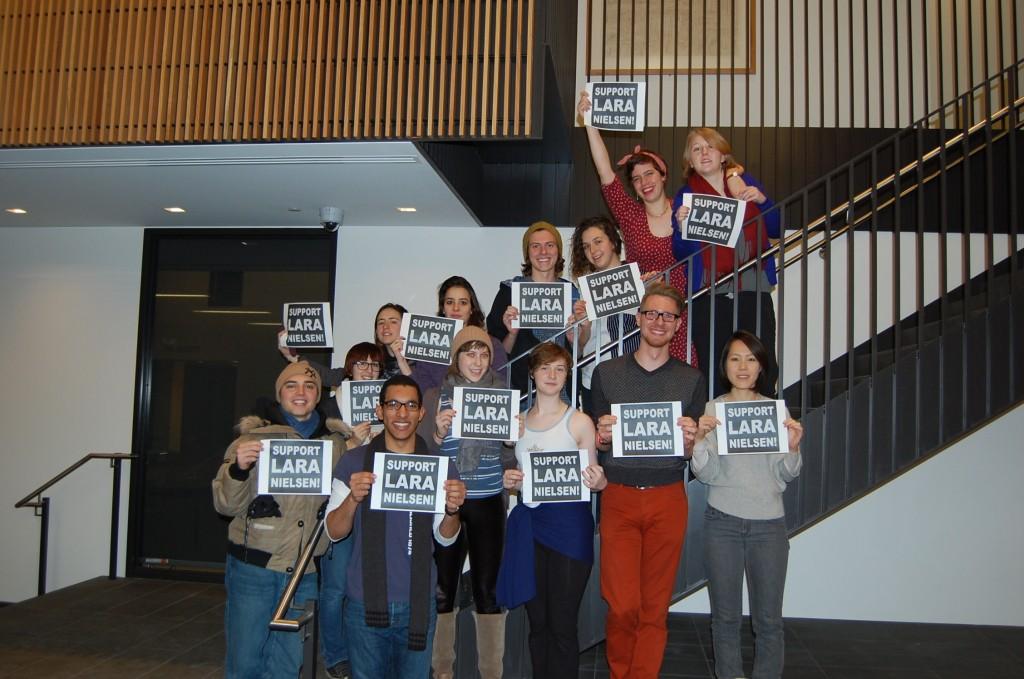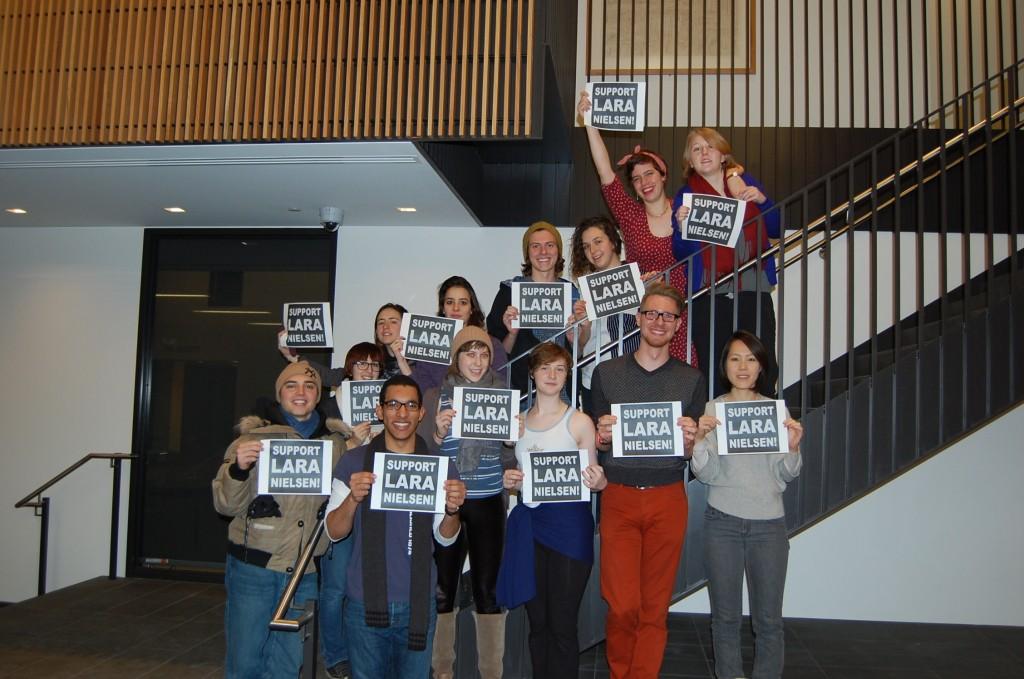 Students in the Theatre and Dance Department have called Associate Professor Lara Nielsen "the weaver of our intellectual heartstrings." She was nominated for Best Educator by the Macalester College Student Government in 2010, and co-edited a collection of essays last year titled Neoliberalism and Global Theatres: Performance Permutations. Last December, Nielsen was denied tenure by the Faculty Personnel Committee, and the board of trustees made that decision official on January 11.
Now, a group of students, alumni and community members are organizing to show their support for Nielsen, using everything from letters to art installations. Nielsen is also filing an appeal in the beginning of March.
Alana Horton '14 is a Theatre major and one of the organizers of this effort. She was in the theatre building on December 5, when Nielsen announced the news to her Performing Feminisms class.
Decisions about tenure are reached by an eight-member committee called the Faculty Personnel Committee (FPC) formed by President Brian Rosenberg, Provost Kathleen Murray and six faculty members. They consider online teaching evaluations solicited from students who have worked with the professor alongside the professor's publication history and scholarship. Students who have worked closely with the professor are also asked to write letters.
The details of the committee's deliberations and the reasoning behind their decision are confidential.
"My personal experience with finding out the news was seeing a lot of my classmates just shell-shocked," Horton said.  "Everyone I talked to thought she was a shoo-in."
A movement begins
After the initial shock of finding out that their professor may not return next year, students quickly mobilized, starting with those in the Performing Feminisms class.
"I went home with several friends and we talked for hours about how to address this painful news," Zoe Michael '13, who was in the class that night, wrote in an email. "The next morning I wrote an email to anyone I thought would care."
The email sparked a campaign which now includes a Facebook group with 582 members and letter-writing to President Brian Rosenberg, Provost Kathleen Murray and others. To date, 44 letters are finished or in progress, with plans to deliver them en masse.
The goal of these letters is, as Michael wrote, "[to let] the professors and administration at this school to know exactly what the students think about this decision."
In the email, Michael expressed a sense of both realism and determination.
"I know that the appeal process with these decisions is long and usually not lucrative," Michael wrote.  "I know that speaking truth to power is difficult and absurd at times. But I am willing to do whatever I can do to make the college recount this decision."
The email garnered 96 responses, and several students, including those quoted in this article, stepped forward to offer to lead and organize the movement.
Students' perception of Nielsen's crucial role in the Theatre and Dance Department and the college as a whole may have contributed to the immediate and strong response.  Since arriving at Macalester in 2007, Nielsen has been the only professor in theatre and dance who specializes in performance studies, an interdisciplinary way of analyzing theatre and other forms of performances.  Specifically, Nielsen studies theatre through the framework of critical theory, feminist criticism and politics.
"That's a huge part of learning theatre here," Horton said. "We have two performance theory track majors—what are they going to do?"
Nielsen is also an associate professor in Latin American Studies and has taught courses cross-listed in Art History and Women's, Gender and Sexuality studies, among other departments. She is one of the co-founders of the Critical Theory concentration, which currently enrolls 19 students.
Nielsen declined to comment on this article.
"Weaver of our intellectual heartstrings"
Most of the students and alumni who support Nielsen's case go beyond simply praising the breadth of her interdisciplinary work. To them, Nielsen has played a critical role in both their education and their vision of Macalester.
Julia Davidson '13 is a Theatre and Dance major in the performance track with a Critical Theory concentration.  Nielsen is the advisor for her capstone and honors project.
In a letter addressed to those involved in the appeals process, Davidson credited Nielsen's interdisciplinary approach with allowing her to bridge her interest in dance and theoretical scholarship.
"I have yet to see another department, let alone another teacher so actively seek out the rest of campus for collaboration and mutual knowledge gains," she wrote.
Davidson's work with Nielsen has, as she put it, "developed [her] as a thinker, to say it broadly." She believes that the decision to let Nielsen go undermines Macalester's goals.
"I think to take her out would really fly in the face of the multiculturalism and internationalism and the interdisciplinary talk that gets thrown around," Davidson said. "She's an asset not only to her own department and many other departments but also to the artistic community in the Twin Cities."
Horton put her admiration for Nielsen in equally strong terms.
"I honestly think she's the best professor I've had at Macalester," Horton said.
She spoke specifically about an Oral History class she took with her.  In that class, she interviewed her grandfather, a jazz musician, and learned skills that allowed her to get a job at Macalester last summer conducting interviews.
When asked about the term "weaver of our intellectual heartstrings," Horton was effusive about what Nielsen means to her.
"I just think it sort of describes the kind of teacher she's been to me," Horton said. "If academics has a heart, that's where I see its heart. She believes in everything she's teaching and she just has this vivacity and ferocity and you can't help but be sucked into it."
In her first email, back in December, Michael echoed these sentiments.
"On a personal level she is the best teacher I've had at Macalester—a fierce thinker, a teacher that pushes me to become better, and a spirit that sparks with energy and compassion for the world," she wrote. "She has made me a stronger student, a more skillful scholar and a better human being."
Non-students sound off
Alumni and members of the community have also weighed in supporting Nielsen with letters addressed members of the administration.
"Unless this decision is reversed, I do not plan to donate or support the College in any way in the long-term future," Emily Gastineau '09 wrote in a letter to President Rosenberg.
Vera Sidlova '11 wrote of her appreciation for Nielsen's "academic commitment to historically underrepresented groups in her approach to students."
"Lara has on numerous occasions been able to help me in situations where I felt I was falling through the cracks of Macalester's frameworks and support systems," Sidlova wrote.
"Losing Lara's voice in academia and public life as well as her fierce dedication for students' personal and intellectual development, in my eyes, takes away from Macalester's mission in irreparable ways," she wrote.
Nielsen also inspired letters of support from artists in the community that she has worked with. She is known for bringing in groups from the Twin Cities to her classes, such as local art collective SuperGroup and experimental playwrights.
One such artist is Rachel Jenderzeiwski, a local playwright and performance artist. Nielsen worked with Jederzeiwski last April on the staging of a memorial theatre project for the Virginia Tech massacre.
"Lara knows [the] vastness and diversity [of the Twin Cities arts community] well and is making it available to her students now," she wrote. "[Her students] are emerging from their undergraduate studies with a remarkable advantage."
The appeal process
Nielsen is currently moving forward with the appeals process for her tenure decision. She has three months from the original decision to file an appeal, and currently plans on filing it at the end of February or the beginning of March.
According the guidelines for tenure decision appeal, appeals must be based on procedural error by the FPC or a violation of the candidate's academic freedom. Appeals are decided by a separate committee from the FPC, called the Faculty Appeals Committee. This committee consists of faculty members with FPC experience not involved in the original decision being appealed. They recommend a decision to President Rosenberg.
If President Rosenberg elects to approve the appeal, the FPC will reconsider the professor's case and make a final decision.
In 2008, President Rosenberg approved Women's, Gender and Sexuality Studies professor Scott Morgensen's appeal in the wake of significant lobbying by students. Morgensen ultimately chose to leave Macalester and now teaches at Queen's University in Ontario.
Next steps
In advance of Nielsen's appeal, the students supporting her have many actions planned, including a week of tabling, collecting photos of students with whiteboards showing their support and building a jokingly-labeled "shrine" for students to collect papers and other objects from her classes. Mac Players is helping them reserve spaces and tables.
Roberto Capriotti '13 is completing an especially unique show of support for Nielsen—a collection of art objects built from previously discarded props and materials from theatre productions.
The seeds of Capriotti's project started when he got his first sketchbook in a scene design class last semester. He works in the basement of his house, where art objects, including painted stray set pieces are stacked against the wall. Included among them are a mic stand without a microphone and a set of theatrical lights without light bulbs.
Capriotti credits Nielsen's classes with improving and informing his art, leading to a more real-world idea of what it means to be an artist.
"It wasn't so much just becoming an artist as it was 'Oh I see this pattern here, that's a good idea,'" he said.
Capriotti described has artwork as a "mobile stage," and says he hopes to unveil it "soon." He is interested in more contributors to the project.
"If we're visible enough. . ."
Despite all this effort, student input in support of Nielsen may have little direct effect on the appeal process, according to Provost Murray.
"Given the limitations on the grounds for an appeal, student input will not be considered beyond what was submitted in the original file," Murray wrote in an email.
Horton and the other organizers are aware that Faculty Appeals Committee members can only consider the original file and the request for appeal. In part, they pin their hopes on the man who has the final say on the appeal process: President Rosenberg.
"What we say actually has a big effect on the president, if no one else," Horton said.
Beyond simply hoping to influence Rosenberg, Horton sees the value in continuing to make noise for Nielsen.
"If we're visible enough, if we make our love for Lara big enough—I refuse to believe that we can't make an impact on somebody," she said.