Erin Holt: Senior Art Major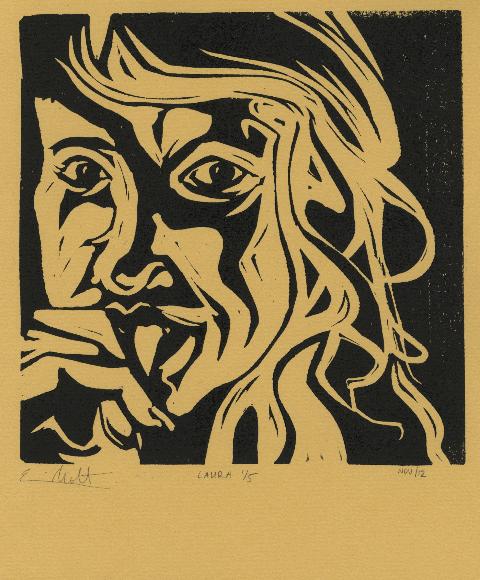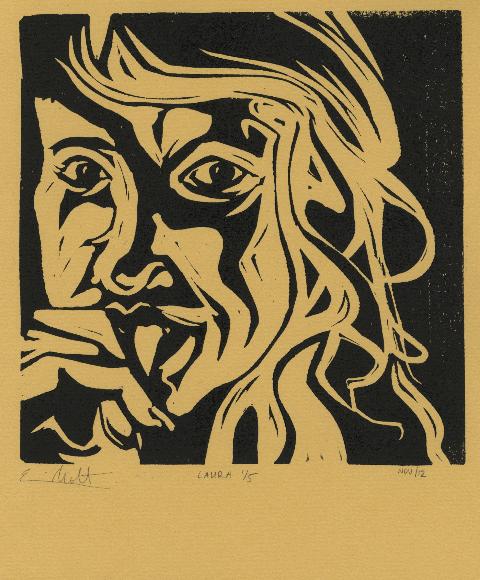 What else are you involved in on campus?
I'm also an Anthro minor and I host a radio show called Metal (+Mystery).
Who are your favorite artists?
Bruce Connors, Lee Bontecou and VNV Nation, which is an Irish Industrial Group.
When did you first become interested in art?
I've always been interested in art, but I didn't start drawing myself until I was 13. At that age, I didn't consider myself an artistic person, but when I stepped away from one of the first things I drew, I was like, hey, this isn't half bad. I then got really interested in ceramics and did a lot of them in
high school. After graduation I got hired helping the school ceramics studio out.
Why did you come to Macalester?
The first art class I took at Mac I took at a summer camp here. It was a two week intensive drawing and painting class through a program called MITY. So I had really fun memories of learning and developing skills here. I was 14 when I went and I knew a lot about the area, so I knew if I got in that's where I'd go.
When did you decide to be an art major?
Sophomore year. I was kinda a Type-A kid. I thought, 'you can't make money that way,' 'art isn't a living'. But then I just decided to become an art major, I guess it just happened organically. I remember telling my dad in a really 'drive-by' way, and my dad definitely wanted to discuss it, but now both my parents are happy about my choice.
How do you view your role as an art student in relation to the Macalester campus? How does your art interact with the immediate surrounding communities?
I participate with a lot of local arts organizations, especially Northern Clay Center. I teach there, and do lots of community work. I think it's important to give people a hobby/passion for art that they can go back to at any point in their life.
Could you briefly describe what you've been doing for your honors project and/or what you're thinking about doing for your senior seminar project?
I'm working with this theme of where the body intersects nature. And the idea that we use these tools to facilitate our interactions. We're sort of removed from the natural world in a way. I'm especially looking at fishing implements.
How do you see art taking a role in your life in the future?
My dream is to be an artist. I would like to show, I would like to travel, that's what I'm aiming for. Backup would be arts education, which means a lot to me. I would be happy there too.
What mediums do you currently enjoy working in most and why?
Printmaking and ceramics. They're both really technical mediums and involve a lot of processes and are more hands-on in their steps. I get really married to that work, I get really involved in that process, it really makes me slow down.