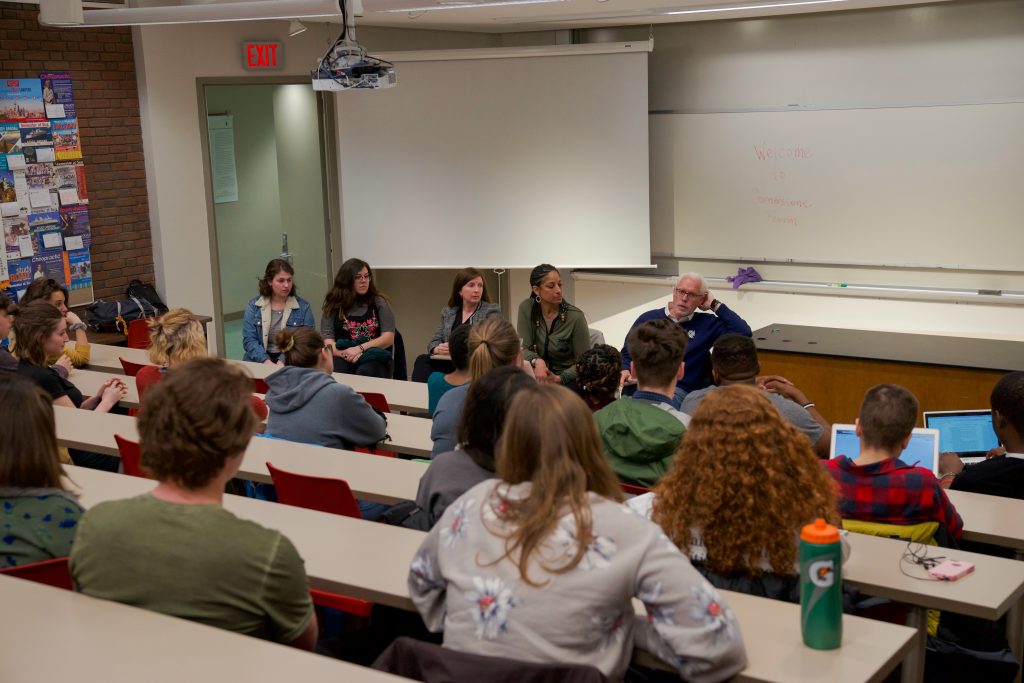 On Tuesday, April 17, students gathered in the Olin Rice Science Hall for the last Cornerstone Forum of the semester featuring President Brian Rosenberg, Provost Karine Moe and Vice President for Student Affairs Donna Lee.
The panel gave brief descriptions of their positions before opening the floor for student questions. The discussion that followed focused on the paths Macalester must travel to cultivate a healthier and more inclusive campus community.
Several students, including MCSG President-elect Malik Mays '19, were specifically interested in the ways students can hold professors accountable for how they build classroom culture and handle issues of inclusion, diversity and difference.
"People want to know – where is the student input?" Mays asked. "What would be the best avenue to have [a student's] voice heard and also [to] protect them?"
Moe encouraged students to speak to faculty about issues important to them whenever possible, though she acknowledged that in some situations, given the nature of the relationship, it might be difficult for students to talk about sensitive subjects.
While there is some discussion amongst administration about having a panel for students and faculty on the issue of inclusion in the classroom, Lee was quick to point out that public venues like this can put pressure on students to share personal or painful experiences.
One student in the audience suggested that giving students the ability to anonymously share their experiences might be the best option for those struggling with the classroom culture, an idea that Lee reacted especially positively to.
The forum spent several minutes discussing the ways in which course evaluations could be used to emphasize inclusivity and culture as core to what matters in Macalester classes.
There is, however, an extensive bureaucratic process involved in standardizing the evaluation sheets, as has been proposed in various outlets including MCSG. The change would require a two-thirds up vote from the faculty.
Moe, who has spent several years trying to standardize evaluations, has yet to get the issue to a vote.
In the fall, faculty will attend a retreat where they will discuss, among other things, issues of inclusivity in the classroom.
"If we can begin by getting 100 or 125 faculty members in a room to talk about these issues, that's a start… then we have to figure out ways to make it ongoing," Rosenberg said. "It's really hard. It's not an excuse, it's just a reality."
The forum also discussed the high rate of faculty turnover, particularly among faculty of color.
Rosenberg highlighted affirmative action programs for faculty and staff, and all panel members agreed that intentional hiring was a step in the right direction if not a definitive answer.
The systematic supports for faculty and staff of color become weaker once they begin working.
"There are a lot of informal things," Lee said. "I will say we are probably not as diligent as we could be and part of that has to do with the fact that we're all so busy… it's been named, there's a desire, it's just carving out the space and time."
"I think the limiting factor on this campus… in terms of creating an inclusive community, [is that] it falls on the shoulders of a finite group of people," Rosenberg added. "We have to figure out how to teach [faculty] how to become more inclusive in the classroom and we have to try to inspire them to make this a priority."
Overall, the panel acknowledged the need for broad change on campus at a cultural level. But that change will require serious commitment from all parts of the Macalester community, rather than only on a few individual members.
"I see us being challenged to rethink the way we deliver education, how we're teaching it, who's teaching it, what's being taught, how we deliver services," Lee said. "We're already starting to see an influx of younger faculty who's asking some of those bold questions and pushing us in those new directions."
"Macalester has a great history of self-improvement," Rosenberg said. "Not perfection. But self-improvement."
As the organizers and founders of the Cornerstone Forums – Mara Steinitz '18, Malik Earle '18 and Maxine Freedman '18 – are all set to graduate in May, Gabi Estrada '21 and Ariel Hasak-Lowy '21 will take their places next year.