A bit of a mind flip: Rocky Horror comes to the Macalester stage
Zack Dizdar '20 describes Macalester's production of "The Rocky Horror Show" as "campy, crazy and sexy." He plays the lead, a gender fluid mad scientist named Dr. Frank-N-Furter.
The show follows lovers Brad and Janet, who are traveling to visit their former science teacher when they get a flat tire and are forced to seek shelter in an old castle. There, they meet a host of creepy characters, including Frank, Magenta (the maid), her brother Riff Raff (the butler) and groupie Columbia.
Chaos ensues, involving phantoms, aliens, a zombie and lots of rock'n'roll.
A musical as intense as "Rocky Horror" naturally lends itself to an exhilarating rehearsal process rife with fun moments. Asa Benjamin '23, a member of the ensemble, describes the experience of making the show as "full of joy."
The vibrant energy of the piece was evident in a dance practice run by choreographer Sandy Agustin a week and a half before opening night, when students vigorously twisted and writhed along to what is perhaps the play's most famous number, "Time Warp." 
"It almost doesn't feel like you're doing work," Grace Armon '22, who has a tap solo as Columbia during "Time Warp," said.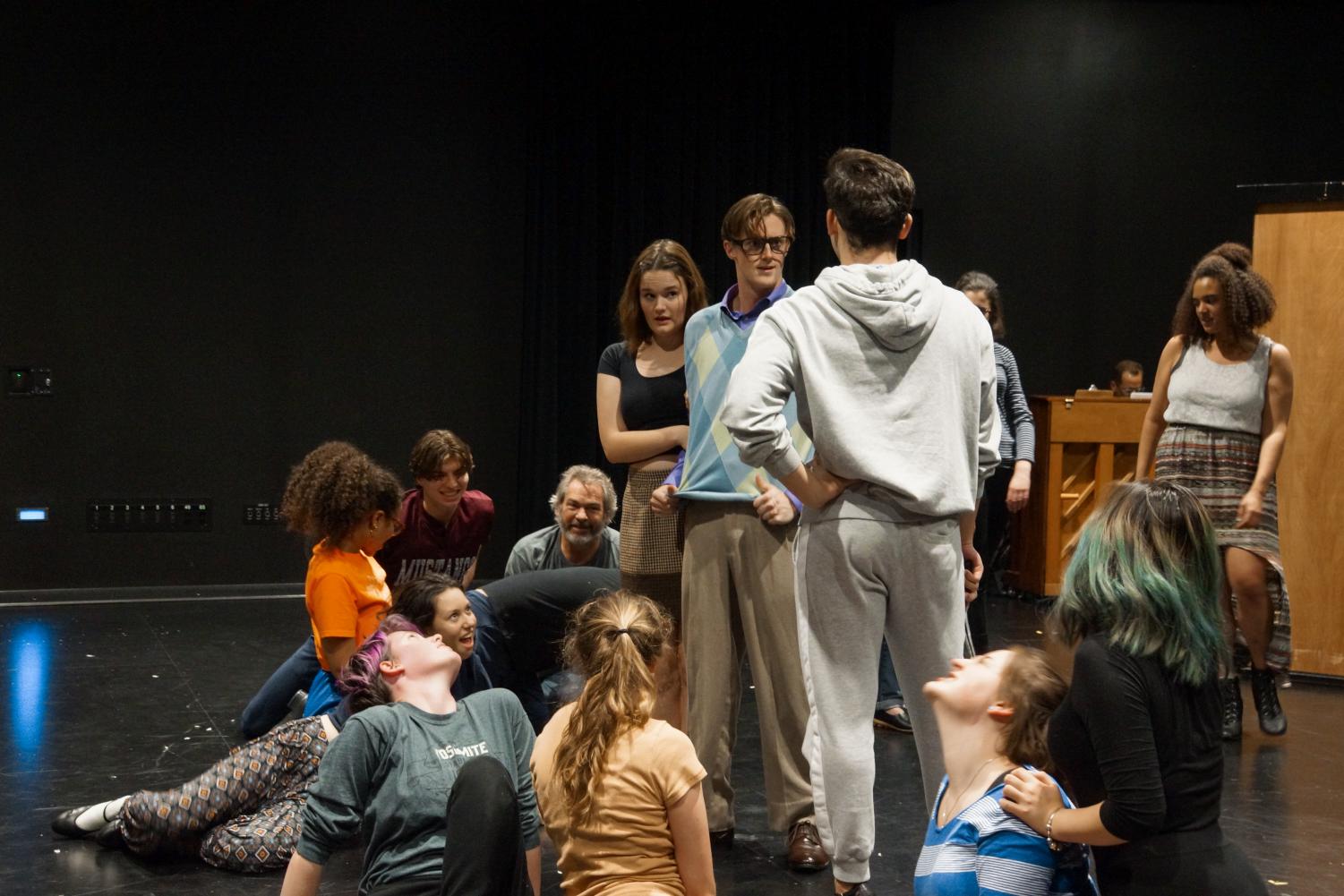 Screenings of the movie version are traditionally accompanied by, as Benjamin calls it "an audience participation script that has been lovingly and wildly crafted by the [fans]."
Since the film's release, viewers have enjoyed talking back to the characters and arriving in costume. Macalester audiences are encouraged to do the same, and the cast and crew have been eagerly preparing.
Benjamin and Dizdar remember that during one rehearsal, the stage managers began — without warning — to imitate a participation script by yelling comments at the actors.
"We [were] just laughing our heads off because we never knew what was gonna be happening," Benjamin said.
According to the cast, the scenery is impressive. "The set is going to be nuts! In a great way," de Forest said. Benjamin and Dizdar mentioned a "mystery prop" that, in Benjamin's words, "makes me laugh every time we do it."
Dizdar is particularly excited about the extravagant costumes he gets to wear as Frank. "I have heels, I have a fan and I have capes," he said. "When I was trying them on, I was like a kid on Christmas morning."
Performers speak highly of the director, Harry Waters Jr.
"He's, and I say this in the best way and with the most love, a crazy person," Asher de Forest '21, who plays Riff-Raff, said.
Waters has worked as a professional actor for decades, which the cast members say is noticeable in his techniques.
"He's got such a quick mind and a strong vision," Elinor Jones '21, who plays Janet, said. "He [can] tell you exactly how he wants you to do something."
"He has the experience to know what works," de Forest said, noting that the emotional state of Riff Raff tends to fluctuate rapidly.
Waters is committed to incorporating input from the cast.
"What we've been able to create is the freedom for them to suggest things," he said. "There are so many things that are in this show that are a result of listening and allowing students to have the maximum imagination."
Although there is no shortage of joy in "Rocky Horror," the actors don't hesitate to point out that the work has been demanding, mainly because of the large time commitment.
"Auditions were, I think the first weekend after we came back, and pretty soon after that we hit the ground running," de Forest said. This made for an incredibly quick turnaround, considering the show opened Thursday, Oct. 31.
Waters is cognizant of this.
"I don't want to wear out the college students […] we're trying to be very mindful about [needing] to call everybody for every rehearsal." he said.
His efforts have not gone unnoticed. "He always checks in with us to see how we're doing," Armon said.
The play has the potential to be mentally exhausting as well, something Jones is especially aware of, since she says she has been in her underwear for more than half of the rehearsal process. Even though she is confident about this type of openness, Jones notes that it's still a challenge.
"Subconsciously it's just been a lot of emotional vulnerability," she said.
Another difficulty is the outdated, often controversial nature of the show's depictions of sexual and gender identity.
While "Rocky Horror" is lauded for being one of the first musicals to display sexual fluidity, Waters says that "the subject matter is double-sided because it's very much about […] sexual freedom, but we're in 2019, so it's not the same kind of aesthetic as when the show came out in 1975."
Beginning early in the rehearsal cycle, Waters facilitated discussions with the entire cast and crew to explore the more problematic elements of the script.
"There's an awareness about consent, there's awareness about identity, that we've […] taken the time to have some really intentional conversations about," he said.
Students have been responsive to these talks.
"I do really appreciate Harry recognizing that hearing from the voices in the room is important when you're making a piece of work that deals with real issues," Jones said. "We're the bodies that he's putting on stage […] we need to be a part of conceptualizing what we're doing."
"I think it's not maybe instinctual to bring a level of seriousness to something like 'Rocky Horror' […] but I think it's been so helpful and so important that they have put that much time into bringing that necessary seriousness," de Forest said.
Jones believes that the cast's close-knit nature is integral to creating a respectful environment.
"I'm glad [we're] so cohesive," she said. "I feel like our identities are being valued in the room because we care about each other."
   Performing a show that is embedded so strongly in popular culture has its own hurdles. 
"There's the expectation from audiences — and even from students that are in it — of what they've come to know," Waters said.
The cast and crew are hoping to put their own unique spin on it.
"It's not like any other production of 'Rocky Horror' that you will ever see," Benjamin said.
"We're paying tribute, but […] I'm trying to not just like do a Richard O'Brien impression in the way I do Riff Raff, and I think everyone is trying to bring their own thing to it," de Forest said.
Jones has been diligent in ensuring that her portrayal of Janet is distinct from how the character is generally presented.
"Basically [she] plays the role of the female trope in so many different ways," Jones said. "She's supposed to be stupid but also smarter than Brad. She's supposed to be modest but also super sexy." It is customary for viewers to shout "slut" whenever Janet's name is heard.
Jones notes that she is well aware of the "dangerousness of representing women as one dimensional" but that she thinks "a lot of that has been cleared up in the way that Harry and I have gone about crafting this character."
"You have to keep humanity flowing through that or else you're going to lose track of why you're doing it," Jones said.
The cast feels that "Rocky Horror" will serve as a pleasant escape for Macalester students.
"We get stressed with school and with the world and all of that's important, but I think it's gonna be really good for people to go see something that's fun and funny and surprising," de Forest said.
"Rocky Horror" is playing Oct. 31 and Nov. 1, 2, 7, 8 and 9 at 7:30 p.m, with additional midnight showings on Nov. 2 and 8.  Tickets are $5 for members of the Macalester community and $10 for outside guests.
Sandy Zhao contributed to reporting on this article.