Review: Women of the World poetry slam
Brimming with energy in a bright red dress, Allison Broeren, head of the Minneapolis slam poetry group SlamMN! and host city coordinator of the Women of the Word International Poetry Slam, yelled out to a raucous, slightly tipsy audience already on the edge of their seats.
"You are going to assign numerical values to people's hearts and souls tonight! What's wrong with you?!"
The audience at Kieran's Pub on Wednesday night, March 6th, just laughed—many were familiar with the arbitrary nature of scoring in poetry slams. The poets didn't seem too bothered, either.
"I'm just feeling happy to be here," said Rachel Rostad '15, one of the members of Macalester's slam poetry team who attended the event. "I don't really care if I win, I just want to be here and compete."
Unfortunately, Rostad's name was not drawn from the box of poets who submitted themselves for the "Last-Chance Slam" that Kieran's hosted Wednesday night: a last-minute opportunity for local poets to compete for a spot in the Women of the World event.
Sponsored by the international authority on all things slam, Poetry Slam Incorporated, Women of the World is in its sixth year, and its first year in Minneapolis. The event is exclusively for "poets who live their lives as women," according to Poetry Slam Inc.'s website. After the Last-Chance Slam decided who competed on behalf of the host city, poets from around the world battled it out for three vigorous days for the title of Women of the World Poetry Slam Champion. Philadelphia poet Denice Frohman secured the honor this year.
Women took over the Minneapolis poetry scene for four days of competition, which highlighted a variety of voices, including Renee Shminkey '16 and Abbie Shain '14. But the event wasn't limited to college students—older women, and women with no college education—told their stories, too. And they didn't all curse men and paint women as the protagonists, either. One poet with long red hair incorporated Jeff Buckley's Hallelujah into her poem about loss; another emulated Audrey Hepburn in a black dress and pearls only to rant hilariously about penises and queefs.
The diversity of the poets made for some intense competition. But the Women of the World are an intensely supportive group, too. Every poet who stood up in front of the audience received an enthusiastic ovation.
"There's such a great energy," said Amelia Garcia, one of the poets who competed in the Wednesday night slam. A graduate of Knox College, Garcia grew up outside of Rockford, Illinois, a city "ten years behind the times, always." Garcia especially recognizes the value of an event like Women of the World. "In our society, there's a lot of ways that sexism still exists," she said. "Women face a lot of challenges that men don't," she said. Women of the World provides the avenue where female poets' voices can be heard, loud and clear.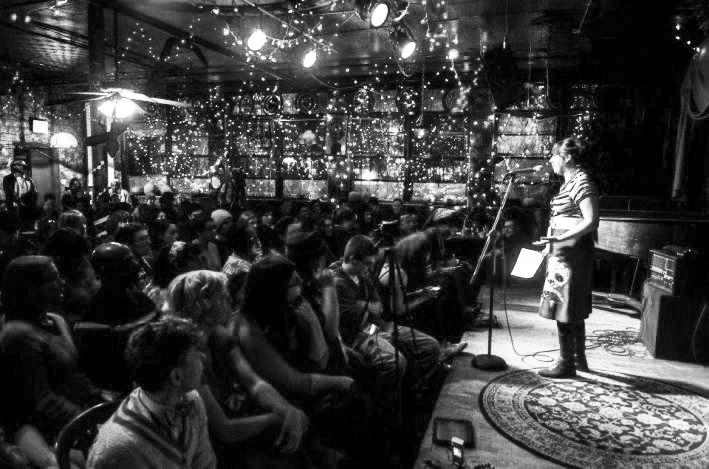 Sam Cook, coach of Macalester's slam poetry team, explained it frankly: "The biggest reason that this event is important is – in this art, and I imagine all of them – there's a strong leaning towards male domination. We have these strong female voices and they don't win as much, and that's crap." Cook supported the female members of the Mac team, saying, "we need to show these female voices that they are relevant and important."
Minneapolis seems to be heading in this direction. Macalester, too, is catching the Women of the World bug.
"I think it's funny because last year the team was four super strong men, now it's four super strong women," Anna Binkovitz '14 remarked of the Mac slam team. She regularly attends the adult poetry slams held at Kieran's, and will travel with the rest of the historically successful Mac team to the next round of their competition season (for the past three years at College Nationals Mac has placed third, first, and second). She represents one of the talented female voices that are continually underrepresented in the poetry world.
Renee Shminkey is another. She was one of the lucky poets who competed in the Last-Chance Slam. Her intensely intimate, unabashedly funny poem about falling deeply in love with a woman met uproarious audience participation and reaction, which she considers "the best part" of slam poetry. "It feels good to have people immediately respond," she said. "At a U of M show, one girl cried."
Perhaps Shminkey's work would not have been met with such wholehearted support at a slam where women were not celebrated. Or perhaps her unique style would receive just as much adoration. At any rate, the Women of the World Poetry Slam allowed for stifled perspectives to rise to the forefront, rather than background noise to a male-dominated event.