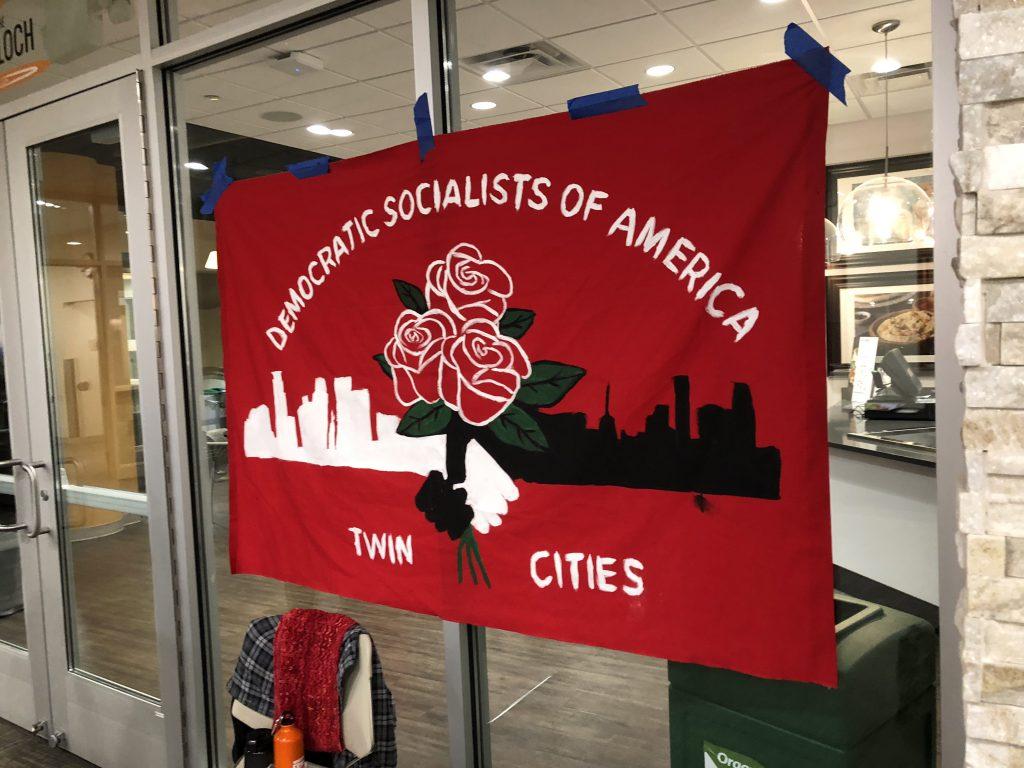 On Sunday, Sept. 30, the Twin Cities chapter of the Democratic Socialists of America (TCDSA) hosted their annual Member Convention in Macalester's John B. Davis Lecture Hall (JBD).
The Democratic Socialists of America (DSA) comprise a political organization fighting to "increase the power of working people." The group was founded in 1982, but it has grown exponentially in the last three years in the wake of the electoral successes of figures such as Sen. Bernie Sanders (I-VT) and Alexandria Ocasio-Cortez.
At Sunday's convention, members voted on a number of amendments and resolutions, delivered updates from the past year and elected their constitutional officers.
With the election of Andrea Palumbo '89, both of TCDSA's co-chairs are Macalester alumni.
The other co-chair, Nic Raymond '13, cited his years at the college as politically formative.
"I'd say I got into radical politics at Macalester," Raymond said. "Specifically, I'd cite Peter Radcliffe, who was a former professor at Mac in my time there. His American Studies class about immigration in America was very formative in my politics."
Current student Avik Herur-Raman '20 was also introduced to socialism on campus – not through a particular class like Raymond, but through his roomate, Justin Reis-Henrie '20.
"We both had similar opinions on many things, [were] both very politically conscious," Herur-Raman said. "He introduced me to a lot of lefitsit online magazines. We talked a lot about that stuff."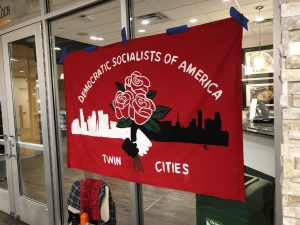 He spent the summer of 2018 in Washington D.C. There he realized those conversations could be translated into tangible action.
"It reached the point where I was noticing these democratic socialists winning races, changing the conversation, pushing an agenda that sounded really appealing to people, not just me," Herur-Raman said.
When he returned to Minnesota in September, he went to his first TCDSA meeting. On Sunday, Herur-Raman attended at the convention as a voting, dues paying member.
For him, the convention was a way to gauge interest in a potential Young Democratic Socialists of America (YDSA) chapter at Macalester – a task that would've been difficult had the convention been elsewhere.
Lauren Nielsen, TCDSA Recording Secretary, booked the lecture hall.
"[JBD] is such a great space, we wanted something very central in the Twin Cities, so everyone could access it," Nielsen said. "There are also several Macalester students looking to form a YDSA chapter here on campus, so this is also a way for them to get more interest out for that."
Toward the end of the convention, Herur-Raman and Reis-Henrie were allotted time to deliver an organizing update to the crowd.
"I just think the way that you organize, and the way you develop an organization of people, is that you give people who are interested opportunities to do things themselves," Raymond said. "That is entirely how DSA operates and why we have so much going."
This momentum is what Herur-Raman hopes a campus chapter of the YDSA could build upon. The support network that TCDSA could offer, he believes, would provide longevity that previous Macalester clubs have lacked.
"A YDSA chapter would draw on the resources, enterprise, knowledge, bodies," Herur-Raman said. "Their idea of a big tent could also work on a college campus – not that we want to supplant Fossil Free Mac or MPIRG [Minnesota Public Interest Research Group] or any of those. If anything, it would be better to work with existing groups."
Reis-Henrie concurred.
"I hope that YDSA would be an opportunity to bring people together and talk about how all these groups can work together so we all amplify each other's voices," he said.
Jane Donohue's '22 first introduction to DSA was Sunday's convention. Her hometown of Portsmouth, N.H. doesn't have a chapter.
The prospect of a YDSA chapter at Macalester appealed to Donohue. The organization's message combined issues she is already passionate about.
"Something I liked a lot about the convention was that they touched on how interconnected everything is," Donohue said. "I'd like to see lots of involvement with other groups like social justice organizations, environmental organizations, feminist, LGBT organizations."
Given the convention's location on campus, success of leftists like Ocasio-Cortez and Sanders, and the existing interest in DSA's areas of advocacy, Herur-Raman believes the campus is ripe for a new political force.
"Hopefully, this can be the catalyst," Herur-Raman said. "Like, this convention is what began an official YDSA [chapter] on campus."