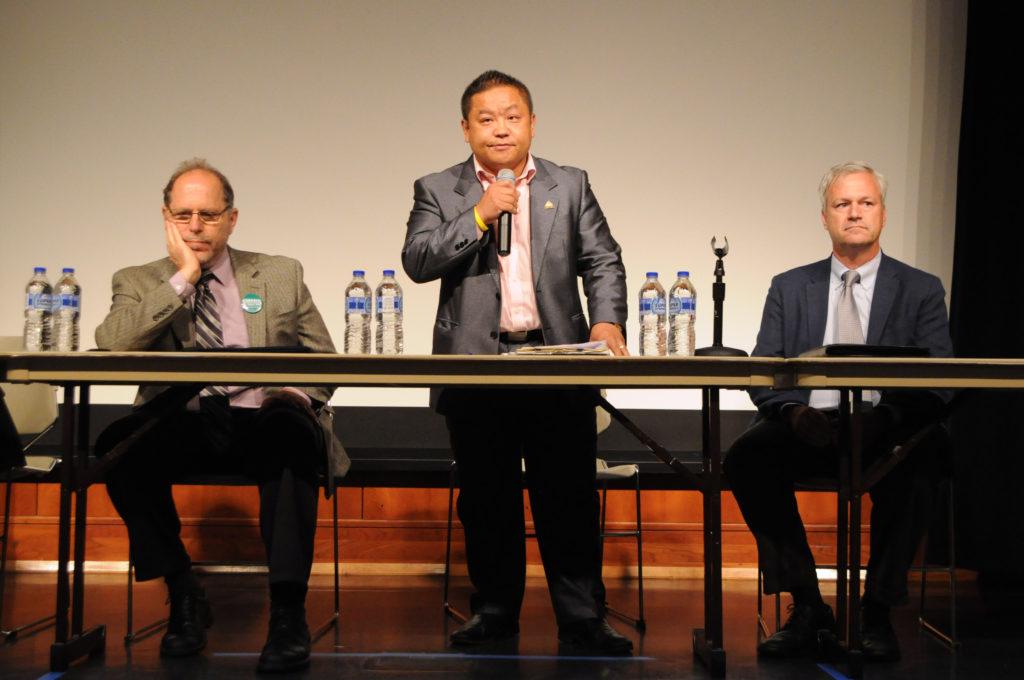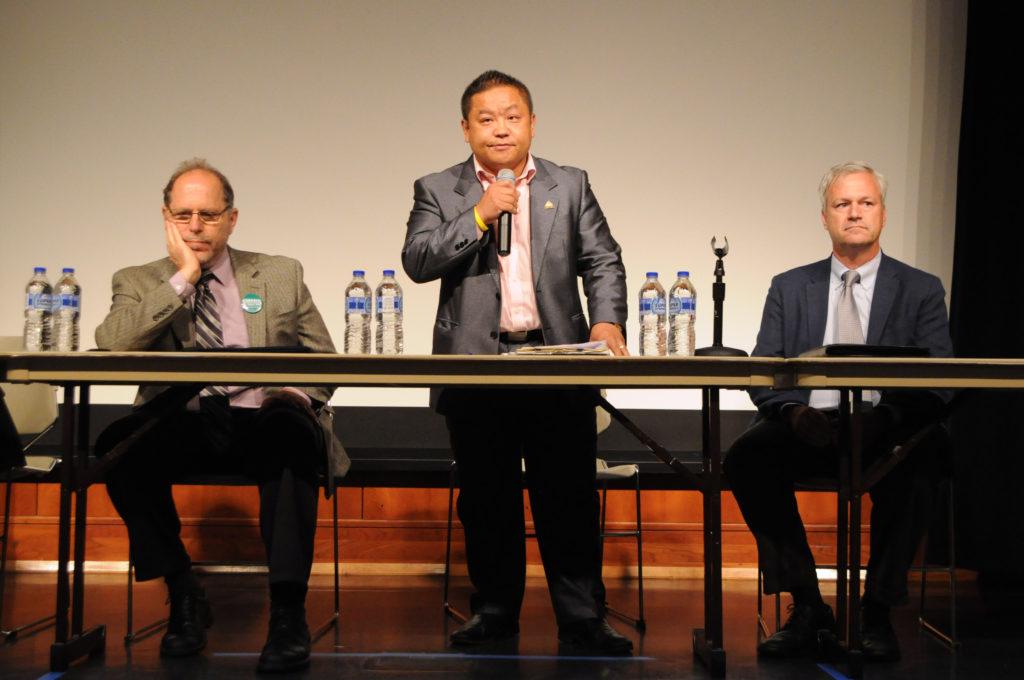 Just over a month away from the election of St. Paul's fifty-fourth mayor, seven of the candidates for the position came to Macalester's John B. Davis Lecture Hall (JBD) on the night of Tuesday, Oct. 3 for the college's second mayoral forum of the year.
The leading contenders – Minnesota Democratic-Farmer-Labor (DFL) Party members Melvin Carter, Pat Harris, Dai Thao and Tom Goldstein, and Green Party candidate Elizabeth Dickinson – were all in attendance, as was independent candidate Tim Holden and self-proclaimed minister Barnabas Y'Shua.
The forum, which was comprised of audience questions bookended by opening and closing statements, ran for just over an hour-and-a-half. The mass shooting in Las Vegas, which took place 48 hours prior to the event, loomed large.
"What is it going to take before our leaders do something about gun violence?" asked Goldstein near the start of the evening. "How many people have to die?"
"The NRA owns our federal government," Thao said. "One of the first things I want to do as mayor is have a buyback program. I've seen this work in Australia, and they don't have violent crime in Australia."
Australia, however, has much stricter gun laws than the United States does, banning a number of assault weapons. For a number of the candidates, the keys to stopping gun violence have very little do with guns themselves.
"The number of guns that come into our community is staggering," Goldstein said. "Until the federal government or state government acts, we need to turn to the roots of the violence."
Carter agreed. "The work of keeping neighborhoods safe is a lot bigger than bringing in more police and building bigger jails," he said. "Safe neighborhoods are a function of families who have the money to pay the rent and put food on the table. They're a function of officers who have the training, the tools and the resources to do their jobs well."
As the forum continued, the discussion turned to housing, taxes and equity – and fissures between the candidates, however small, began to emerge.
As he has done throughout his campaign, Goldstein criticized the city's financing of stadium and theater projects, instead proposing the construction of more affordable housing and a city-owned broadband network to provide or strengthen internet connectivity for everyone in St. Paul.
Goldstein has set himself up as an uncompromising populist – and he thinks he can get his message across. "People understand that my campaign is really about priorities," he said. "And I don't just flip-flop."
Carter – the only African-American candidate on stage – touted his own history in the city, and decried its racial and financial discrepancies. "Children's life outcomes can be better predicted by their race, their zip code, and their parents' education than how hard they work and how smart they are," he said. "We talk about disparities like they're a force of nature. But they're not."


Thao struck a similar chord. "If you look at the slogan, it says that this is the most livable city in America," he said during his closing statement. "But if you look at the data, that's not true – it's only the most livable if you make a certain amount of money or live in a certain neighborhood."
There was little daylight between Carter, Thao, and Harris on issues of policy, though Goldstein claimed that Thao in particular has changed certain positions to align with him. All three candidates, for instance, said that they support a city-wide $15 minimum wage.
Dickinson, another supporter of that policy, said that adopting a $15 minimum wage would raise as many as 68,000 St. Paulites out of poverty. She called such an action "essential."  
Thao spoke in support of Payment in Lieu of Taxes (PILOT) programs for institutions like schools or hospitals.
Harris, who served on St. Paul's city council for twelve years and is a former president of the Macalester-Groveland Community Council, called himself a leader on affordable housing with specific policy proposals to move the city forward. Among his proposals is to provide $100,000,000 in small business loans in targeted, lower-income areas of the city.
Do his competitors have similarly specific proposals? "Not as of yet," Harris said after the forum.
Harris' connections to Macalester in particular run deep. The former City Councilman grew up in Mac-Groveland, and described himself in his opening statement as the rarest of breed: a lifelong Macalester sports fan.
"I think I started going to Springfest when I was twelve years old," he said with a smile. "Whether it was studying in the library when I was in high school, or going to see Senator [Ted] Kennedy speak at the fieldhouse when I was in grade school, this campus has really been a big part of my life.
"My mother, for 27 years on Sunday night, had an open door policy when any Macalester student could come to our house and have dinner," he continued. As a councilman, Harris was instrumental in the construction of the medians on Grand and Snelling Avenues.
"We've got good support on the campus, and good support in the neighborhood. People know that I've been on this campus for a long time."
But, despite his connections to the school and its neighborhood, it is Carter – recently endorsed by Governor Mark Dayton and Lieutenant Governor Tina Smith – who seems to have captured the attention of a number of the college's politically active students.
Adrian Johnson '21 asked the forum's final question, on early childhood education, and liked what the former councilman had to say. "I thought Carter gave the best answer," he said. "He's done a lot more on the issue."
"I think he's a very rare politician," said Peter Jarka-Sellers '20. "I think Melvin is committed in a very rare way to taking all perspectives into account."
"A concrete example of that is when the Green Line was being built, and he fought to get it to stop in minority and lower-income neighborhoods," he continued. "It would have been very easy for him to just go along with what was being proposed, but he didn't."
Jarka-Sellers is one of several Macalester students who are fellows on Carter's campaign. Another fellow, Ted Chisholm '20, is similarly excited about Carter. "I think Melvin has a unique background and experience," he said. "He's a career public servant."
Goldstein is less impressed. "Melvin Carter is a great orator, and he connects very well with people," he said after the forum "but Melvin is talking about not being able to fund things when he's voting for some of the things that have made this situation what it is."
During the forum, Goldstein was even more blunt – hitting the other major contenders for supporting the subsidies that he feels have diverted resources away from the people in the city who need them. "Did you vote to spread [tax dollars] around, or did you vote to line the pockets of billionaires and millionaires?" he asked.
Goldstein had particularly harsh words for outgoing four-term mayor Chris Coleman, who is running for governor and touting his success as a job and business creator. "He'll get nowhere with that," Goldstein said.
By mid-September, Harris had raised more than $287,000, Carter more than $265,000 and Thao $171,000. No other candidate has raised any significant amount of money. Thao's financial support has been concentrated in the city's Hmong community.
Holden, for his part, provided several of the night's more colorful moments – striding into the crowd to deliver his opening statement, and at one point calling city subsidies for St. Paul businesses "embarrassing," an "abomination," and an "embarrassment."
"A great city sells itself," he said.
Y'Shua, meanwhile, has a rather extraordinary story. He moved from Denver to the Twin Cities some 25 years ago to manage a Domino's Pizza, but shortly thereafter suffered a serious heart attack and brain injury.
He lost the job, and has, in recent years, been a resident at University Avenue's Union Gospel Mission shelter. He jumped into the race, he said, because he was called to by God.
Y'Shua suffers from short-term memory loss – a condition called cerebral hypoxia – and can have trouble with his speech. He harbors few political positions, and with a chuckle, called the directive he got to enter the race a "big ask." But his fundamental beliefs in compassion and kindness are unflinching.
"I'm a deeply spiritual person," he said as he walked out of the Campus Center after the forum's conclusion, a New York Times issue in hand. "And I know that we need to treat each other well."