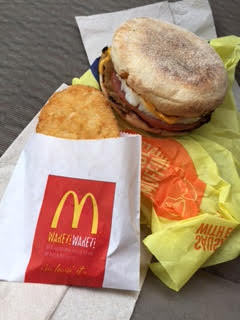 Oct. 6th. The day the heavens opened up, and McDonald's started serving breakfast all. day. long. I texted a friend who shares my love of Egg McMuffins and hash browns Tuesday morning to celebrate, and she replied in the best possible way: "The McDonald's hash brown is nature's perfect food."
And ever since, no truer words have been spoken.
It's true. The Mickey D's hash brown fills all three food groups: potatoes, fried food and McDonald's.
I took it upon myself to investigate late night hashbrowns: their crunch, their crisp and their freshness. Would they match the morning hour gold standard? Would they still taste as rewarding when you weren't trying to beat the 10:30 a.m. deadline, when McDonald's used to stop serving breakfast? Were they even available?
I have all the answers right here. And all late night breakfast menu offerings were worth the visit. The hash brown arrived through the drive-thru window, and it felt like I was cheating the system; As if I had angrily demanded an outrageous request. But trusty McDonald's came through and satisfied my craving. But then I remembered: these hash browns were available to anyone at this hour, and the treat felt a little less magical.
However, they were still potatoes. Still hot and crunchy with the perfect soft, velvety potato inside warming my heart with each bite. I think I will miss the fun of rushing to McDonald's in your PJ's to make the morning deadline. But now, arriving at 10:40 a.m. won't bring any harsh feelings or curse words, and there are less speeding ticket possibilities now. Overall, I am a fan of the all-day breakfast move. May your hashbrowns be fresh and your Egg McMuffins delicious.