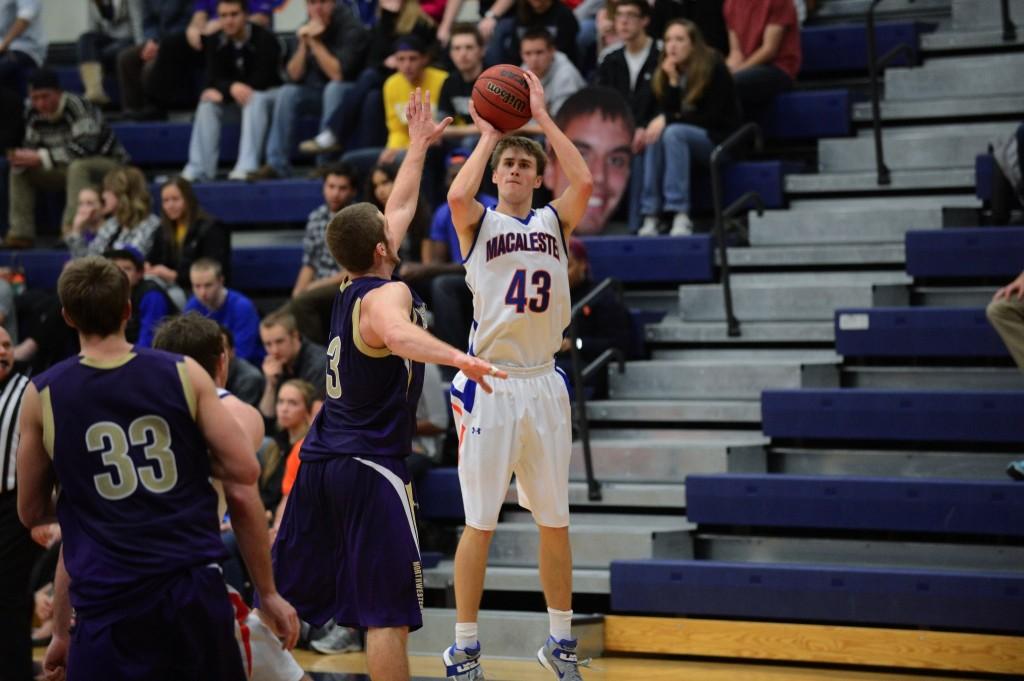 Last week, Baltimore Ravens All-Pro linebacker Ray Lewis ended his career high on the highest possible stage, the Super Bowl, as a champion. While the story of Pierce Peters' '13 (Glenwood, MN) basketball career at Macalester may not have ended as magically as Lewis' career did, Peters' influence on his team and the Minnesota Intercollegiate Athletic Conference (MIAC) will resonate for years to come.
It has been a growing season for the Macalester men's basketball team. After a 1-24 campaign last season, the team added a strong first-year class to the mix and looked poised for an improved season with a new culture and a hungry group of players.
But after a series of lopsided December losses, the team took an about-face when senior forward and leading scorer Peters left the team on Dec. 28 after "feeling increasingly dejected."
"The last two basketball seasons were difficult for me, but I kept with it hoping that things would change," Peters said. "[I] tried to compete this season to help out my teammates, but… I couldn't continue. The atmosphere was not the right fit for me."
Peters ended his Macalester career with 1,230 points, ranking sixth on the all-time Macalester scoring list. Prior to leaving the team, he was ranked second in the MIAC in scoring average for the season, averaging 20.1 points per outing.
Peters' time on the team hasn't been all smiles, though. After winning his first game as a freshman, Peters went on to attain an 8-74 four-year record. Still, as his teammates and other witnesses reflect on his career, they remember his talent and character rather than his team's many losses.
"Everyone on the team has the greatest respect for Pierce," fellow senior forward Sam Marshall '13 (Sun Prairie, WI) said. "He's a great scorer. One of the best players in the league. A great shooter. A great athlete. Just a good guy to play with and a good friend of mine."
Marshall said he was stunned when Peters initially announced his decision to leave the team. "[Pierce] told us the first day we got back from J-term," Marshall said. "You've got to respect his decision. It's a personal thing for him … It was shocking, but on the other hand, you have to move forward. That's how sports are, and that's how life is."
Marshall noted that the current team has changed significantly since the opening day roster. "Roles have changed; people have had to step up," Marshall said. "Guys who weren't used to starting, maybe were the 8th guy, are now the 4th guy, and that obviously affects you."
After a promising start to the season, Marshall said the team had high hopes and goals that weren't achieved. "We just had a crazy season," he said. "Really everything that could have gone wrong has as far as personnel and losing guys."
St. Thomas Head Basketball Coach John Tauer, whose team is 23-1 and is No. 1 in the country in Division III, said he was impressed by how Mac has responded to Peters' loss.
"Basketball is the ultimate team game, and the loss of a leading scorer can be challenging," he said. "All teams go through different challenges such as these, and Macalester has bounced back from this loss and continued to play hard and unselfish basketball, earning the respect of teams and coaches throughout the conference."
Tauer said that his team didn't make significant adjustments in game-planning for a Peters-less Scots team. "Pierce Peters had some of the better statistics in the conference, but I have been impressed with the way Macalester has played without him," he said. "Their young players have done a solid job and are getting better game by game."
Marshall cited lack of size and depth as the team's weaknesses at the tail end of this season. "We lose Pierce, who's a 1,000 point scorer for us, and really, really helped us, taking pressure off of me and the other guys," Marshall said. "We're not big at all. We're really undersized."
The team's depth issues have resulted in increased strain on players like Dylan Kilgour '16 (La Crescenta, CA). Prior to Peters' departure, Kilgour averaged 29 minutes per game. Since then, he has played four complete games, staying on the court for the entire 40 minutes of the game.
Despite a myriad of potential distractions and challenges, coach Tim Whittle has kept the team concentrated on improvement. "Our team is really focused on bringing positive energy for every practice and 40 minutes every game," he said.
Marshall echoed Whittle's thoughts, insisting that persistence and optimism are the best ingredients for team improvement. "[The MIAC] is a tough league," he said. "If you're going to sit back and be disappointed, then you're not going to find success."
Seniors prepare for their final games
Not only did the exodus of Peters create an absence of scoring, but it also left a hole in the team's leadership.
In Peters' absence, fellow seniors Marshall, Andy Bowman '13 (Perry, KS) and Andy Matsumoto '13 (Rochester, MN) have stepped into bigger leadership roles. Kilgour praised the seniors for their mentoring and guidance, both on the basketball court and for college life in general.
Over the past month, team depth has continued to be tested. Matsumoto went to Kenya over J-Term, and third-leading scorer Justin Wasik '14 (Chicago, IL) recently departed for his spring study abroad program in Australia.
"We are Macalester students, so we have other priorities," Kilgour said. "It sucks as far as a basketball aspect, but it's still cool."
With only one game remaining, a 3 p.m. Saturday contest on the road versus Bethel University, Marshall is determined to end his career on a positive note. "I'd love to get one more win, have fun, and hopefully not get hurt," he said. "I've only played [here] for two years, but it's been fun, a lot of good memories."
Kilgour focused on closing year strong
Despite the losses of key players, Kilgour has maintained a focused attitude. "I think we all just need to play our own game," he said. "You have to let the game come to you."
Kilgour said that although wins have been rare to come by lately, it's important to build upon the positive moments, including a Jan. 9 win over St. Mary's where Kilgour said a complete team effort led the Scots to victory.
"The whole idea is once you start winning games… you get better and better players to come here" Kilgour said.
With Marshall's playing days ending after Saturday's game, he has only positive thoughts for the future of the team. "I see the freshman class being that cornerstone class and helping this team develop," he said. "I also think Coach Whittle did a nice job of recruiting. I think the younger guys believe that they're going to do it. As long as you believe, as long as you have that core … you can do it."